#ADA30 Summit 2020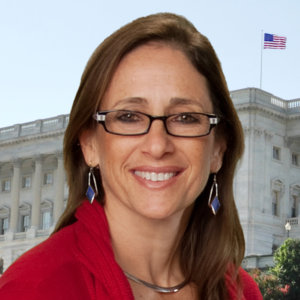 Debbie Fink is Director of Community Outreach and Impact for RespectAbility, a nonprofit organization fighting stigmas and advancing opportunities for and with people with disabilities. She brings more than 15 years of diverse leadership experience in public health, education and arts programming to serve RespectAbility's mission.
Fink has a lifetime commitment to enabling people with disabilities to have a better future and is passionate about the constructive impact volunteers can make in the world.
A published author and musician, Fink managed a woman-owned small business, developing and delivering books and programs that educate, motivate, and celebrate diverse people including those with disabilities. She also served as VP of Global Programs for a 100 percent volunteer-run organization that provided free services to families of wounded warriors and other service members. Fink's numerous books and curricula have impacted more than 500,000 beneficiaries worldwide, and she was a recording artist on the CD All in Good Time.
With global experience developing and delivering innovative, 'multi-intelligence' programs, Fink's edu-tainment has reached more than 70,000 people. The USO selected Fink as a Guest Educator and performer, sending her on global tours to edu-tain our troops' families throughout South Korea, Japan/Okinawa, Italy, and Germany, including performing for (and with) wounded warriors. The Obama White House's Joining Forces staff asked Fink to draft a script for former First Lady Michelle Obama, who then recorded a heartwarming video message for military-connected children. Fink shared this priceless message at her USO events in South Korea, Germany and Italy.
One of Fink's favorite programs is her disability awareness program, entitled Brain Power! Celebrating Learning Differences. A multi-cultural, multi-intelligence program, Brain Power! was commissioned by a school serving students with learning disabilities. Fink has performed Brain Power! for approximately 4,500 students, educators and parents throughout the Washington, D.C., area.
Born in Los Angeles, California, Fink holds a master's degree combining education, public administration and psychology from George Mason University; a bachelor's degree in psychology from American University; and is a certified gymnastics and diving coach. She and her husband have three grown children.