Washington, D.C., May 22 – On Wednesday, the U.S. Department of Agriculture (USDA) announced that 90 percent of households that rely on Supplemental Nutrition Assistance Program (SNAP) benefits will soon have access to safe food delivery online. This is a major life-saving milestone that is partially the result of a group of entertainment professionals, in partnership with the disability advocacy nonprofit RespectAbility, who created a campaign to ensure that people who use SNAP can do so through online delivery during the COVID-19 pandemic.
Nationwide, 11 million Americans with disabilities depend on SNAP, also called food stamps, to pay for groceries. Prior to the pandemic, just six states allowed SNAP users to order food for delivery. With this week's announcements, 37 states plus the District of Columbia soon will accept SNAP food stamps online. USDA Secretary Sonny Perdue also announced that more businesses and retail stores will accept SNAP benefits online.
Since the beginning of the pandemic, RespectAbility has been reaching out to every state on this issue, actively encouraging SNAP directors, governors and the federal government to quickly enable people with disabilities to use their benefits online.
"Being a person with a disability myself, until working on this video, I did not know that so many other people with disabilities who are SNAP recipients could not have food delivered to stay safe," said actor and producer John Lawson, an amputee who edited a video to further the campaign.
Producer Jonathan Murray and director Nasreen Alkhateeb also assisted with the video's production. Murray is a RespectAbility board member while Alkhateeb and Lawson are alumni of RespectAbility's Lab for entertainment professionals with disabilities.
"Creative professionals have a long tradition of helping during a crisis," said Lauren Appelbaum, who leads RespectAbility's work in Hollywood. "We are honored that so many people with disabilities are making an impact to help millions of people safely access food during this pandemic."
In early April, RespectAbility Board Members Ollie Cantos, whose blind triplet sons currently are recovering from COVID-19, and Janet LaBreck held several virtual convenings for people who are blind or who have low vision. During these gatherings, participants discussed the difficulties for people who are blind to socially distance while grocery shopping and conducting other essential business. These conversations led to the creation of the #SNAPDeliverySavesLives campaign.
To take advantage of online food delivery, Californians can visit GetCalFresh.org or call 1-877-847-3663. A second program organized by the Los Angeles City's Department on Disability, in coordination with the Mayor's office, FOX and Access Paratransit, delivers lunches to individuals as well as families with disabilities. Several groups, including SCLARC, DOR and KEEN have connected their clients to this program. In the first three weeks of deliveries, the program delivered more than 30,000 meals to more than 620 families and individuals with disabilities. Los Angeles residents can 888-863-7411 for food delivery or fill out a Google Doc form.
This video features the following self-advocates with disabilities:
Tatiana Lee, Actress and RespectAbility Hollywood Inclusion Associate
Bella Cosper, Actress and Writer
Sneha Dave, Creator of the Crohn's and Colitis Young Adults Network and RespectAbility Board Member
Tobias Forrest, Actor and Producer
Engracia Figueroa, Vice President of the Board for CALIF
Status of Online SNAP as of May 22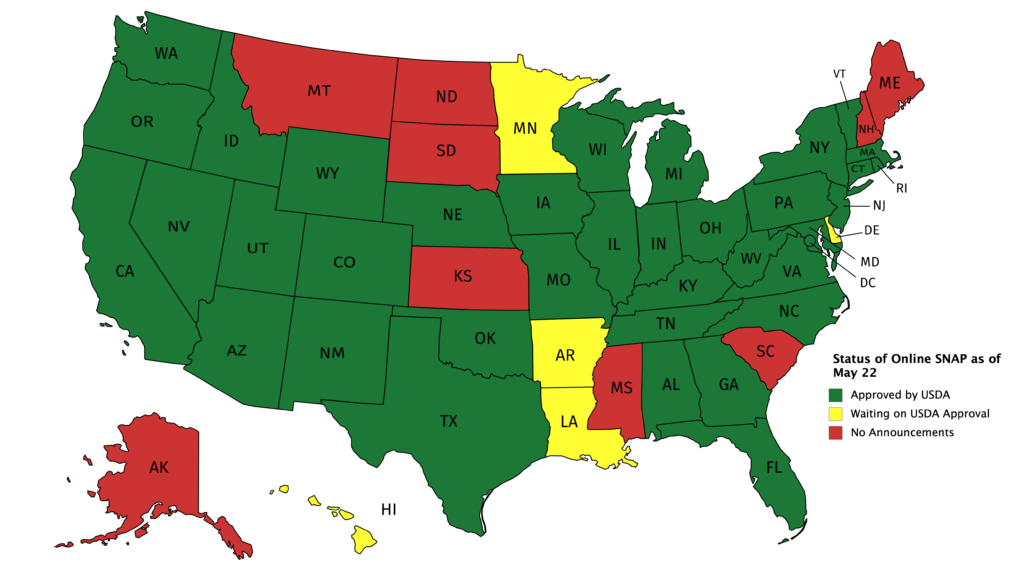 Read the USDA press release: https://www.usda.gov/media/press-releases/2020/05/20/snap-online-purchasing-cover-90-households
For more resources and updates from RespectAbility about the COVID-19 pandemic and its effects on the one-in-five people who live with a disability, please visit www.RespectAbility.org/covid-19.