"In less than six weeks, amidst an unprecedented situation, USDA has expanded SNAP online purchasing to 36 states and the District of Columbia – nearly three-quarters of the states, covering 90% of SNAP households."
Washington, D.C., May 22 – On Wednesday, the United States Department of Agriculture (USDA) announced that 90% of Supplemental Nutrition Assistance Program (SNAP) households now will be able to safely access food during the COVID-19 pandemic. This is a major life-saving milestone achieved by the efforts of various disability advocacy groups, including the nonprofit RespectAbility.
In early April, RespectAbility Board Members Ollie Cantos, whose blind triplet sons are currently recovering from COVID-19, and Janet LaBreck held several virtual convenings for people with disabilities. During these gatherings, participants discussed the difficulties for people who are blind to socially distance while grocery shopping and conducting other essential business, necessitating the ability to shop online.
Cantos and LaBreck heard their concerns and realized that grocery shopping was particularly challenging for SNAP recipients who couldn't purchase groceries online. Nationwide, 11 million Americans with disabilities depend on SNAP to put food on their tables. When the pandemic hit, they were suddenly forced to choose between feeding their families and being exposed to a deadly virus.
The staff at RespectAbility quickly launched the #SNAPDeliverySavesLives campaign in late April. Since then, they have reached out to every state, actively encouraging SNAP directors, governors and the federal government to quickly enable people with disabilities to use their benefits online. They have tracked states' progress as they applied for the USDA waivers. Their work was joined by the Consortium for Citizens with Disabilities (CCD) and numerous governors and senators.
Prior to the pandemic, just six states allowed SNAP users to order food online for delivery. The USDA announced Wednesday that "In less than six weeks, amidst an unprecedented situation, USDA has expanded SNAP online purchasing to 36 states and the District of Columbia – nearly three-quarters of the states, covering 90% of SNAP households."
"This is a huge victory for the disability community, which has struggled with this issue long before the pandemic, and we are thrilled that so many in federal and state government have responded swiftly," said Jennifer Laszlo-Mizrahi, the President of Respectability. "We are grateful to Sec. Purdue and the USDA, as well as the many Senators and Governors who helped and the disability community that rallied to make this happen. But there is still so much work to be done."
More Work Needs to Be Done
Thirteen states continue to deny SNAP beneficiaries the ability to purchase groceries online, but that's just the beginning.
In most states, the only approved retailers in the pilot program are Amazon Fresh and Walmart, which further strengthens their apparent monopoly. This is particularly challenging for states like Alaska, where Amazon and Walmart provide little to no service. Thus, the online purchasing pilot is largely impractical for addressing these challenges in underserved areas, creating the critical need for the USDA to contract with other, more local, vendors.
Additionally, these retail giants have not waived any of the processing or delivery fees, and these can be cost-prohibitive for SNAP households, who already are well under the poverty line. Said Mizrahi, "At a time when the CDC says that 90% of COVID-19 hospitalizations are people with underlying conditions, solutions must be found so that food can be safely delivered to those most at risk from the coronavirus."
While the advocacy does not end, the disability community has much to celebrate. Today, 9.9 million people with disabilities, who previously were unable to safely access food during the pandemic, now are able to order their groceries online and have them delivered to their homes. That's 9.9 million people who are safer from the COVID-19 pandemic than they were yesterday.
Status of Online SNAP as of May 22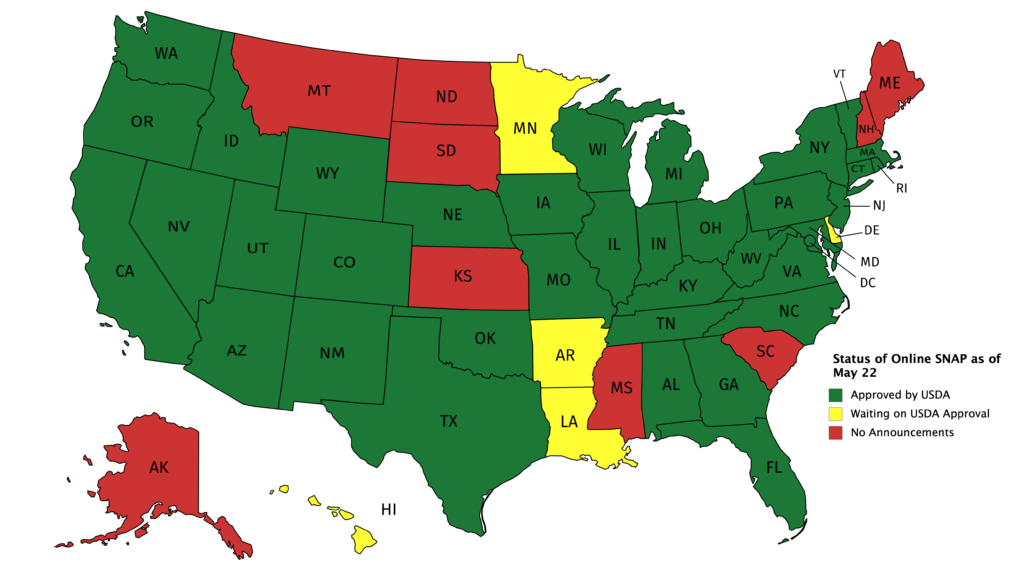 Read the USDA press release: https://www.usda.gov/media/press-releases/2020/05/20/snap-online-purchasing-cover-90-households
For more resources and updates from RespectAbility about the COVID-19 pandemic and its effects on the one-in-five people who live with a disability, please visit www.RespectAbility.org/covid-19.