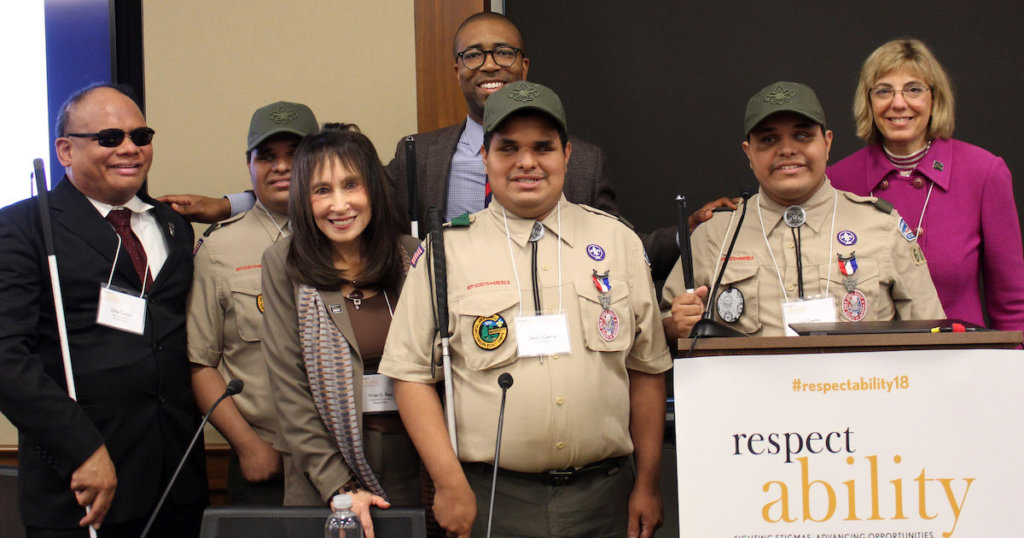 Washington, D.C., April 24 – As the COVID-19 pandemic continues to disrupt everyday life for people around the world, three blind triplets have contracted the virus – showcasing the extra precautions people who are blind and have low vision must take during this time.
Nick, Steven and Leo were adopted by Ollie Cantos, who is a board member for RespectAbility and is also blind. The Cantos triplets were the first blind triplets to became Eagle Scouts, and their story went viral, being covered by ABC News and many local news outlets. Ollie, Nick, Steven and Leo also were featured speakers at RespectAbility's 2018 Capitol Hill Summit.
Despite self-quarantining for more than a month after coming home from college, all three 20-year-old triplets contracted the virus because people they live with had to go in and out of the home. One of their roommates tracked in into the house without showing symptoms. The brothers, who had come from home college a month ago, were living in this house to avoid being in their dad's home, where their grandmother, who is immunocompromised, lives. Leo has been hospitalized since Monday and Nick was admitted Thursday. Steven is able to remain quarantined at home. Ollie keeps the community updated through posts on his Facebook profile.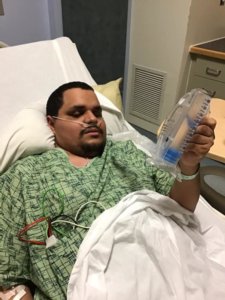 "It's really scary. When I came to the hospital, I was like what's going on? I've never been this sick before. This is not a normal cold, guys. It's a really big deal," Leo Cantos said via a Zoom interview with ABC7 WJLA from his hospital room at Virginia Hospital Center in Arlington, Virginia.
The Cantos' story shows that even when people "do everything right," COVID-19 is still a real threat and therefore social distancing is extremely important. Lawmakers need to do everything they can to ensure that social distancing is possible for people with disabilities, including allowing people to use SNAP food stamp benefits online, as millions of people with disabilities currently are unable to get food safely.
The Cantos family often relies on touch to do thinks like to safely walk to the grocery store. When others do not practice social distancing, it puts people like the Cantos triplets at risk.
Leo says, "I'm still on oxygen recovering, yeah. But it's a long work in progress. Please, please take the social distancing guidelines to heart. Please do it. You don't want this virus. It really hurts. Like, really hurts."
Both Leo and Ollie are remaining optimistic. "Together as a world, we will get through this," Ollie said. "We just have to."
Before the triplets contracted COVID-19, Ollie Cantos co-facilitated two of RespectAbility's virtual gatherings for people who are blind and/or have low vision as part of a series for individuals to share experiences, brainstorm ideas, prioritize issues and bring solutions forward to decision makers and service providers. Additional gatherings have included millennials and Gen-Zers with disabilities, Californians with disabilities, Jews with disabilities, people with developmental disabilities, and people who use wheelchairs.
As a RespectAbility board member, Ollie helped identify several key issues for people with disabilities:
Many people with disabilities are at high risk from COVID yet need to buy their food using SNAP/Food stamps. However, in most states these cannot be used online, thus forcing people who are at risk to shop in person. It's vital to enable people with disabilities to be able to access food online.
The lives of people with disabilities in group and nursing homes are at risk from other residents and caregivers who may bring the virus into their facilities. They urgently need access to masks and other key protective materials.
More online medical and mental health services is needed.
Accessible and appropriate online education is necessary for students with disabilities.
Immigrants with disabilities and their families must not be excluded from solutions to the current crisis.
An inclusive employment-first focus needs to be front and center in all employment programs for when the crisis lifts.
Said Jennifer Laszlo Mizrahi, president of RespectAbility, "The Cantos family is a part of our family and I hope everyone will join us in sending best wishes for a full and fast recovery. We love them and the impact they make for all of us."
For more resources and updates from RespectAbility about the COVID-19 pandemic and its effects on the one-in-five people who live with a disability, visit www.respectability.org/covid-19.