Our friends over at The Walt Disney Company shared this interview with Erica Milsom, the director of Pixar's Loop. Everything below – text and photos – is courtesy of The Walt Disney Company.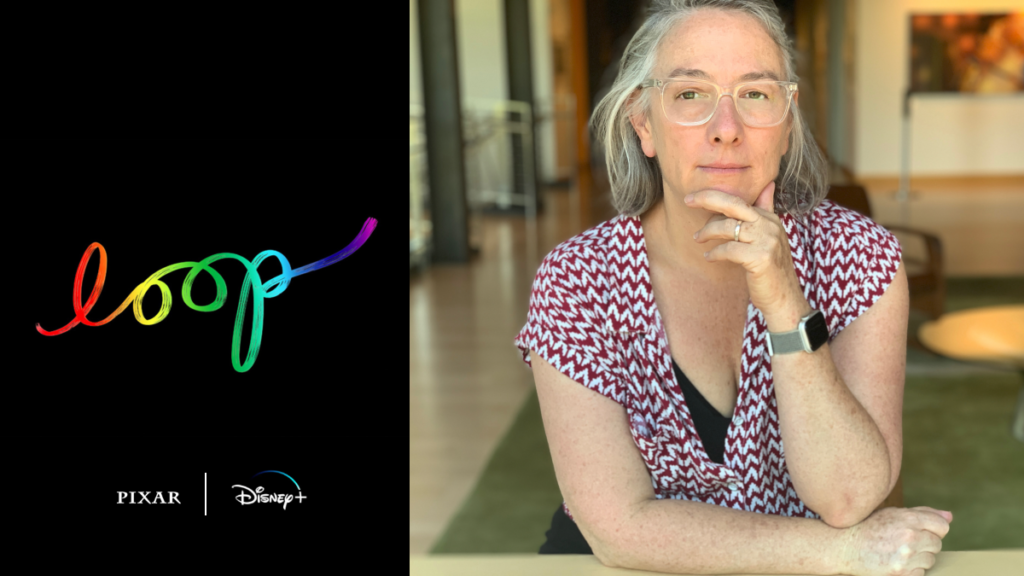 Throughout April, celebrations across the globe promote autism acceptance and ensure that autistic people are seen, heard and celebrated for their unique experiences of the world. This month, as we continue efforts to extend awareness, encourage acceptance and ignite change, get to know Erica Milsom, a Pixar employee and director of one of Pixar's SparkShorts, "Loop," now streaming on Disney+.
In "Loop," two kids at canoe camp find themselves adrift on a lake, unable to move forward until they find a new way to connect and see the world through each other's eyes. This film breaks new ground by featuring Pixar's first non-verbal autistic character.
Tell us about your journey at Pixar?
I started at Pixar 16 years ago when I was hired for a 3-month temp job as an assistant documentary editor. My role was to help with the first in-house documentary called "Making Nemo," the story of how "Finding Nemo" was made.
Through this role, I quickly realized how much I had to learn about filmmaking and the craft of storytelling at Pixar. Three months became 15 years and as I grew as a storyteller, I was promoted to director of Pixar's non-fiction unit during the making of "Ratatouille." Since then, I've directed hundreds of short pieces in many different mediums, from 2D animation to scripted narrative to traditional documentary, and now CG animation.
Through all of this, I was mentored by people around me, having access to the great storytellers who shared how Pixar's incredible films were made.
How did you get involved with Pixar's SparkShorts program?
With so many talented employees working at Pixar, there is a lot of storytelling potential among the crew that goes beyond the boundaries of our films in production. Pixar's president, Jim Morris, recognized this potential and helped found a program called the Pixar Cooperative Film Program (Co-op Program), where filmmakers and employees can tap into Pixar's resources to test their ideas by making films together after-hours.
Through this program, I made a feature length documentary called "Snow Day: Life, Death & Skiing," about aging, friendship and loss. These deep themes are wrapped up in a fun skiing documentary which follows my dad's ski group on their weekly journeys to the Colorado Rockies. This film is available today on Amazon Prime.
Also through the Co-Op Program, I wrote and directed a short fiction film called "So Much Yellow," about a family tragedy in the 1960's originating in the institutionalization of a boy with Down syndrome. The Co-op allowed me to collaborate with many different Pixar artists and stretch my directing skills, so when I had the idea to create a SparkShorts film, Pixar was open to giving me a chance.
SparkShorts is an interesting program because it allows filmmakers to tell stories that aren't driven by the same expectations of the studio. They're usually very personal and created in a faster, more experimental fashion than our traditional pipeline.
What inspired the story of "Loop?"
A year prior, I was volunteering at a non-profit arts program for adults with disabilities and had this profound experience of sitting next to an artist who didn't communicate using words. I found myself nervous without language to connect, and I put forth a lot of effort to create small talk with them, which didn't work at all.
One day, the teacher gave me the task of making a rain stick by nailing hundreds of nails into a long tube. When I stopped talking, and worked on this tube, I found that the people around me came to life. They didn't talk, but they would look at what I was creating, and they'd take me over to look at what they were creating. It was an eye-opening experience for me to learn how people connect so differently.
One of Pixar's strong suits is creating stories using characters without dialogue. So I had the thought to put our Pixar animators in the shoes of someone who communicates without language. I first pitched a film called "The Super Great Ringtone," which was a similar story about two kids on a camping trip, but the connection one of them has to their ringtone gets them through this trip.
When did you decide to make this a story about autism?
It was tough figuring out what disability should be represented in the film. So I reached out to a couple of groups in Pixar, [including] one called Quirky Kids, which is a group of parents with kids who are different. I asked them how their kids who have differences around communication would react in the situation of two kids in a canoe who don't share a common language. Everyone I spoke with reacted differently, but it became clear that [parents of children with] autism had this really interesting point of view with how they experience things.
I then turned to YouTube, where I listened to autistic people sharing about their experiences. I wanted to hear the voices of autistic people and figure out what these people really felt, and how we could bring that to life.
What was important to you when bringing "Loop" to life?
There's a movement in the disability community called "Nothing about us without us." What it means is that you shouldn't tell stories about people with disabilities without including them in the process of making the story – and in a significant role.
I hope other creators see the gift in being able to engage with people who have different experiences.
For me, it was important that our voice talent for "Loop" was someone who's autistic. As part of the process, we needed to understand what made her comfortable and what she needed. For Madison Bandy, the voice actress who portrayed Renee, being comfortable meant not auditioning or recording at Pixar's studio because the environment is over-stimulating. Our script required a fair amount of improvisation on her part, so we needed her to be in her element, comfortable with what was around her.
As a result, we recorded at her house, with her family all together as a support system.
I love how perfect she was for the role because she could be an authentic voice for the character. Without her, we wouldn't have made something that feels so authentic and true. Her inclusion wasn't just powerful, but it made it more fun to tell this story.
How did you go about depicting the autistic experience in "Loop?"
During the film, we brought in consultants from the Autistic Self Advocacy Network (ASAN) to help us understand and depict our autistic character, Renee. The first and most important thing we learned from them is that Autism is a spectrum, so no one person will represent the entirety of the autistic experience.  However, there are some characteristics that Autistic people often share. One characteristic I found really intriguing cinematically is that autistic people may have a different sensory experience of the world than neurotypical people. In essence, they may experience sensory input in a more amplified way than I do as a neurotypical person.
But I'd noticed in films I'd seen about autism that their sensory experience is so often displayed negatively, and I got really excited by the positive potential in it. So many of us try to hide what we feel and shove those feelings down. In "Loop," I love how you can see what Renee is going through, and we tried to display that in the scene where she and Marcus are touching the reeds. It's a wonderful thing when you can experience the positive side of that sensory difference.
The lighting department helped us figure out what a sensory experience could look like, and I loved one that had saturation and more color, because it showed how it could be positive.
Can you share more about the importance of race representation in "Loop?"
One of our ASAN consultants included someone who had been non-speaking growing up, but is now speaking. The first time they watched the film, they told us that they loved how the main character was a girl because autistic girls are so often not represented in the media. But they also felt that there was an issue representing autistic people of color.
They suggested changing Renee's race because the more people see it in mainstream media, the more they'll accept the idea and support it, and this was something I was totally on board for.
What can viewers take away from Renee and Marcus after watching "Loop?"
There are so many layers to the human experience. If you want to connect with someone, you have to step back and give them space to reveal who they are, and how they want to be connected to.
Listening to autistic people, it profoundly hit me that sometimes the way they are experiencing the world may come across to non-autistic people as though they want us to go away, but they actually just want someone who will stick around, let them be and protect the space around them. That's why in "Loop," Marcus just stays with Renee throughout the film.
It demonstrates the idea that any moment of stress or misunderstanding will pass, and staying open to the moment and relaxing helps everyone. In "Loop," Marcus doesn't know what's happening, but in just giving Renee her space, he finds a way to the other side. From Renee's perspective, it's about understanding that someone can give you space and will see your point of view.
Even when it looks like there may not be a possibility to connect, there is. That's the message here.
What message would you have for others?
I want people to understand that there's nothing to fear about inclusion. All it's going to do is make things better and open up questions you didn't even know you had.
Curiosity can bring you an entirely new set of allies.
What's next for you?
Currently, I'm working on a new Pixar project for Disney+ that's telling more character driven stories about the studio. I'm also working on some personal projects, like pulling more story out of "So Much Yellow." I love all forms of art, and I love telling stories in film, and there isn't one I like more than the other.
For readers who are interested in more, what can you recommend?
I love working with artists with disabilities. I encourage everyone to check out NIAD, a center for adults with disabilities. I'm doing a lecture for them coming up soon, and trying to encourage others at Pixar to host some distance learning classes there as well.
I also recommend checking out our consultants, ASAN, who I've learned so much from. They provide clear insight in the autistic experience.
I would also suggest reading about Marlon Mullen, a nationally known non-speaking autistic artist from Richmond, California. He grew up in the inner city as a master of abstraction, and his paintings are incredibly powerful.
Lastly, to learn even more about "Loop," watch "The Making of Loop" documentary on Pixar's YouTube channel!