Founded in 1948, Israel's accessibility for people with disabilities was not a top priority.  I recall several almost comical incidents from nearly 20 years ago when helping people with disabilities navigate Israel.  On one group trip, while pushing 20-something Rivka in a wheelchair in northern Israel, the sidewalk abruptly ended. We carried her in the wheelchair to where sidewalk eventually continued.  In the Old City, near the Kotel, I asked soldiers where was the accessible path. They lifted Rivka up the steps in her wheelchair.
Fortunately, Israel today is fairly accessible and straightforward: from riding buses, to shopping in grocery stores, to studying in university. Modern Israel has become a well-known destination for accessible travel.
Israel's road to accessibility has been a journey. Physical accessibility doesn't happen automatically; nor does shifting attitudes toward people with disabilities and accessibility.
Twenty years ago, Yuval Wagner, a recently paralyzed helicopter pilot, ignited a public awareness campaign. Wagner eventually founded Access Israel. Having elicited President Weizman's attention,  the President invited Wagner to celebrate this accomplishment together. Access Israel's impact on access and inclusion of people with disabilities is now experienced worldwide.
Each year, over 800 people with and without disabilities from 22 countries visit Israel to participate in Access Israel's International Conference, where they learn about accessibility from technology to tourism; experience Israel's accessible beaches; visit the now-accessible Old City of Jerusalem; and learn about Access Israel's work in Israel and worldwide.
"We are the only Israeli organization that focuses on accessibility and inclusion– not only for people in wheelchairs, not only for people who are blind or who have hearing impairments— but for all kinds of disabilities and in all fields of life," reports Wagner.
Alan T. Brown, Director of Public Impact for the Christopher & Dana Reeve Foundation, a board member of FAISR (Friends of Access Israel) and a person with quadriplegia, attests to Israel's efforts to increase accessibility. Several years ago, Brown met Access Israel CEO Michal Rimon, expressed his desire to visit Israel, and shared concerns about accessibility. Rimon enthusiastically invited Brown to Israel to experience its  accessibility firsthand. Brown later summarized, "Something like this has to be done in America – something that is proactive and aggressive in attaining accessibility for all. I even went on the tour under the Kotel walls in a wheelchair!  I am amazed at how Israel is using more than ramps to include the disabled.  They are also doing it through corporate sensitivity training."
Pre-COVID-19, tourists with a wide range of disabilities experienced the country, holy to many of the world's religions.  I have been leading trips to Israel for people with intellectual and developmental disabilities for many years.  I have served as group leader for multiple trips with Camp Ramah's Tikvah disabilities inclusion program and Shorashim Birthright Israel Asperger's trips.  Each trip's participants travel the country, visit Jerusalem's Old City, Tel Aviv, Old Jaffa, Safed, the Golan Heights, Masada, and the Dead Sea. We go camel riding and explore off-the-beaten path gems such as the chocolate factory at Kibbutz Ein Zivan. Tikvah's and Birthright's participants experience a multi-sensory, multi-cultural country with great excitement—and no barriers.
Close to 2,100 young adults with disabilities from around the world have experienced Israel on nearly 100 Accessibility Israel trips, according to Elizabeth Sokolsky, executive director of Birthright Israel North America.  Birthright Israel offers approximately ten accessibility trips annually for participants with a variety of medical, developmental, and physical disabilities including: Autism Spectrum Disorders (ASD), Asperger's, vision or hearing impairments, IBD and Crohn's Disease and other medical issues, and for participants who use wheelchairs.
Sokolsky emphasizes, "It is our belief that every eligible young adult should be able to travel to Israel to experience their birthright. . . . Accessibility trips typically have fewer participants than a traditional Birthright Israel trip, with a larger participant to staff ratio as well as other programmatic accommodations as needed. Birthright Israel also offers opportunities for young adults with a disability to join a classic trip as an inclusion participant, who may be accompanied by an aide or shadow."
We eagerly look forward to a day soon when tourists with and without disabilities will again have the opportunity to experience Israel, celebrate Israel's 72 years of growth, and dream of a day when the country will be even more fully accessible to everyone.
---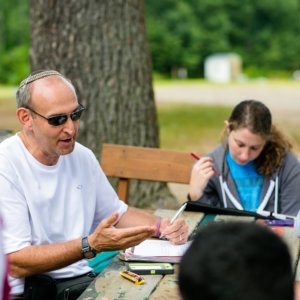 Howard Blas is a social worker, special education teacher and writer. He currently serves as director of the National Ramah Tikvah Network and leads Israel trips for people with disabilities. He recently returned from climbing Mt. Kilimanjaro with Friends of Access Israel. Howard spends summers visiting Ramah camps and jobs sites/training programs for people with disabilities. Howard received the 2013 Covenant Award for Excellence in Jewish Education.
In our Jewish Disability Perspectives newsletter, RespectAbility welcomes a wide spectrum of voices. The views expressed in each Jewish Disability Perspectives contribution are those of the guest contributor.