174,000 people with disabilities live in New Hampshire
Manchester, NH, February 7 – Tonight, as seven candidates prepare to take the stage in the first Democratic debate after the Iowa caucus, RespectAbility's Ben Spangenberg and Justin Chappell will be in the media spin room trying to get candidates on the record on disability issues. They are there on behalf of The RespectAbility Report, an online publication at the intersection of U.S. politics and disability.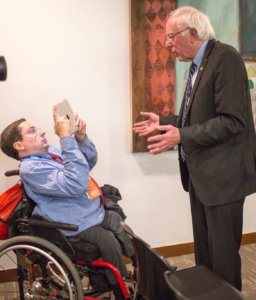 Spangenberg has been with RespectAbility for more than four years, and currently serves as the director of its National Leadership Program for college students and recent graduates who want to become future leaders in the disability community. He and Chappell married two weeks after Spangenberg joined the staff. Together, they previously covered debates in the 2016 Election cycle, meeting all major candidates on both sides of the isle.
"People with disabilities have been historically underrepresented in political campaigns, debate and coverage for far too long. I look forward to asking the candidates about policy changes that matter to the disability community," said Ben Spangenberg.
"Last campaign cycle it was truly challenging for wheelchair users and other people with disabilities to get access to campaign events and outreach. This cycle things are not perfect, but they are trending the right direction," said Justin Chappell.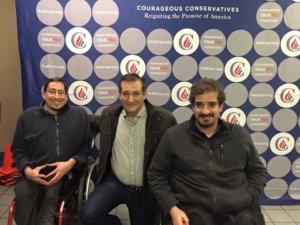 There are 90,754 working-age (ages 18-64) people with disabilities living in New Hampshire. Out of that number, only 39,742 have jobs. New Hampshire currently has a 43.8 percent disability employment rate, ranking 11th out of the 50 states. 3,673 people with disabilities gained jobs in 2018, which is the most recent data available.
Last month, The RespectAbility Report's team of self-advocates have covered campaign events including Vice President Joe Biden, Sen. Bernie Sanders and Sen. Elizabeth Warren; asked pointed questions of Mayor Pete Buttigieg, Sen. Amy Klobuchar and businessman Andrew Yang; visited campaign offices in the Des Moines area; and met with policy advisors for many of the campaigns including the Sanders and Yang campaigns. Two of the team members who are on the autism spectrum, Eric Ascher and James Trout, covered the Democratic presidential primary debate as disabled journalists Tuesday evening.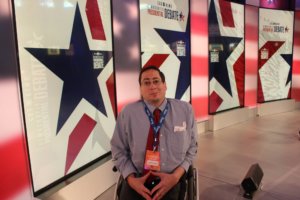 RespectAbility team members reached out to all of the campaigns on both sides of the aisles. Some wanted to engage, others did not. As of today RespectAbility has briefed the 11 campaigns in depth on a wide range of issues for the organization's disability voter candidate questionnaire. This included a deep look around intersectional issues where race and immigration intersects with disability. The candidate plans reflect that they understand the seriousness of these issues and are ready to act.
While not all of the campaigns have submitted their questionnaires yet, five have done so already: Mayor Pete Buttigieg, Sen. Amy Klobuchar, Sen. Bernie Sanders, Sen. Elizabeth Warren, and Andrew Yang. All responses from both sides of the aisle will be posted in full on The RespectAbility Report as they come in and be used to produce nonpartisan voter guides in all 50 states. All content is edited by Lauren Appelbaum, former political researcher for NBC News. As an individual with an acquired nonvisible disability – Reflex Sympathetic Dystrophy – she writes about the intersection of disability, employment, Hollywood and politics.
RespectAbility is nonpartisan and does not rate or endorse candidates. The questionnaire is purely for educational purposes. View more coverage of 2020 presidential candidates.