Zack Gottsagen First Actor with Down syndrome to Present an Award While Tobias Forrest and Victoria Canal Broke Additional Barriers in Performance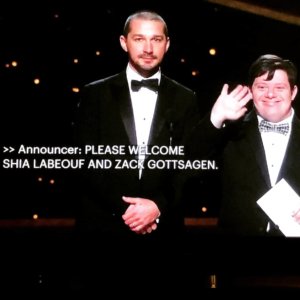 Los Angeles, Feb. 13 – When actor Zack Gottsagen presented an award alongside The Peanut Butter Falcon co-star Shia LeBeouf Sunday evening, he made history as the Academy Awards' first presenter with Down syndrome. The Peanut Butter Falcon provides cultural relevance on issues important to the disability community such as independence while creating wide-reaching impact. The film has grossed more than $20 million and holds an approval rating of 95% on Rotten Tomatoes – showing that casting authentically can lead a studio to financial and critical success.
Neither Gottsagen nor the film were nominated for an Oscar, however, which Emily Kranking raised in an article about the lack of disability being included in conversations about diversity at the Oscars. In 1993, Educating Peter, a film that follows third-grade student Peter Gwazdauskas, who lives with Down syndrome, won the Oscar for best documentary short.
Later in the awards show Sunday evening, Tobias Forrest, who is a quadriplegic, and Victoria Canal, who is missing part of her arm, sang in the choir with Chrissy Metz. Forrest and Canal broke additional barriers for ensuring more representation of people with disabilities on the Oscars stage.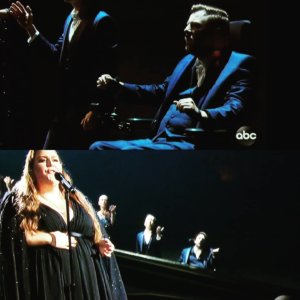 "Being able to represent diversity and disability on The Oscars was a gift," Forrest said. "Hopefully some kid with a difference watched and realized that art is diverse, and we all deserve to be included."
"By having Zack Gottsagan present and Tobias Forrest and Victoria Canal perform, the Academy Awards has taken an important step toward the inclusion of people with disabilities," added Lauren Appelbaum, who leads RespectAbility's Hollywood Inclusion efforts as the organization's Vice President of Communications and author of The Hollywood Disability Inclusion Toolkit. "What we see on screen influences how we act in real life. Thus, by including people with disabilities as presenters and performers, the awards show is helping to remove the stigmas that currently exist about interacting with individuals with disabilities."
However, it is important to note that the stage is not yet accessible for all award winners. When people win an Oscar, they have to walk up to the stage from the audience to receive the Oscar. No major awards show is set up to accommodate award winners who cannot walk up steps. The only alternative, which the Tony Awards used, is having the winner wait backstage to come on to receive their award, which is not equal access.
Marlee Matlin won Best Actress for Children of a Lesser God (1986), being the only deaf performer to win an acting Oscar. Harold Russell, a double amputee, won both Best Supporting Actor and an Honorary Academy Award for The Best Years of Our Lives (1946). Forrest (How to Get Away with Murder, Good Trouble, Weeds) is a lead in the upcoming film Daruma, which RespectAbility has been supporting. If he were to win an Oscar, for example, he would be unable to reach the stage from the audience without a ramp – which would be accessible for all, unlike steps, which are only accessible to some.
KMR Talent's Gail Williamson represents both Gottsagen and Forrest. She has been advocating for inclusion of people with disabilities for more than 30 years. At that time, she "knew inclusion was possible."
"I thought it would happen much sooner, but that doesn't take away any of the extreme joy I felt tonight watching the Academy Awards," she added. "Seeing both Zack present and Toby sing gives me hope. It makes me feel that the message is being heard. I'm so grateful for all the organizations and individuals who have picked up the torch! I look forward to the day that this is the norm, but now I'm thankful for the celebration in our community."
According to Nielsen, the disability market influences more than a trillion dollars in disposable income – making disability inclusion not only the right thing to do but the economically smart thing to do as well.
RespectAbility fights stigmas and advances opportunities so people with disabilities can fully participate in all aspects of community. Behind the scenes in the entertainment industry, RespectAbility provides tools, training and contacts to support decision makers and creative executives at major production companies and studios to improve the number and quality of authentic, diverse and inclusive representation of people with disabilities on screen. RespectAbility increases hiring initiatives of people with disabilities and enriches the pool of disabled talent in Hollywood by connecting them to those who can assist with their careers, both on the creative and business sides of the industry.