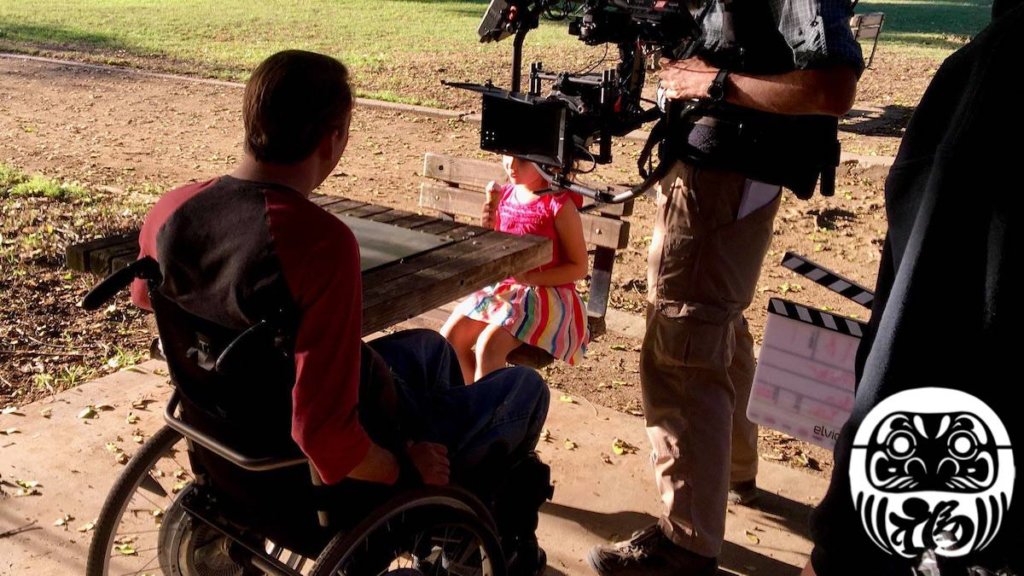 Los Angeles, Nov. 24 – Writers often write what they know and when it comes to writing stories about disabled experiences and characters, the same is true. When Kelli McNeil's family member became paralyzed, she viewed life through their eyes, as they continued to live it through a humorous lens. She wrote Daruma, a film that features two characters who just happen to have disabilities – one a paraplegic and the other a double amputee, inspired by her family member and hospital roommate. But the heart of Daruma is not about disability, rather it is about friendship and forgiveness.
When Patrick, a bitter paraplegic, discovers he has a four-year-old daughter, he enlists the help of his cantankerous neighbor Robert, a double-arm amputee, to transport the young girl to live with her maternal grandparents on the other side of the country. Central to Patrick's and Robert's tale, however, is that neither character is defined by their disability. A universal story that doesn't focus on disability is very much the point of the film.
Daruma is committed to casting authentically. Tobias Forrest (How to Get Away with Murder, Good Trouble, Weeds) and John Lawson (American Horror Story, Westworld) already are attached to the film. Daruma is following in the footsteps of The Peanut Butter Falcon, which also faced an uphill battle for funding after attaching Zack Gottsagen, a young actor with Down syndrome, in its early stages. Now, The Peanut Butter Falcon has grossed more than $20 million and holds an approval rating of 95% on Rotten Tomatoes. There is also significant Oscar buzz surrounding the film. All of this shows that casting authentically can lead a studio to financial and critical success.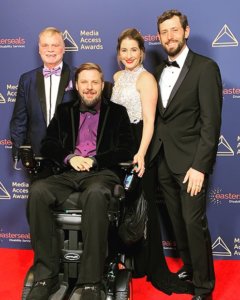 What Daruma does, however, is take the focus off of the characters' disability and places it onto the important relationship dynamics between the characters of Patrick and Robert. McNeil did not set out to write a comedy. In fact, the act of writing the script was intended initially as part of the healing process for her as she helped her injured family member learn to live in their new reality. When her partner, director Alexander Yellen, first read the script, he helped her realize that comedic elements are central to making the story feel genuine. The acting of Forrest and Lawson brings these characters to life, giving substance to McNeil's ideas.
"Having the chance to play a character that's not defined by his disability and to tell a universal story that everyone can relate to is a rare and amazing opportunity," says Forrest, who plays Patrick and is a C5 quadriplegic.
"Being an amputee is a part of who I am but is not the sum total of what I am," adds Lawson, who plays Robert in the film and, like the character in the film, lost both arms in an electrical accident. "Having the opportunity to play a multifaceted character that just happens to be an amputee is what I've advocated for over 25 years for."
Casting authentically must be an intentional effort. What we see on screen influences how we act in real life. The entertainment industry has an opportunity to help remove the stigmas that currently exist around interacting with individuals who have disabilities. Seeing actors with disabilities on screen goes a long way in helping to remove these stigmas.
Daruma will be directed by Alexander Yellen, a veteran of 45 feature films and 60 episodes of television. A native of Washington, D.C., he traveled the world with his scientist parents, being exposed to a variety of cultures. This experience made him cognizant of the importance of having diversity reflected in film and television.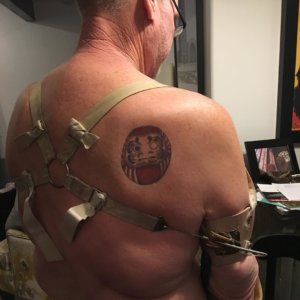 "The more exposure we have to unfamiliar people and concepts, the less frightening they become," Yellen said, also emphasizing the value of amplifying voices, such as those of people with disabilities, who have traditionally not have had the opportunity to self-represent on screen in deep or meaningful roles. "The more people see and hear stories that reflect their own realities from people who look and sound like them, the more those realities are validated, and their own voices will ring more true in the arena of public discourse."
In addition, the production is committed to hiring people with disabilities for crew and post-production positions.
Daruma embodies the values that should be important in this industry – inclusiveness both in front of and behind the camera – with a narrative that promotes an authentic representation of disability.
As The Peanut Butter Falcon continues to break records, filmmakers like McNeil and Yellen hope it may pave the way for additional inclusive films like Daruma to break through. After all, according to Nielsen, the disability market influences more than a trillion dollars in disposable income.
"If movies like this who are willing to take a chance and employ actors with disabilities, if that can be done, then hopefully huge budget movies can do the same exact thing," added Forrest.