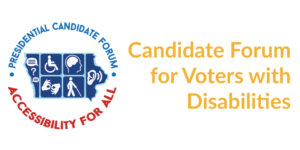 Tomorrow in Iowa, eight campaigns are set to participate in a history-making Accessibility, Inclusion, and Outreach Conference focused specifically on issues that affect people with disabilities. This is important, as while recent polling suggests that voters with disabilities themselves are more enthusiastic about participating in the 2020 elections than the nation at large, none of the campaigns are yet fully accessible to the disability community.
"It is vital for the democratic process to be open to all people and all means all – including people with disabilities," said Lauren Appelbaum, vice president, communications of RespectAbility. Appelbaum is Jewish and recently acquired a disability. "The majority of voters have a friend or family member with a disability or have a disability themselves. It is truly exciting that eight campaigns will be focusing their attention on addressing the 1-in-5 people living in America with a disability."
RespectAbility's own Eric Ascher, who is also Jewish and is on the Autism Spectrum, has organized to interview candidates on the sidelines. He will be asking candidates three questions:
What will you do to enable America's 6 million students with disabilities, especially those of color and/or English language learners (immigrants), who are at risk for the school to prison pipeline, to get the education and skills they need to succeed?
Today, only 1-in-3 of America's 22 million working-age adults with disabilities has a job. As president, what will you do to enable people with disabilities to enter, stay, and thrive in the workforce?
Problems can be best solved by people who have experienced them personally and know what works. What will you do to enable people with disabilities to participate in making our country better, whether it is through your campaign, administration or in other leadership opportunities?
Seven of the democratic candidates will participate themselves: Sen. Cory Booker, Mayor Pete Buttigieg, Hon. John Delaney, Sen. Amy Klobuchar, Rep. Beto O'Rourke, Sen. Bernie Sanders, Mr. Andrew Yang. Additionally, former Sen. Chris Dodd will speak on behalf of Vice President Joe Biden.
According to "Accessibility For All Now," the organizers of the Forum, candidates will answer questions posed by people with disabilities and members of the Linn County Medical Society, which is co-hosting the forum.
The presidential candidates will speak on disability issues from 11:00 a.m. to 5:00 p.m and it will be live streamed. It may also be live on CSPAN. Hence you catch watch from anywhere! The special interviews being done by Eric Ascher will be posted on our own publication, www.TheRespectAbilityReport.org. Stay tuned!