Even though disability representation has improved, Hollywood still has work to do for full inclusion – and recognition – of disability.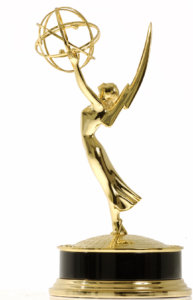 Los Angeles, Calif., Sept. 22 – As Hollywood celebrates Emmy season last weekend and tonight, it's important to highlight the several nominees with disabilities. Including authentic disability in the diversity conversation is important to ensure that Hollywood does not leaves out the largest minority in the U.S., as one-in-four American adults identify as having a disability.
Two highly nominated shows that are best practices for disability inclusion – Born This Way and Special – did not win any of the Creative Arts Emmy Awards that were given out last weekend. But Jane Lynch (The Marvelous Mrs. Maisel), who is deaf in one ear, and CW's Crazy Ex-Girlfriend, whose main character, played by Rachel Bloom, has depression and anxiety, both took home Emmy Awards.
"Inclusion of people with disabilities must be an intentional effort," said Lauren Appelbaum, who leads RespectAbility's Hollywood Inclusion efforts as the organization's Vice President of Communications and author of The Hollywood Disability Inclusion Toolkit.  "Looking forward to tonight's ceremony, nominees include actors with disabilities. Yet there is very little disability representation in terms of characters and story lines, especially with actors with disabilities playing characters with disabilities. What we see on screen influences how we act in real life. The entertainment industry has an opportunity to help remove the stigmas that currently exist about interacting with individuals with disabilities."
Two actors up for Outstanding Supporting Actor in a Comedy Series have a disability – Henry Winkler (Barry) has dyslexia, a learning disability that likely affects more than 40 million Americans, and Anthony Carrigan (also for Barry). Carrigan has had alopecia areata, an autoimmune disease that causes hair loss, since he was a child. He incorporated this into his career, often being typecast as television villains.
Anthony Anderson (Black-ish) has Type 2 Diabetes and Michael Douglas (The Kominsky Method) has stage IV cancer. Both are up for Outstanding Lead Actor in a Comedy Series. Likewise, for two actresses up for Outstanding Lead Actress in a Comedy Series – Julia-Louis Dreyfus (Veep) had breast cancer and Natasha Lyonne (Russian Doll) previously battled addiction. While cancer and addiction are not typically viewed as disabilities, they are included under the Americans with Disabilities Act.
For the drama categories, Jason Bateman (Ozark) also battled addiction. Bob Odenkirk (Better Call Saul) has talked about having color blindness, leaving it to the costume managers to select the right outfits for his roles. Emilia Clarke (Game of Thrones) has had two aneurysms surgically treated. In terms of themes, Bodyguard explores Post-Traumatic Stress Disorder in the fictional character of Police Sergeant David Budd, a British Army war veteran.
Since 95 percent of characters with disabilities are played by actors without the disability, many actors have won awards for portraying characters with disabilities, something the disability community has called out multiple times. Joey King is up for Outstanding Lead Actress in a Limited Series or TV Movie for The Act. King plays someone who uses a wheelchair but does not actually use a wheelchair.
Disability often is absent from talk shows and the late-night shows. Three shows that have been nominated for Emmy Awards have bucked that trend. Drunk History, nominated for Outstanding Variety Sketch Series, did a segment focused fully on the history of the disability movement in the U.S. The Daily Show with Trevor Noah, nominated for Outstanding Variety Talk Series, did a web segment about authentic portrayals in Hollywood, focusing on Bryan Cranston, who played a quadriplegic. Full Frontal with Samantha Bee, nominated for Outstanding Variety Talk Series and Outstanding Writing for a Variety Series, included a segment with Nyle DiMarco about police interactions with deaf individuals and those who are hard of hearing.
Peter Dinklage is up for two Emmy Awards this year: Outstanding Supporting Actor in a Drama Series (Game of Thrones) and Outstanding Television Movie (My Dinner with Hervé). Dinklage is a Little Person; however, he does not personally identify as a person with a disability.
Creative Arts Emmy Awards
Last weekend during the Creative Arts Emmy Awards presentation at the Microsoft Theater, several disability-inclusive nominees took home an Emmy.
CW's Crazy Ex-Girlfriend, whose main character, played by Rachel Bloom, has depression and anxiety, won the Emmy for "Outstanding Original Music and Lyrics" for one of its song-and-dance numbers, which is featured in every episode. The song, Antidepressants Are So Not A Big Deal, is co-written by Bloom, who has anxiety herself. She has written an essay in Glamour about her anxiety and recently participated in the Child Mind Institute's My Younger Self campaign, giving advice to her younger self about living with anxiety and depression. Crazy Ex-Girlfriend puts the spotlight on mental health in an accurate manner.
Jane Lynch (The Marvelous Mrs. Maisel) won the Emmy for Outstanding Guest Actress in a Comedy Series. Lynch is deaf in her right ear. Emma Thompson (Saturday Night Live) also was nominated in this category. Thompson has talked about having depression.
Nike's "Dream Crazy," which was extremely diverse, earned the Outstanding Commercial Emmy. Among numerous athletes, the commercial shows a young boy with no legs winning a wrestling match, a young woman in college playing basketball from a wheelchair, an Ironman runner following a brain tumor and Shaquem Griffin, a football player with one hand. While showing Griffin, the narration states: "If you have only one hand, don't just watch football. Play it, from the highest level."
Norman Lear, who has been an advocate for people with disabilities his entire career, won an Emmy for "Outstanding Variety Special (Live)" for All In The Family and The Jeffersons Live. With this win, he breaks an Emmy record, becoming the oldest person ever to win an Emmy Awards.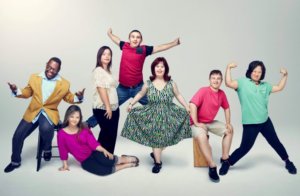 In reality television, one show included a full cast of people with disabilities and portrayed a fully dynamic characterization of each person. A&E's Born This Way was nominated for three Emmys. While they did not win any this year, Born This Way has been nominated for twelve Emmy awards, winning three in the past three years. The show itself follows the lives of seven adults with Down syndrome and their families who live in Southern California. Born This Way has proven that people would watch shows that feature well-rounded portrayals of people with disabilities since the show lasted four seasons. However, it will be ending with a six-part web series and holiday special this December.
W. Kamau Bell, whose show United Shades of America on CNN beat out Born This Way for the Emmy for Outstanding Unstructured Reality Program, called out the industry for not being inclusive enough. During his acceptance speech, he said the industry was "full of s–t" for not giving more opportunity to Born This Way. Several cast members spoke with Bell on the red carpet before the awards, informing him of the show's cancellation. The network the show has been on, A&E, has been one of the most disability-inclusive networks, being the home of not only Born This Way but also Deaf Out Loud and The Employables.
"If this show's being nominated for all these things, and being shown as this change maker…Born This Way—it feels like these people have been nominated for all these awards, shouldn't they be pitching more shows, and being out there in more shows, and produce shows, and bring through other stories? Maybe that's happening to them, but I didn't get that impression," Bell said.
Bell's show, which explores marginalized populations and subcultures across America, featured an episode on disability in America in May 2018. Bell's goal with the episode was to explore healthcare issues relating to the disability community and how people with disabilities are portrayed in the media.
Netflix's Special was up for several Emmy Awards, including Outstanding Short Form Comedy or Drama Series, as well as Jessica Hecht and Punam Patel for Outstanding Actress in a Short Form Comedy or Drama Series and Ryan O'Connell for Outstanding Actor in a Short Form Comedy or Drama Series, but did not take any home last weekend. Special's creator Ryan O'Connell broke new ground for representation of LGBTQ+ people and people with disabilities. The show is about O'Connell's life and features him in the starring role. While coming out as gay as a teenager was easy for O'Connell, he hid his disability in his early twenties, pretending his limp was caused by a car accident. In 2015 he wrote the truth in his memoir "I'm Special: And Other Lies We Tell Ourselves," which led to the creation of this Netflix series.
While these awards were given out last week, FXX will broadcast edited highlights from the Creative Arts Emmys on Saturday, Sept. 21 at 8:00 p.m. ET/PT.
The 71st Primetime Emmy Awards will air on Sunday, Sept. 22 at 8:00 p.m. ET / 5:00 p.m. PT on Fox.
Eric Ascher provided additional research for this piece.