Washington, D.C., September 20 – Motivated by their own experiences, five self-advocates shared their stories of perseverance and success at RespectAbility's Capitol Hill Summit Event, From Washington to Hollywood and Beyond: The Future of Americans with Disabilities.
"The disability rights movement is at its best when people with disabilities are leaning in at tables among decision-makers and leading in every field. That includes having businesses, nonprofits hire people with disabilities," said Nicole LeBlanc, who moderated the panel entitled "Success Stories of Self-Advocates." The panel exemplified this idea as it featured professionals from multiple fields with visible and nonvisible disabilities. The panelists shared personal experiences navigating their disabilities in both their personal and professional lives.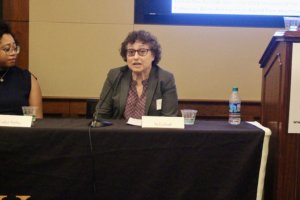 Ila Eckhoff, RespectAbility board member and a managing director at Blackrock, the world's largest asset management firm, was born two months premature, with cerebral palsy and only a 50 percent chance of surviving. She underwent 12 operations by the time she turned 16, but as her father advised, she did not let anything discourage her.
"No matter what obstacle I hit, the question was always the same: How bad do you want it? And how much are you willing to give up to get it?" Eckhoff said. This ideology taught her a great sense of resiliency. She is not afraid of failure because working through challenges makes her more prepared for the next thing. With this knowledge, Eckhoff mentors kids throughout her industry to change the dialogue from what people with disabilities cannot do to what they can do.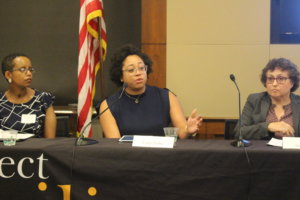 Evelyn Kelley, RespectAbility board member and a successful attorney with the U.S. Patent and Trademark Office and former RespectAbility Fellow, continued the dialogue by telling her story. Kelley was born the year the Americans with Disabilities Act was passed and, because of this, had more resources and protections than the previous generations. This became important when she lost most of her hearing at the age of seven. Kelley learned to adapt and found reading to be a very beneficial tool. She says the key to success is "just being creative and finding ways to make sure that you don't miss the information that you need."
To attend Stanford University, Kelley moved thousands of miles away from her family and in doing so learned to self-advocate when needing closed captioning or requesting accommodations. In Kelley's opinion, being a self-advocate means being visible for those who are not. "They need you to be there, speaking up for yourself …. and most likely they're not the only person in the room who needs an accommodation," she said.
Laka Mitiku Negassa, the third panelist, was a Public Policy and Employment Fellow with RespectAbility's 2019 summer cohort and currently is studying for a Master of Public Health from George Washington University's Milken Institute School of Public Health. In January 2013, Negassa was hit by a snow plow and dragged nearly eighty feet. The only functioning organ in her body was her heart. Her other organs were lacerated and bleeding heavily. The accident left her in a coma for three weeks with multiple bone fractures. She endured five major surgeries and three years of physical, occupational and speech therapies to relearn how to walk, write and process information. As an immigrant woman of color with a disability, Negassa found many barriers to the U.S. healthcare system, which prompted her interest in health policy.
She shared the following lessons from her journey: "Live each and every moment being grateful. Also, thank God that you are alive and are able to make a difference. Don't ask, 'Why did this happen to me?' Instead, be grateful that you are still here and breathing."
The summer with RespectAbility has taught Negassa how to raise an issue at the government level, be sensitive to political and ideological differences, refine her research skills, put forth policy solutions and confidently express her ideas.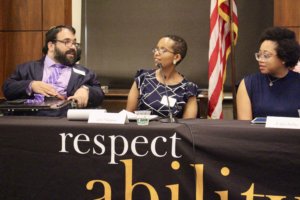 The final panelist was Matan Koch, Director of Project Moses and General Counsel at RespectAbility who has worked both as an attorney and in Jewish inclusion. At RespectAbility, Koch helps boost its faith-based inclusion work and is building the Jewish Leadership Program (Project Moses) in Los Angeles. Koch studied theology at Yale University before attending law school because law "is what they told young, articulate people with significant physical disabilities to do for a career when you were growing up in the 90s."
He is proud of the progress the Jewish community has made in including people with disabilities into their services. Growing up, Koch went to camp, joined college Hillel boards and participated in Jewish nonprofits but attributed this inclusion to his prominent family. In his role with RespectAbility, Koch wants to break down barriers for those who did not have the access that he did.
The panel then opened up for questions that covered topics such as reconciling self-determination with the need for accommodations, empowerment and leadership in your community, navigating privilege, self-disclosure and, finally, responding to negativity. Negassa offered a short yet impactful statement: "I think you have to start being real with yourself… If you are real then you can inspire your own story."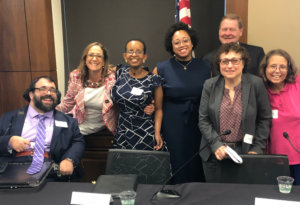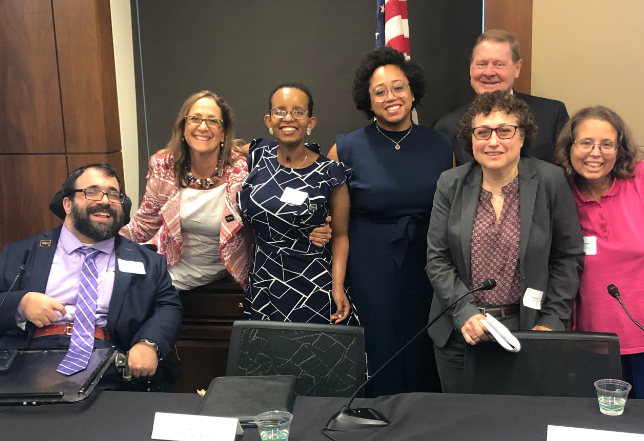 Koch answered, "We all have things with which we struggle. We all have barriers and needs… Part of being a successful adult is the ability to advocate for them in whatever way works for us and ask for those unapologetically."
For her part, Kelley said that "once I understood that [my hearing loss] was just as much a part of me as the kind of person I am, and what makes me, then I realized that there was no need to be ashamed."
Eckhoff offered advice for self-care by remembering the five things she is grateful for: "great kids, great apartment, great job, life is good, in this moment nothing can hurt me."
LeBlanc, Eckhoff, Kelley, Negassa and Koch are all great examples of succeeding not despite their disabilities, but in communion with them.