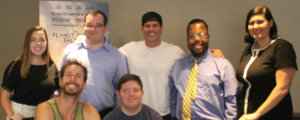 Washington, D.C., September 16, 2019 – Prince George's County native and sports writer Anthony Rendolph Clarke Brown II has put his writing skills to work for people with disabilities. Brown manages the social media presence for RespectAbility, a nonprofit that works to fight stigma and advance opportunities for people with disabilities. As a Communications Fellow charged with handling the organization's image on social media, Brown is guided by two objectives: share articles that showcase the talents of people with disabilities and make the disability community aware of legislation that benefits them.
Brown was born with hydrocephalus, excess fluid in the brain, and a slight form of cerebral palsy. He developed mild seizures later in life. Being able to use his journalism background as a Communications Fellow with RespectAbility falls in line with his love of storytelling. He enjoys writing profiles of high-school football and basketball athletes for the website, Portermedium.com.
Writing for FanSided Network's The Baltimore Wire site gave him his start in sports blogging, and he covered Maryland Terrapins football and basketball for the site as an undergraduate student at Maryland.
Brown said about storytelling: "It's not just about getting a story but making the subjects feel as comfortable as possible to want to open up to me as the interviewer. That's where the best stories come from – a comfortable place."
Writing profiles of athletes has helped him showcase the person behind the player –– a skill he plans to apply to his work in featuring members of the disability community.  "I want to share these stories because this is my community too."
Brown also gathered disability content to share on RespectAbility's Facebook and Twitter pages and transcribed videos of events the nonprofit hosted. "I have learned a lot from this Fellowship about social media and content creation," added Brown. "For me, it was always interesting to see how publications, small or large, write about the disability community."
According to RespectAbility President and CEO Jennifer Laszlo Mizrahi, social media is a huge part of representation and outreach for the disability community. "People in the disability community want to read stories about the positive things happening," she said. "It's important that we see ourselves represented."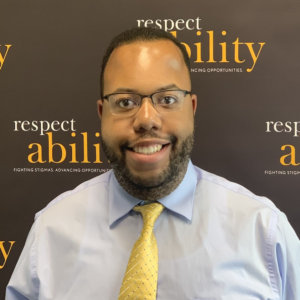 This summer, the organization opened an office in Hollywood to continue educating the film and television industry about people with disabilities. This new program will train people in all aspects of movie and T.V. production to ensure a realistic and positive presentation of people with disabilities, and better hiring practices behind the camera.
According to the Centers for Disease Control and Prevention, one-in-four adults in America have a physical, sensory, cognitive, mental health or other disability. But only a third of them who are of working age have jobs, according to the U.S. Department of Labor. Lack of employment not only puts people at risk of financial insecurity, but it's also the leading social determinant of poor health.
As a nonprofit, nonpartisan organization, RespectAbility recognizes the value in society living up to its values and believes that it is stronger when doing so. Led by people with disabilities and their allies, RespectAbility works with policymakers, educators, philanthropists, journalists and the entertainment industry to promote accessibility and inclusion for people with disabilities. Its free tools and resources aim to help people with disabilities achieve equal opportunities in education, training, jobs, security and good health.
Brown is one of 169 graduates of RespectAbility's National Leadership Program. To learn more about the program or to apply, go to www.respectability.org/about-us/fellowship.
Media Contact:
Ben Spangenberg
[email protected]
(202) 517-6272 ext. 120