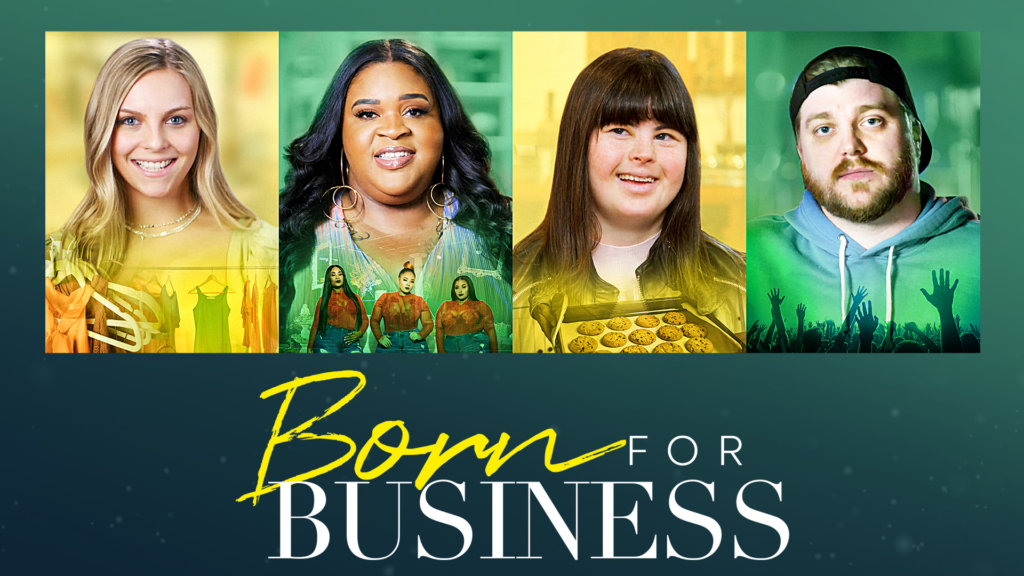 Born For Business is a new groundbreaking docuseries focused on the talents, innovations and impact of entrepreneurs with varying disabilities. Many highly successful entrepreneurs have disabilities, including Richard Branson and most of the sharks on Shark Tank. Born For Business shines the spotlight on four emerging entrepreneurs: Chris Triebes, Qiana Allen, Collette Divitto and Lexi Zanghi.
Entrepreneurship and self-employment can be a valuable and viable option for people with disabilities looking to enter the job market on their own terms. According to the Bureau of Labor Statistics, people with disabilities are self-employed at a rate nearly twice that of their non-disabled peers. As of the 2019 American Community Survey, approximately 700,000 workers with disabilities were self-employed, enjoying the flexibility and opportunities that entrepreneurship provides.
Approximately 70 percent of people with disabilities want to work, and thousands could become entrepreneurs if they can develop their skills and access capital. Potential entrepreneurs with disabilities need resources, assets and support in order to translate their entrepreneurial ideas into actual, viable businesses.
This toolkit provides an inventory of existing materials, advice and guides for those jobseekers with disabilities ready to become self-employed, launch a new enterprise, or develop their entrepreneurial skills.
Federal Disability Entrepreneurship Resources
The federal government has collected and published a wide range of information to assist entrepreneurs with disabilities to become successful. As published by the Office of Disability Employment Policy (ODEP), these assets include:
State Disability Entrepreneurship Resources
Road to Self-Sufficiency: A Guide to Entrepreneurship for Youth with Disabilities is published by the National Collaborative on Workforce & Disability for Youth (NCWDB), and is a great resource for fans of Born for Business and anyone interested in local resources on disability and entrepreneurship. This guide is designed to support new entrepreneurs, their families and those who support them. Appendix A of this guide contains a special section detailing state specific programs to support disability entrepreneurship including:
For California-based fans of Born for Business, the California Department of Rehabilitation (DOR) can help clients with disabilities:
The Chicago-based Chicagoland Entrepreneurship Education for People with Disabilities (CEED) Project is an organization that is dedicated to the intersection of disability and entrepreneurship. Their resources include:
In order to find more state-specific entrepreneurship resources to help you on your business journey, please visit the Job Accommodation Network (JAN)'s interactive resource map.
Resources for Individuals Receiving SSI or SSDI Benefits
For people with disabilities interested in exploring entrepreneur opportunities but are currently receiving Supplemental Security Income (SSI) or Social Security Disability Insurance (SSDI) benefits, here are some resources and options:
Understanding Disability-Owned Business Enterprise (DOBE) Certification
In order for a new generation of entrepreneurs with disabilities to succeed, they will need resources and contacts to start new businesses. One such resource is a DOBE certification. DOBE stands for Disability-Owned Business Enterprise. As defined by Disability:IN, a national organization dedicated to business disability inclusion, a DOBE "is a for-profit business that is at least 51% owned, managed and controlled by a person with a disability regardless of whether or not that business owner employs person(s) with a disability." DOBE certifications can also include veterans with and without service-connected disabilities.
Benefits of DOBE certification include:
Nationally Recognized Certification
Exclusive Information and Resources
Networking & Business Matchmaking Opportunities
Policy Advocacy
Access to private sector corporations
DOBE certification is a recognized credential in the following localities:
Commonwealth of Pennsylvania
Commonwealth of Massachusetts
Hoboken, New Jersey
Jersey City, New Jersey
Philadelphia, Pennsylvania
Billion Dollar Roundtable
Disability:IN provides a certification documentation checklist, as well as a shorthand eligibility list to help prospective entrepreneurs get started. A full list of requirements and more information is available at Disability:In's website. Other resources are available that give in-depth details about what DOBE is and its important contacts, including:
Additional Resources
Collette Divitto, one of the stars of Born For Business, teaches a class about how to become an entrepreneur. Learn more about the class at her website.
About Born For Business
Born For Business is produced by Shopify Studios and Bunim/Murray Productions, the Emmy Award-winning creators of Born This Way. Tobi Lütke, Pam Silverstein, Gil Goldschein, Jonathan Murray, Julie Pizzi, Erica Ross, Jonathan Stern, and Laura Korkoian serve as executive producers and Jacob Lane and Millee Taggart-Ratcliffe serve as co-executive producers.
All 10 episodes of Born for Business are streaming now on Peacock (USA) and CRAVE (Canada).
To learn more about the show and get started in entrepreneurship, please visit the official Shopify website. Follow #bornforbusiness on social media for more.
Additional reporting by Morgan A. Davis, an alumna of the RespectAbility National Leadership Program. Born with Cerebral Palsy, Davis has always felt a desire to help others impacted by disabilities. She graduated Magna Cum Laude from the University of Central Oklahoma in 2020.