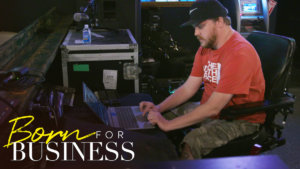 Los Angeles, August 18 – Chris Triebes is an entrepreneur based in the Chicago area specializing in booking and event planning for music acts. Chris was diagnosed with spinal muscular atrophy and is one of the subjects of Peacock and CRAVE's upcoming unscripted show Born For Business. The show will highlight individuals with disabilities who own and operate their own businesses, showcasing their success accompanied by some of the challenges involved with entrepreneurship.
Chris says his main motivation for becoming an entrepreneur was his ambition along with the need to provide for his daughter as a single father. "Necessity is the mother of invention," proclaimed Chris as he describes his hustle in an interview with the disability nonprofit RespectAbility. His hustle is apparent when he describes how he initially got into the business of booking musical acts.
"All of my stuff is nearly self-funded. I truly started from the bottom and built up. I started with $100 I shouldn't have been spending on a deposit for a legion hall," recounted Chris. Since the early days of his first show, his business has grown and he still operates through self-funding but occasionally has investors providing funds for some of his larger endeavors, including his music festival The Breaks. What started off as a few shows has expanded into an interstate enterprise replete with numerous musicians and tours. During the course of filming of the series, Chris faces a potentially catastrophic challenge when COVID-19 hits, forcing the cancellation of all live music events.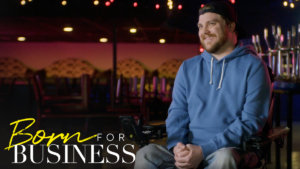 Chris operates in a unique space where he can identify problems in access when choosing a host venue. As a wheelchair user, he is his own litmus test for determining adequate accessibility. He considers the logistics of space when choosing venues but acknowledges the limitations of access certain buildings offer and not being able to occasionally enter areas. However, he does find joy in being able to answer questions about accessibility when it is available. He says, "People will call me and ask me about a venue and ask if 'I can attend this show?' I'll say, 'Yes, you can go! I scouted the place myself.'"
Prior to his business, Chris had an unconventional employment history. With the exception of a few odd jobs, band booking and event planning has been his main source of income. He claims part of his motivation for his enterprising push was the few callbacks he received from prospective employers. "I would go into an interview and feel like I nailed it, said the right thing, but never got any job offers," said Chris. Joining the ranks of other individuals with disabilities, Chris took matters into his own hands and invested in himself and his love of music and became an entrepreneur.
According to the Bureau of Labor Statistics, people with disabilities are self-employed at a rate nearly twice that of their nondisabled peers. That is because people with disables, by definition, need to find new and less traditional paths to success. In fact, as of the 2019 American Community Survey, approximately 700,000 workers with disabilities were self-employed, enjoying the flexibility and opportunities that entrepreneurship provides. That leads to determination and innovation – key features of Born For Business – and what viewers need as society enters unprecedented times. Approximately 70 percent of people with disabilities want to work and thousands could become entrepreneurs if they can develop their skills and access capital.
Chris promotes a variety of acts ranging from local bands to musical legends like the Wu Tang Clan. When asked which genre of music resonates with him most, Chris answered "Metal." He identifies with the background and demographics of metal's fan base.
"I have noticed that metal fans tend to come from tough situations," said Chris. "I noticed my peers who liked metal had an affinity for the aggressive or melancholy music because they were tougher. I don't want to listen to Pharrell's 'Happy' all the time," he admits while laughing.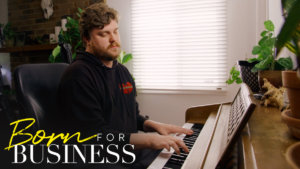 Chris said he was interested in appearing on Born For Business due to the lack of representation of people with disabilities "who have a disproportionately low voice" in media, especially when it comes to portraying stories of proactive business owners making their own opportunities and succeeding. He laments the often-repeated tropes of pitied people with disabilities who are painted as helpless or unresourceful. "I want to help normalize disability," he said. "I think I can be someone who's good for that."
Learn more about Chris and his company on Born For Business, which airs on Peacock (USA) and CRAVE (Canada) beginning August 23, 2021.
Born For Business, which features talented and diverse entrepreneurs with disabilities, creates a paradigm shift for people with disabilities because it is authentic and shows what people with disabilities CAN achieve. At the same time, it does not sugar coat it. It shows stories of resilience and innovation that will have universal appeal as they are perfectly timed for a moment when people are struggling to get past the challenges of this time.
Born For Business is produced by Shopify Studios and Bunim/Murray Productions, the Emmy Award-winning creators of Born This Way. Tobi Lütke, Pam Silverstein, Gil Goldschein, Jonathan Murray, Julie Pizzi, Erica Ross, Jonathan Stern, and Laura Korkoian serve as executive producers and Jacob Lane and Millee Taggart-Ratcliffe serve as co-executive producers.
Visit shopify.com/born-for-business to learn more. Follow #bornforbusiness on social media for more.