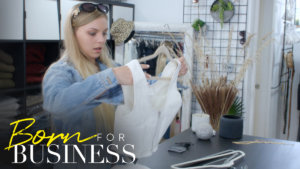 Los Angeles, August 19 – Lexi Zanghi is one of four business owners with a disability who will be featured on the upcoming unscripted show, Born For Business on Peacock (USA) and CRAVE (Canada). Lexi grew up in a family of entrepreneurs and always knew she wanted to be her own boss. During an interview with the disability nonprofit RespectAbility, she told the story of her journey to create "Always Reason," a young women's clothing store, which has been filled with endless challenges.
Growing up in Long Island, NY, Lexi was a sensitive kid who would easily get jealous if she felt rejected by her friends. Despite that sensitivity, she was a loud, outgoing child who would put herself out there and enjoy the attention of her peers. Her outgoing attitude started to fade when Lexi entered middle school when she encountered the "mean girls" at her school. As she began high school, it faded even more.
"That's when I made the decision to do better and be better as just a person, because I didn't want to feel the way people had made me feel," she said.
Lexi joined the cheer team in high school. Her feelings of rejection were intensifying as a result of the clique-y nature of cheerleaders mixed with instances of mistreatments by the girls at her school. In order to rise up against the trappings of high school drama, Lexi made a promise to herself to never gossip and to always treat others with kindness despite how she's treated. This new way of being came with a new set of downfalls.
"That made me stick out like a sore thumb being like a goody-goody. That's how they looked at me now. So, there was no way I could win…It created this thing in my brain that was like no matter who you are, how you act, it will never be enough."
After ending a traumatic relationship during her freshman year of high school, Lexi had her first experience with therapy. It was during those sessions that her therapist diagnosed her with anxiety for the first time. But she wasn't willing to accept the diagnosis.
"I didn't believe in anxiety…It wasn't something I worried about or heard about, ever…I could care less if someone told me I had it."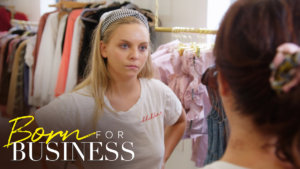 Lexi didn't make much progress in therapy. She stopped going after her fourth session. Later that year, she started dating a guy who is now her fiancé. This new romance turned out to be her main comfort in the triumphant years that followed as she increasingly isolated herself from the world.
Even though she still was not recognizing it as anxiety, Lexi was starting to experience severe symptoms as she continued her journey through the high school years. She recalls having a constant feeling of pre-game butterflies at random times throughout the day for no particular reason. She stopped going to high school parties and avoided most social gatherings. Looking back at those days, she now firmly believes what she was experiencing was anxiety.
"I think that in high school I definitely had it, but anxiety is one of those things, I know that for a fact now, when you're going through it all you know is something's seriously wrong. You don't know why or what is happening to you. I could never describe it in words…it was just I'm sad or stressed or I just have a weird feeling, but I never knew it was anxiety. Looking back, I totally had it."
Things became worse senior year. Her boyfriend was a year older than her, so he left for college. Not having much of a social life outside of him and unable to make any new friends, she started to experience heavy feelings of loneliness and isolation. While looking for ways to cope with that, she found herself back in therapy. This time she was ready to accept her anxiety and was put on medication. Then came college. She enrolled at Laboratory Institute of Merchandising (LIM College) in NYC to study fashion marketing.
"I had every intention of going to school. I felt it was important, to grow up in life you have to go to college because that's your way of leaving home without fully leaving…I wanted that transition. But I got to school and I was incredibly anxious."
An unpleasant comment one girl made criticizing Lexi's thick New York accent on the first night was enough to push Lexi to the edge.
"Till this day I think about that… something that shows you how bad anxiety is. It's five years later and I'm still thinking about one little comment that wasn't even that rude."
On the second day of college, Lexi was already contemplating going home to visit. Even though she felt it was way too soon, she decided to do it anyway. While visiting, she found out that her boyfriend will not be going back to his second year of college to deal with personal matters regarding his health. After finding out he would be around, and overwhelmed with the first few days of college, Lexi was struck with a new insight. Instead of returning to college, she decided to take the money that would have gone to paying for school and use it to build a business, which would become the clothing store Always Reason.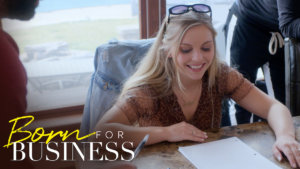 "For the name Always Reason, I'm a firm believer in yin and yang, there's the good and the bad…and there's always a reason for everything and even if there's not, it's easier to tell yourself there is. So, I felt strongly about it and my boyfriend was wearing a hat that said 'reasoning' or something like that on it and I was like 'oh my God, Always Reason!"
According to the Bureau of Labor Statistics, people with disabilities are self-employed at a rate nearly twice that of their nondisabled peers. That is because people with disables, by definition, need to find new and less traditional paths to success. In fact, as of the 2019 American Community Survey, approximately 700,000 workers with disabilities were self-employed, enjoying the flexibility and opportunities that entrepreneurship provides. That leads to determination and innovation – key features of Born For Business – and what viewers need as society enters unprecedented times. Approximately 70 percent of people with disabilities want to work and thousands could become entrepreneurs if they can develop their skills and access capital.
Lexi is willing to share her journey on national TV in hopes that her story might help others. But that was not an easy decision.
"I'm someone who stopped posting on Instagram for like two years. I was so scared to because of what others would think. So, to think of me doing a show where I'm literally being my most vulnerable was absolutely terrifying…then I was like, 'If this helps somebody, then it's worth it.' And I still tell myself that now knowing what's on the show and my breakdowns, ugly stuff is coming up that I have to relive."
Moving forward, Lexi plans to associate her brand with anxiety relief. She wants to create a safe space to discuss the topic with her customers.
"I'm trying to normalize [anxiety] by talking about it more. And whenever I do, half the time they usually know someone that's seriously going through what I went through, and they want me to talk to that person, or they need advice. Normalizing it and talking about it is so important now more than ever."
Born For Business, which features talented and diverse entrepreneurs with disabilities, creates a paradigm shift for people with disabilities because it is authentic and shows what people with disabilities CAN achieve. At the same time, it does not sugar coat it. It shows stories of resilience and innovation that will have universal appeal as they are perfectly timed for a moment when people are struggling to get past the challenges of this time.
Born For Business is produced by Shopify Studios and Bunim/Murray Productions, the Emmy Award-winning creators of Born This Way. Tobi Lütke, Pam Silverstein, Gil Goldschein, Jonathan Murray, Julie Pizzi, Erica Ross, Jonathan Stern, and Laura Korkoian serve as executive producers and Jacob Lane and Millee Taggart-Ratcliffe serve as co-executive producers.
All 10 episodes of Born For Business will stream on Peacock (USA) and CRAVE (Canada) starting August 23, 2021.