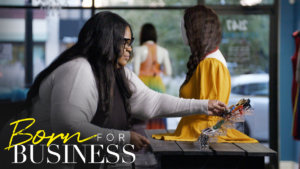 Los Angeles, August 17 – Qiana Allen is a Chicago entrepreneur who owns Cultures Closet, a fashion and life-style brand for plus-size women and is featured on Peacock and CRAVE's new unscripted show Born For Business. For Qiana, who lives with Lupus, having her own business gives her the flexibility she needs to manage her illness. Born For Business will highlight individuals with disabilities who own and operate their own businesses, showcasing their success, accompanied by some of the challenges involved with entrepreneurship.
Despite the challenges that come with entrepreneurship, being an entrepreneur always has been worth it in Qiana's eyes. From a young age, she saw her uncle's freedom as an entrepreneur and knew that is what she wanted to do with her life. "All I know is he would call himself an entrepreneur," she said in an interview with the disability nonprofit RespectAbility. "I didn't know exactly what it was, but I saw him being self-sufficient, flexible in his hours, and enjoying what he did. And I wanted to do that as a child and I've never wanted to do anything else."
According to the Bureau of Labor Statistics, people with disabilities are self-employed at a rate nearly twice that of their nondisabled peers. That is because people with disables, by definition, need to find new and less traditional paths to success. In fact, as of the 2019 American Community Survey, approximately 700,000 workers with disabilities were self-employed, enjoying the flexibility and opportunities that entrepreneurship provides. That leads to determination and innovation – key features of Born For Business – and what viewers need as society enters unprecedented times. Approximately 70 percent of people with disabilities want to work and thousands could become entrepreneurs if they can develop their skills and access capital.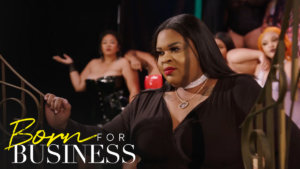 While it was her uncle who introduced her to entrepreneurship, it was her mother who instilled her with the hustle and grind she would need to make it as an entrepreneur. "My mom also played a huge part in me being an entrepreneur. She always had a side hustle even though she worked all the time."
After Qiana's mother passed away in 2009, she used her mother as an example and bet on herself. After paying off the family house, Qiana used her savings along with her inheritance to start Cultures Closet, which includes both a physical and online store.
Qiana also is a mother to two young men who she hopes will follow in her entrepreneurial footsteps. During the filming she takes the first steps to bring her sons into her business. She also faces the challenges of navigating COVID-19's impact on her business.
To Qiana, Cultures Closet is about more than fashion. "We teach plus-sized women how to love themselves."
Her goal from inception was to create a brand that supports and uplifts plus-size women. Her hopes are to re-define how people look at plus-size women by showing them in beautiful and elegant clothing. Cultures Closet also throws different events for plus-size women to go to and connect. The events include everything from networking opportunities to group workouts.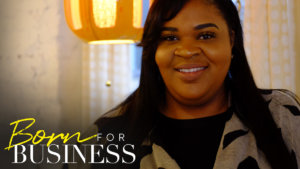 In fact, it was her drive to redefine how society views disabled and plus-size women that led her to Born For Business. Despite being quite reserved with her personal life and not often sharing her full background with people, Qiana recognized how important it is to show people with disabilities and plus-size women in ways that they are not often typically seen. She saw Born For Business as the perfect opportunity to do just that. "In order for people to start loving themselves more, they have to see more people that look like them," Qiana said.
Born For Business, which features talented and diverse entrepreneurs with disabilities, creates a paradigm shift for people with disabilities because it is authentic and shows what people with disabilities CAN achieve. At the same time, it does not sugar coat it. It shows stories of resilience and innovation that will have universal appeal as they are perfectly timed for a moment when people are struggling to get past the challenges of this time.
Because Qiana is willing to step out of her shell and share herself with the world, she will help show that people with disabilities and plus-size women can make their way in the world of entrepreneurship. To learn more about Qiana and her journey, tune in to Born For Business on Peacock (USA) and CRAVE (Canada) beginning August 23, 2021.
Born For Business is produced by Shopify Studios and Bunim/Murray Productions, the Emmy Award-winning creators of Born This Way. Tobi Lütke, Pam Silverstein, Gil Goldschein, Jonathan Murray, Julie Pizzi, Erica Ross, Jonathan Stern, and Laura Korkoian serve as executive producers and Jacob Lane and Millee Taggart-Ratcliffe serve as co-executive producers.
Visit shopify.com/born-for-business to learn more. Follow #bornforbusiness on social media for more.
---
Additional reporting by KiAnna Dorsey, an alumna of the RespectAbility National Leadership Program. A Black woman with severe nut allergies, Dorsey currently studies at the University of Miami to earn her Bachelor of Arts degree in Motion Pictures on the Production Track.