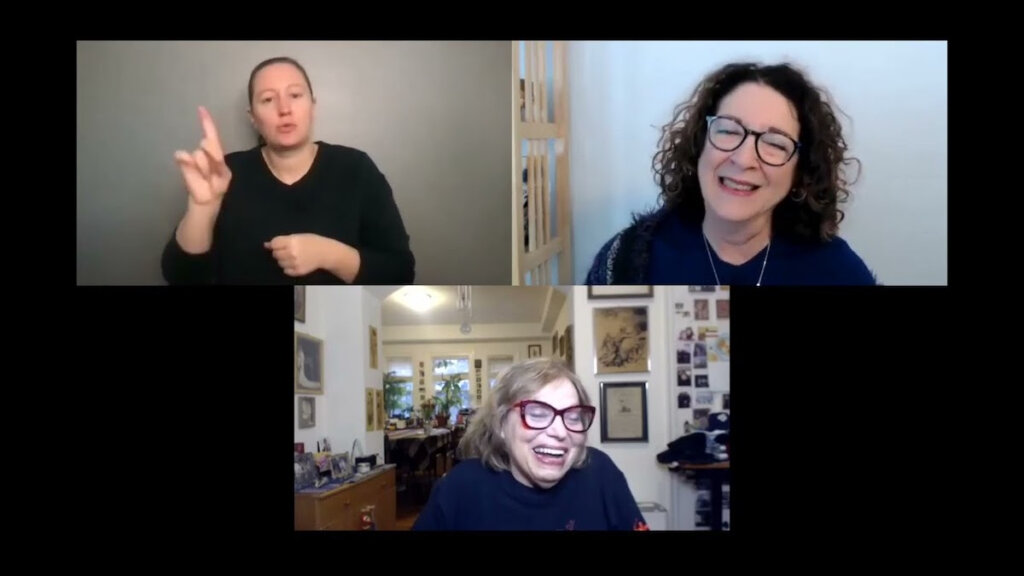 Late one Sunday night last October, my phone rang. I panicked because late night calls never bring good news.
"Who is calling so late?" I grumbled.
One glance at the screen and I had my answer. It was actually good news.
"Hi, Judy," I said. "I'm so glad you called!"
A month earlier I texted Judy Heumann with an invitation to be the guest speaker on a webinar RespectAbility was doing for Jewish Disability Awareness, Acceptance, and Inclusion Month. I added that we wanted to feature her two recent books, "Being Heumann" and "Rolling Warrior" for the JDAIM Reads! Selections.
She texted immediately. "Of course, I am interested and thank you very much!"
We agreed to firm up the webinar date after the Jewish high holidays. I was thinking we'd schedule a call during weekday business hours and was about to do that when Judy called me that Sunday night.
We chatted for a few minutes. She asked how my job at RespectAbility was going and I asked her about "Being Heumann" and what was next for the franchise. A children's book, she said, and a film!
Then Judy got down to business.
She launched into giving me the names, phone numbers and email addresses of her publisher, publicity group and her personal assistant. "Contact them and they'll answer all of your questions," she said. She followed with further instructions. "Don't email me. I might not see it right away. Just send me a text and I'll get back to you." By this time I was frantically writing down every word Judy said so I wouldn't forget the details. My hand was getting tired but I kept writing. We ended our conversation with me promising to contact all the people she named.
Before long, it was webinar day. We met on Zoom, making sure that everyone was ready. The number of participants kept growing as we began our conversation.
Judy talked about her parents, Ilse and Werner Heumann, German immigrants who arrived in the United States in the mid 1930s. Judy said, "They made the decision that they wanted my life to be the way they expected it would have been had I not had a disability. The challenges or discrimination that continued to occur, they didn't know exactly how to deal with it. But as the years went by, you can see that my mom learned that if she didn't speak up and out things weren't going to happen, and they didn't necessarily happen right away. And she also learned that there were other parents, when I finally got to go to school, that had similar goals and aspirations for their children. And so, you know, they were learning by doing. And we, as their kids, were learning by watching. And it was not a course where you have lesson one, two, three, and four, and got tested at the of every lesson to see what you had learned."
Judy also spoke about the responsibility of religious communities to exemplify how the world can be.
"And as we know for many people, some people, religious community is very important and is an example of if we get it right in the religious community, if disabled people feel that the barriers are being removed, and that we're being treated equitably, then it's a great roadmap — an example for how the rest of society can move forward."
Judy read from her book, "Being Heumann," near the end of our hour together. This passage is from the last chapter, "Our Story."
"How can anyone know what their life would have been? I can only know that it was meant to be what it is. I am who I was meant to be. If you were to acquire a disability tomorrow, it will be a change, but I can tell you this: it wouldn't have to be a tragedy. We are all human. Why do we see disability differently from any other aspect of being human? When I look back now, I see that one of the greatest aspects of the 504 sit-in was the way it united us. We weren't focused on how we were different. We were focused on our common goal, our collective purpose. We look beyond how each person spoke and moved, how we thought and how we looked. We respected the humanity in each other. We stood for inclusiveness and community, for our love of equity and justice, and we won."
Judy's words take on profound meaning now. This is how she said goodbye to the webinar audience.
"I want to thank everybody for what you all do, and we all have to do it together. So I think leaving here, I love leaving these discussions and thinking about what I need to do more of, so I hope you can think of one or two things that are new or strengthening what you have been doing."
Judy Heumann showed us the way. There will never be another leader like Judy. But within each of us, we have our own spark. We have a job to do. So long as there are people who want to belong, like anyone else, but are shut out because of inaccessible spaces, discriminating attitudes, and stigma, the memory of this remarkable leader will bless us on our own journeys.