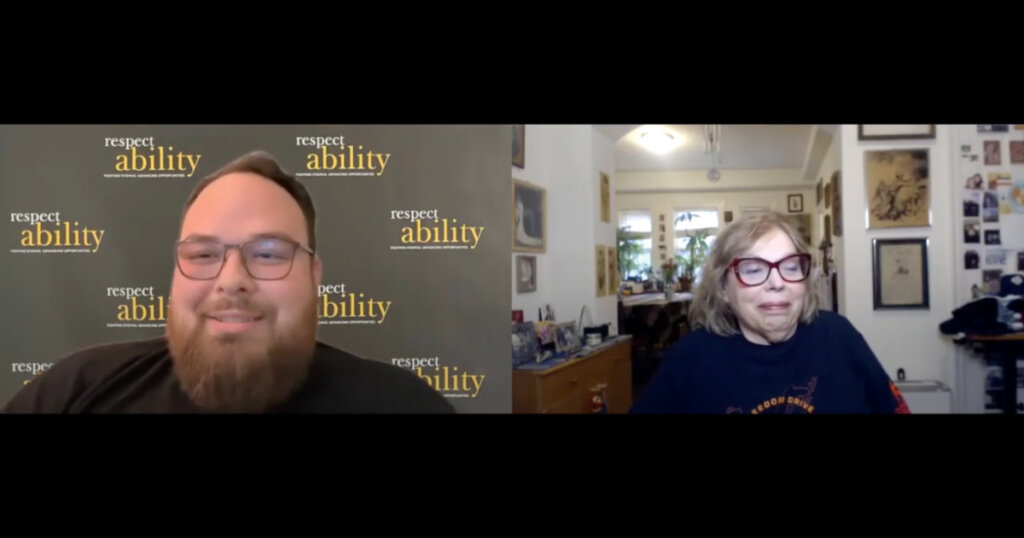 When I was first offered the position of Faith Inclusion and Belonging Associate at RespectAbility, I was told, to my utter shock, that on my first day of work, I would be meeting Judy Heumann. Getting to meet your all-time hero on your first day on the job is a remarkable experience, and learning that your hero is deeply invested in your own activism within faith communities is life changing.
I first saw Judy during my time at Yale University when she spoke to the Law School about the 30th anniversary of the Americans with Disabilities Act (ADA). I will never forget being in a space full of some of the most powerful people, not only at Yale University but in the world, when she declared that Yale University itself was in violation of the very law they were celebrating. After my time working with activists across the university, demonstrating against these ADA violations, I was both in awe of her ability to speak truth to power and deeply affirmed to hear a public figure tell Yale exactly what we had been saying all along.
Judy was truly a hero worth meeting. Over the few meetings working with her to prepare our webinar presentation, it was the privilege of a lifetime to look behind the scenes and to learn what Judy the human was really like. She rolled up to the Zoom screen and bombarded us with direct and precise questions, which felt like a volley in a tennis match. All the while her team buzzed around her answering phone calls, picking up around the house, and scheduling appointments. She met each moment with determination, deep care, and a sense of urgency (that many of us disabled people know intimately) for not taking for granted the finite time she was given on this earth to make a difference.
It was transformational to learn that behind the public persona, Judy was another disabled person just like me: she was profoundly human. What made Judy special was that she knew that. She did not pretend to be anything other than who she was, and in doing so, she changed the world and the lives of millions. Thank you, Judy, may your memory be a blessing, and your legacy our commission.