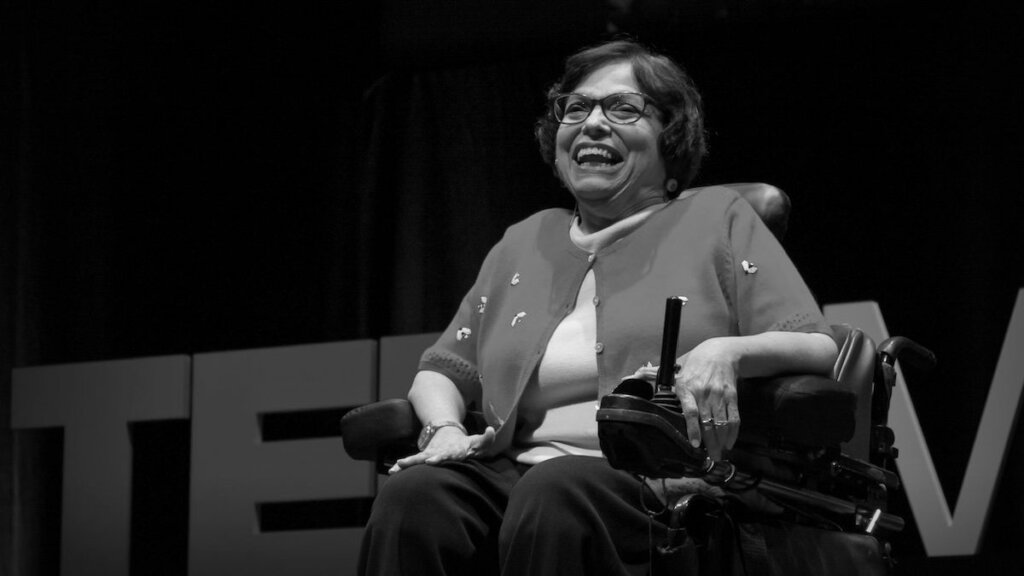 Judith (Judy) Heumann was the definition of perseverance and determination in her fight for equity for all people. Considered "the mother" of the disability rights movement, Judy Heumann has been a part of almost every pivotal moment in the movement ever since. After being turned away from her elementary school for being seen as a 'fire hazard,' Judy committed the entirety of her life to the disability rights movement. However, she is perhaps best known for helping to lead a 28-day sit-in at the San Francisco federal building which led to the signing of section 504. Section 504 was the first major piece of legislation protecting disabled people under federal law and its passing and opened up the legal flood gates for broader protections for the disabled community.
Judy Heumann was a trailblazer. Being in a position of power, as she was, was a huge step not only for the general disabled population, but specifically for women and girls with disabilities. Heumann often emphasized the intersectional approach needed to address all parts of an individual's identity. Specifically, she pointed out the multiple forms of discrimination and marginalization women and girls with disabilities face due to their gender and disabilities. Heumann advocated to empower women with disabilities to advocate for their own rights and participate fully in all aspects of society.
Women with disabilities experience the double bind of sexism and ableism in their day to day lives. Women with disabilities are at higher risk of being attacked and isolated. They have lower chances of being hired; lower access to health care; and often have limited social, economic, and political opportunities. They also suffer from the same impossible beauty standards all women are subjected to. Judy Heumann accomplished all she did for the disabled community because she understood intersectionality and how it applied to those in the disabled community. The disabled community is the largest minority in America, spanning across all other identities. Doing work for the disabled community is doing work for everyone. This is a concept Heumann brought into her work as an advocate and her passing was a great loss to the disabled community.
I feel that it is only fitting to end this piece with a quote from Judy herself:
"When other people see you as a third-class citizen, the first thing you need is a belief in yourself and the knowledge that you have rights. The next thing you need is a group of friends to fight back with."