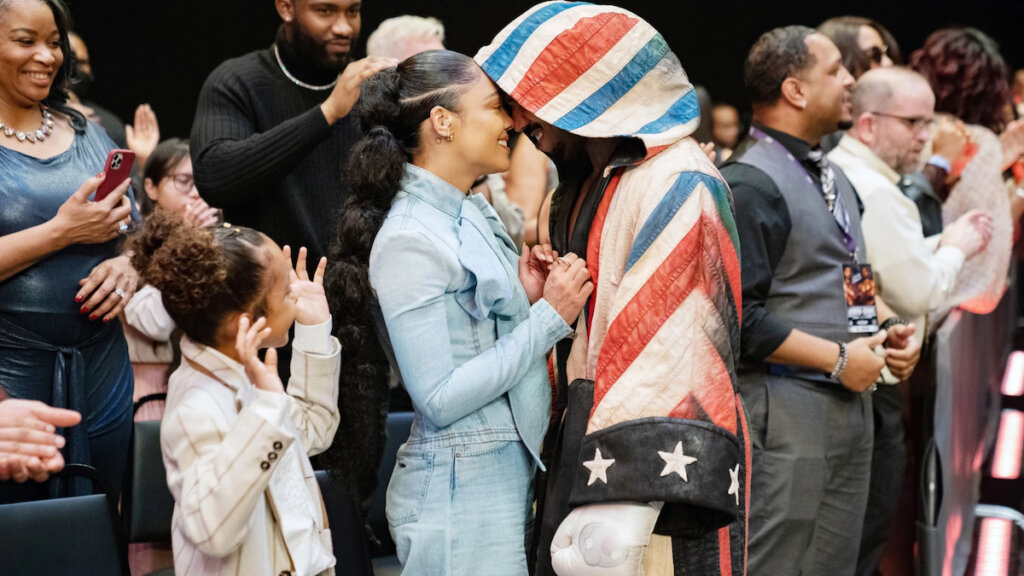 Los Angeles, March 9 – On the evening of February 27, Creed lll had its world premiere at the TCL Chinese Theatre in Los Angeles, CA. Without getting into too many details on the movie (because nobody likes spoilers!), if you haven't seen the movie, what are you waiting for?
Creed III is one of the best films that I have seen in a while in the theater, and I am not the only one to feel this way – Creed III made box office history last weekend as the highest grossing sports film opening weekend in history. The fight scenes were incredible and, combined with its special effects (there is an especially powerful moment during the final climactic fight that is reminiscent of scenes from Anime films), made for a mind-blowing moviegoing experience. The film was very well written by co-writers Keenan Coogler and Zach Baylin, and produced by Ryan Coogler (director of Black Panther & Wakanda Forever). Moreover, Creed III happens to be Michael B Jordan's directing debut. All the credit goes to him, his team, and the amazing cast that include Jonathan Majors, Tessa Thompson, Wood Harris, Florian Munteanu, and Phylicia Rashad. Most importantly, he elevated Black Deaf representation to another level with the amazingly talented Mila Davis-Kent, who plays Amara Creed, the daughter of Adonis Creed (Michael B Jordan).
What hit me hard watching Creed III was the opening scene with Amara. When she first appears early in the film, the first thing you see is beautiful Black Deaf representation on a gigantic screen. How often do you get to see that on the big screen in the theater? It is such a huge deal in the Deaf community, especially within the Black Deaf community, to finally have someone on the screen that they can relate to and have a role model that youth can look up to. It was amazing how Michael B Jordan depicted ASL (American Sign Language) authentically and seamlessly on the screen demonstrating, in various ways, unique cultural nuances of the Black Deaf community in South Los Angeles.
The film leaves open the question of how Amara became deaf. What I loved about this movie is that it never tries to answer this question or explain anything. Instead, the film encourages audiences to just accept her deafness. Some audiences may say it is hereditary because Amara's mother Bianca (Tess Thompson) has a progressive hearing disability that has impacted her life throughout the Creed franchise. Bianca was a successful singer, as she always dreamed of being, but her hearing disability caused her to navigate a different career path, one that might have led to even more success than before acquiring this disability.
I appreciated how the film causes audiences to realize that deafness may enter our lives in a variety of different ways and provides us with a wonderful model for navigating it, emphasizing open access to communication and language through ASL.
From Creed III, we get to see two stories that are unique but are very common to the 'deaf experience' – Bianca, a hearing person who progressively loses her hearing over time and uses her acquired disability to adapt and thrive as a professional and as a mother, and Amara, a person who is born Deaf, who embraces her Deaf identity with ease and enthusiasm as she pursues one of her parent's passions (I won't spoil the film by telling you which one!). I could really sense how the mother-daughter relationship plays a powerful role in each of their characters' journeys. Big props goes to Jeremy Lee Stone, an ASL consultant who also appears as a deaf teacher in the film. That shows the importance of having an ASL consultant on the set.
View this post on Instagram
Michael B Jordan did a fantastic job putting all these complex pieces together on the screen, all of which felt like they were tied together with the authentic portrayal of ASL in the film. My favorite part is how every member in the Creed family uses ASL, which was in abundant use throughout the film, even to the point of showing various fluency levels in ASL, which is very authentic in mixed hearing/deaf families. The Creed family clearly made it a priority to ensure that they and Amara have full language access through ASL. This is what authenticity looks like on the screen.
Overall, the film was great! I predict a lot of awards nominations in their future, and they will be well deserved – the writing, performances, and direction all feel fresh and as impactful as their punches. The story itself feels so unique with its complex multicultural depictions that include intersectional disabled representation. As I said, how often do we see BIPOC Deaf representation on the screen, on an MGM-distributed film, no less?
The film hit the box office with perfect timing, and I hope we will see more films like this. I feel a deep appreciation for the producers, writers, and of course, director Michael B Jordan for creating this opportunity for BIPOC Deaf performers and professionals to share their talents on screen for the world to see!