This past Saturday, Judy Heumann, a legendary changemaker and advocate for disability rights, passed away after a brief time in the hospital. Judy's website shared the news of her passing and highlights of her life's work: "Judy was at the forefront of major disability rights demonstrations, helped spearhead the passage of disability rights legislation, founded national and international disability advocacy organizations, held senior federal government positions, co-authored her memoir, Being Heumann, and its Young Adult version, Rolling Warrior, and was featured in the Oscar-nominated documentary film, Crip Camp: A Disability Revolution."
Judy was fighting for disability inclusion right until the end. Just a few weeks ago, she did a webinar with RespectAbility to kick off Jewish Disability Awareness, Acceptance, and Inclusion Month. Most of our team had the chance to meet and learn from Judy over the years, and all of us have benefitted greatly from her work. Below, we're sharing a few notes from our team about what Judy meant to us as an advocate, friend, partner, and colleague. We're also sharing information on the memorial service happening this Wednesday. Several members of our team will be in attendance at the memorial. We strongly encourage those who cannot make it in person to watch the livestream.
We mourn Judy's passing, and keep her family, friends, and the rest of the disability community in our thoughts. We won't stop until the world she envisioned becomes a reality. May her memory be a blessing.
Tributes From Our Team
"Judy was the person who most inspired me to pursue disability and human rights advocacy as a life-long career. A true believer in 'nothing about us, without us,' her style and approach to advocacy centered those with disabilities who were most impacted by injustices. Wherever she went, she set this example for others, and I'm incredibly grateful for the lasting legacy she leaves behind through those she mentored, supported, and advocated alongside."
– Ariel Simms, President and CEO
"To me, Judy had neither the distance of a public figure or the intimacy of friendship, but rather the space of mentorship. She always had an opinion and advice on my life, from our first encounter, when I was a sophomore in college and she was a senior Clinton administration official, to our last one-on-one discussion in the spring of 2019. It was not always approving, but always wise. When our interactions were more in passing, she always made me feel like a peer, though I wasn't in her league. For more than 50 tireless years, Judy's voice was a trumpet call of our movement. She was, however, the trumpet that empowered all of our voices. Today, Judy can no longer raise that voice, so we must take her charge to use our own, and honor her legacy. May her memory be a blessing and an ever present source of the power for change."
– Matan Koch, Senior Policy Advisor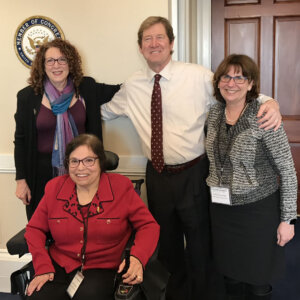 "For Jewish Disability Advocacy Day in 2017, Judy, Dr. Deborah Fisher and I were assigned to visit Rep. Eric Paulsen, R-Minnesota Third District. We were advocating for protecting Medicare and Medicaid and long-term care from turning into block grants by Congress. I did most of the talking as Paulsen was my representative, but Judy's presence was reassuring and supportive. She taught me an enduring lesson about the power of our voices for speaking up against injustice."
– Shelly Christensen, Senior Director of Faith Inclusion and Belonging
"Watching Crip Camp and witnessing Judy's unrelenting advocacy was one of the things that sparked my disability inclusion advocacy journey. Though I only spoke to her a couple of times, she is the source of a lot of my passion and inspiration."
– Jake Stimell, Speakers' Bureau Associate
"Judy Heumann touched so many people because she always was willing to take the time to talk and to share her wisdom. When I acquired my disability and was relearning how to physically access some spaces, Judy offered her support, connecting me to others within the community with similar experiences. Her legacy, in part, is these connections that she tirelessly made to ensure disabled individuals did not feel so alone in our journeys. I enjoyed our conversations about working to change the landscape in the entertainment industry as an avenue to both educate nondisabled individuals about what it is like to live with a disability, and to ensure disabled individuals can see ourselves represented. Judy had an impact both on the way I conduct my professional work and on myself as a person. May all of us who were impacted by Judy continue to remember her and advance her work, and may her memory be a blessing."
– Lauren Appelbaum, SVP, Communications and Entertainment & News Media
"I was taking the Metro on my way to the Department of Transportation's ADA anniversary events, and usually ride the elevator alone because I use a large power wheelchair, but this woman who also uses a power wheelchair kept insisting I join the same elevator car she was in rather than waiting for the next. Eventually I relented and after barely squeezing into the elevator, I found myself next to one of the greatest disability rights icons in our history. Judy had a way of inviting people into her world with open arms and uniting different people behind a common cause. Judy and I both shared a passion for affordable, accessible transportation, and I hope to continue working to achieve this dream."
– Randall Duchesneau, Vice Chair, RespectAbility Board
"With essentially no path to follow, Judy paved her own – and in doing so she paved not only a path, yet indeed she constructed a 'superhighway' which ultimately stretched from coast to coast and subsequently around the globe. She was bold, brilliant and benevolent, yet modest, highly approachable, and engaging, with just the right element of tasteful humor. There is no way to begin to quantify the forceful and enduring impact she has had on my life, both professionally and personally. I am profoundly and indescribably saddened to learn of her passing."
– Vivian Bass, Vice Chair, RespectAbility Board
"I knew Judy since my first advocacy job with the Epilepsy Foundation back in the mid-late 1980s. I was privileged to go on Hill visits to garner passage of the ADA with Judy and other colleagues who really got the ADA passed like Liz Savage, Chai Feldblum, Paul Marchand, and others. Judy was always sweet and kind and so incredibly effective. I of course crossed paths with Judy regularly throughout the years, both in the disability community writ large and in the Jewish community/Jewish Disability community. Judy was a small package but such a giant! I will miss her greatly but will continue advocating in her name and memory. May her memory always be for a blessing."
– Donna Meltzer, RespectAbility Board Member
"I didn't know Judy Heumann, but I knew of her and all that she did to break down barriers for herself and all those who followed. Her advocacy was an inspiration to so many that it's impossible to quantify all the good she did simply by being who she was."
– Eleanor Clift, RespectAbility Board Member
Information on Memorial Service Honoring the Life of Judy Heumann
"The family of Judith "Judy" Heumann invites the community to honor her life.
MEMORIAL SERVICE: Wednesday, March 8 at 10 a.m. ET at Adas Israel Congregation, 2850 Quebec St. NW, Washington, DC 20008
BURIAL: Following the service at 12 p.m. at Judean Memorial Gardens located at 16225 Batchellors Forest Rd., Olney, MD 20832.
SHIVA: Following the burial, the family will be receiving guests at a gathering held at Adas Israel.
LIVESTREAM: The memorial and burial will be live-streamed on Adas Israel's website. Please click here to join the livestream.
ACCESS INFORMATION: American Sign Language interpretation and live captioning will be provided for the in-person and live-stream memorial and burial services.
ADDITIONAL INFORMATION: At a later time, organizations will be recommended for donations in Judy's memory in lieu of flowers."