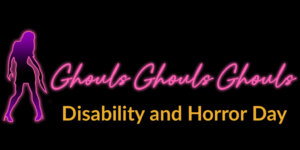 Los Angeles, CA, October 28 – Ghouls Magazine recently hosted a Disability and Horror Day that included panels on identity, mental health, and finding community, moderated by RespectAbility Entertainment Lab alum Ariel Baska (she/her), as well as Rabia Sitabi (she/her). Several other RespectAbility Entertainment Lab alumni participated in the discussions.
The first panel on identity featured panelists and RespectAbility Entertainment Lab alumni Colin Buckingham (he/they) and Nasreen Alkhateeb (she/her). Sitabi and Alkhateeb both expressed using horror movies as a form of escape. They found comfort in an imaginary world where the terror was incarnated in the form of monsters and the paranormal instead of traumatic childhood experiences. Buckingham's experience strayed from this. He recalls being afraid of horror movies as a kid. It was not until Buckingham was older and watched films like Carrie that focused on the horror of being an outsider that he fully appreciated the genre. In this way, horror films can be relatable to disabled people that face ostracization from an ableist society. The panelists stressed that films that center disabled villains, like Freddie Krueger whose face is profoundly burned, or Dennis from Split who has Dissociative Identity Disorder, should explore why these characters turn into monsters – society's treatment of them. One main takeaway from the panel was that featuring a disabled villain without a backstory or villain arc only serves to reinforce the misconception that disabled people are inherently evil or disability is scary.
The next panel on mental health and horror featured Cypher (she/her), another alumna of the RespectAbility Entertainment Lab, along with Adam Stovall (he/him) and Addison Heimann (he/him). As the panelists discussed, good horror films about mental health seem easier to come by than good horror films about disability more generally. Heimann wrote and directed Hypochondriac, a horror film based on his own experience with mental health. Cypher mentioned how her experience as a neurodivergent individual often helps her relate to the antagonist in movies, because she often feels excluded and forced to assimilate. She explained that it often feels like people fear her because she is different. Heimann echoed this but added that he likes to add hope to his films. Acceptance from his friends helped him see that his mental health issues do not make him any less valuable. Stovall says that his experiences with the horror genre and mental health have been similar because he came to them both later in life. He described the horror community as a welcoming one that attracts people who often do not fit in.
The final panel on community featured Cypher, Pea Woodruff (she/her), and Entertainment Lab alum Jennifer Valdes (she/her). Woodruff argued that horror fans are marginalized, which attracts marginalized people to the genre. She says it is unique in that there is room for everyone. Valdes felt connected to horror at a young age and said as a filmmaker she wants to see more characters with disabilities who are multi-faceted – not just stock characters. She said that, like horror characters, people with disabilities face traumas every day, which made her relate to them. Cypher said that horror is the first community she has joined because she often feels kept outside of communities as a neurodiverse Vietnamese-American woman. She was diagnosed later in life, which prevented her from connecting with others. Sitabi said that many people who enjoy horror movies labeled as "artistic" do not want to be associated with horror fans because of the stigma. As a teenager, she found refuge at the movies, saying the people she met there were some of the most welcoming she ever met. In the horror community, according to Sitabi, being different is regarded as cool. She added that she could rely on members of the community to help her out when she needed it, which is something everyone can use when they feel alone.
As the horror genre is notorious for employing shock-value and ableism to scare non-disabled audiences, it is understandable that disabled audiences may have reservations toward the genre. However, disabled filmmakers and horror aficionados are here to reclaim their spot in the horror space, arguing that horror can be used to show the true terror of ableism by putting a mirror up to society.