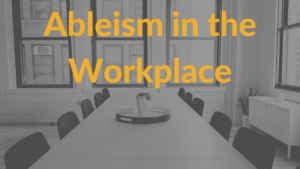 In the United States, workplace opportunities for people with disabilities have greatly expanded, and there's more enlightenment toward people with disabilities. But there are still problems with ableism in the workplace.
Outright scorn towards people with disabilities is not as commonplace as it was years ago when many states used to have ugliness laws during the late 1800s. These laws were used to discriminate against people with disabilities, especially physical disabilities, and they prevented disabled people from going out in public and getting jobs in almost any capacity.
Today it's rare to see overt examples of ableist attitudes and actions such as those presented in this DramatizeMe video where a group of job applicants aggressively push away a competing applicant, who's using a wheelchair, from the elevator to prevent him from getting to the interview on time. Now, ableism presents itself in more subtle ways, including:
Giving workers with disabilities a lighter workload than their co-workers without disabilities
Providing help when people with disabilities don't ask for it or need it
Speaking to workers with disabilities like would one toward children in voice or posture
Expressions of pity toward co-workers with disabilities
Using pejorative disability-related terminology
Sometimes even well-meaning co-workers might make ableist mistakes like the above because of unconscious bias. Christine Liu of the Harvard Business Review says that handling such errors is important and that one needs to learn from them.
Employers must recognize what employees with disabilities can accomplish in the workplace and create an environment that allows workers with disabilities to contribute. People with disabilities need to be treated equally to their co-workers without disabilities. This requires employer and employee education about various types of disabilities and what people with disabilities need to accomplish their jobs. If co-workers make unintentional ableist mistakes, they should recognize them, apologize and seek to do better next time. This way, workplaces can benefit from the output of all their employees.