NBCU LAUNCH and RespectAbility presented LAUNCH TALKS: THE MAKING OF QUEER AS FOLK (Peacock), a conversation with Stephen Dunn (Showrunner), Ryan O'Connell (Actor & Writer), and Andrew Gurza (Actor & Consultant). They discussed the reimagining of the groundbreaking queer drama series and the importance of authentic and intersectional representation in front of and behind the camera.
Speaker Bios
Moderator: Scott Jones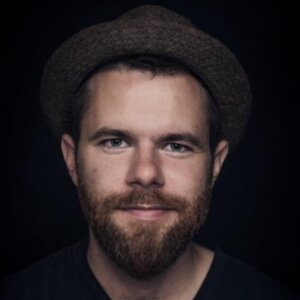 Scott Jones is an emerging writer/director and playwright from Nova Scotia, Canada. Scott gravitates towards forms of artistic expression that explore disabled grief, resilience, and joy. Following an attack that paralyzed him, he worked with director Laura Marie Wayne and the National Film Board of Canada on a feature length documentary, LOVE, SCOTT (2018) that explores trauma and resilience in relation to homophobic violence. This past year, Scott wrote and directed his first short film, COIN SLOT (2022). The film premiered at the British Film Institute LGBTQ Flare Festival (UK, 2022) and was invited to the Bengaluru International Short Film Festival (India's only Oscar-Qualifying festival), in competition and shortlisted as a finalist in its category. Scott has participated in the RespectAbility Lab for Entertainment Professionals with Disabilities (Los Angeles, 2022), Access CBC TV Writer's Lab (Toronto, 2022) and the Whistler International Film Festival Screenwriting Lab (2020). Presently, he is developing an animated short film with poet Tanya Davis and animator Sarita McNeil (FREEDOM), supported by the NFB. Scott co-wrote a play with Robert Chafe (Artistic Director, Artistic Fraud of Newfoundland) on the complexities of forgiveness (I Forgive You), which is currently in production. I Forgive You is directed by Jillian Keiley (Artistic Director, National Arts Centre of Canada) and will premiere at the Saint John's Arts and Culture Centre (Newfoundland, Canada) in August, 2022 and move to the NAC for the 22/23 season. Scott had the pleasure of working as a technical consultant for Stephen Dunn's vibrant reimagining of QUEER AS FOLK (Peacock, 2022) and is honored to facilitate the panel discussion with these three queer trail-blazers.
Stephen Dunn, Showrunner, "Queer as Folk"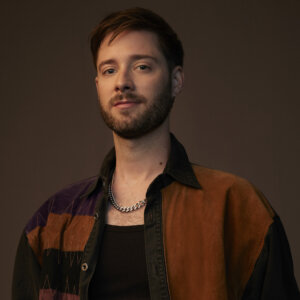 Stephen Dunn is an award-winning writer/director based in Los Angeles, though currently quarantined in native Newfoundland, Canada. Most recently, Dunn co-wrote and directed the Spirit Award and GLAAD Award-nominated episode, "The Son", of the Apple TV+ series Little America. His debut feature, CLOSET MONSTER, had its world premiere at TIFF 2015; it won the Canada Goose Award for Best Canadian Feature. Indiewire said of the film: "Closet Monster" may feature a talking hamster and a hefty volume of very bloody flashbacks-turned-fantasy, but Oscar's issues continually remain real and relatable. Dunn plays around with perspective and style, but all the flash doesn't obscure the film's emotion and heart, which are deep and true." The film has been released by Strand. Currently, Dunn is writing and will direct the reimagining of the iconic series Queer as Folk for Peacock, as well as adapting the novel Yes, Daddy at Amazon with Patrick Moran producing. Dunn is repped by WME, Mosaic, and HJTH.
Ryan O'Connell, Actor, Writer, "Queer as Folk"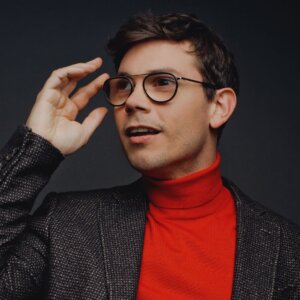 Ryan O'Connell is an Emmy®-nominated and Writers Guild Award-winning writer, actor, and producer who can currently be seen starring in the critically acclaimed SPECIAL, a four-time Emmy®-nominated and Writers Guild Award-winning short form series on Netflix, which he wrote and executive produced. O'Connell also received a Special Recognition Award from GLAAD and a Visibility Award from the HRC. SPECIAL, which is also executive produced by Jim Parsons, is loosely based on O'Connell's own upbringing and experience as a gay man navigating the world with cerebral palsy, and returned this year for its highly anticipated second and final season. In what became a cultural phenomenon, SPECIAL premiered to rave reviews, with critics calling the show, "The television revolution you didn't know you needed" (Romero, Refinery29) and "A rare, important perspective to TV" (Maple, Bustle). Fans around the world praised the series for its refreshing, honest, and long-overdue portrayal of a gay man living with cerebral palsy.
Currently, O'Connell is writing for QUEER AS FOLK, and next, he will re-team with Jim Parsons, Todd Spiewak and That's Wonderful Productions to create the HBO Max original series, ACCESSIBLE, which will follow Clare, a 15-year-old girl who's recently been in an accident and is forced to attend a boarding school for people with all kinds of disabilities while coping with the usual teenage dilemmas. The series will be another landmark milestone for representation for the disabled community.
O'Connell is also an accomplished, sought-after writer and his voice is both refreshing and unique. He is the author of I'm Special: And Other Lies We Tell Ourselves, part-memoir, part-manifesto which was published by Simon & Schuster in 2015 to widespread praise. O'Connell's forthcoming debut novel Just By Looking At Him will be published in Spring 2022 by Atria, an imprint of Simon & Schuster.
Additionally, O'Connell served as the Editor of Thought Catalog and has contributed to Vice, BuzzFeed, and numerous other publications. O'Connell's writing career spans television as well. He previously served on the writing staff on NBC's revival of WILL & GRACE, MTV's AWKWARD, and NETFLIX's THE BABY-SITTERS CLUB.
Andrew Gurza, Actor, Consultant, "Queer as Folk"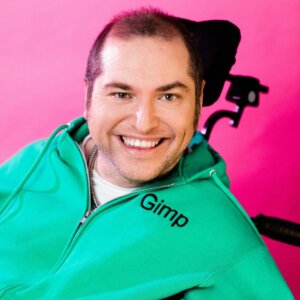 Andrew Gurza is an award winning Disability Awareness Consultant and the Chief Disability Officer and Co-founder of Bump'n, a sex toy company for and by disabled people. Andrew uses they/he pronouns and identifies proudly as disabled. Their work has been featured on BBC, CBC, Daily Xtra, Gay Times UK, Huffington Post, The Advocate, Everyday Feminism, Mashable, Out.com, and several anthologies. He was the subject of an award winning National Film Board of Canada Documentary "Picture This". Andrew has guested on a number of podcasts including Dan Savage's Savage Love and Cameron Esposito's Queery. He has spoken all over the world on sex, disability and what it means to be a Queer Cripple.
He is also the host of Disability After Dark: The Podcast Shining a Bright Light on Disability Stories which won a Canadian Podcast Award in 2021, was a Queerty Award nominee, and was chosen as an Honoree at the 2020 Webby Awards. The show is available on all platforms. Andrew  is also the creator of the viral hashtag #DisabledPeopleAreHot.