Jewish Disability Awareness, Acceptance and Inclusion Month (JDAIM) is in full swing, and we have been partnering on some very exciting events. Keep reading for more information on three of them!

Members of our Disability Training & Speaker's Bureau, Erika Abbott and Aaron Wolf, chatted with Rabbi Erez Sherman of Sinai Temple about steps that Jewish communities can take to improve inclusivity. Additionally, they spoke about their personal passion projects and Jewish connections. During the webinar, viewers get a taste of Restoring Tomorrow, Aaron's powerful documentary about the restoration of an almost decimated treasured local temple. In the robust conversation regarding improvements the community could make, award-winning poet Erika said, "I don't want to be your mitzvah project; I want to be sitting on the board and be there when you're making decisions." A recording of this exciting presentation is available on YouTube. Please note that the captions were generated automatically and may not be entirely accurate.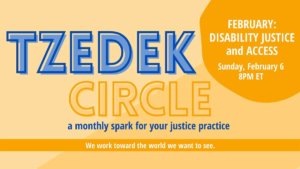 In a conversation hosted by Dena Robinson and Darin Lim Yankowitz, RespectAbility team members discussed disability justice and access. Matan Koch, Vice President for Workforce, Leadership and Faith Inclusion, shared insight into his upbringing as a disabled Jew. The group examined the paradox demonstrated when accommodations previously denied to people with disabilities were readily made available for nondisabled people during the pandemic. Additionally, they discussed the importance of nondisabled people fighting for accessible environments so that disabled people don't have to be trailblazers to be successful. In the discussion, panel members shared tangible actions you can take to promote disability justice, including downloading the Tzedek Box app. Aaron Seglin, a blind musician of color, disability advocate, and member of RespectAbility's Speaker's Bureau, concluded the webinar with a song.
In yet another exciting event at Adat Elohim, in Thousand Oaks, California, a combination of RespectAbility speakers came together to create a wonderful Shabbat experience around disability inclusion. Rabbi Barry Diamond wove disability-related sermons with relevant Hebrew songs of prayer sung by Cantor David Shukier. RespectAbility Disability Training & Speaker's Bureau member Aaron Wolf spoke about nonvisible disabilities, the importance of community, and the value of focusing on ability. Please check back next week to watch the recorded and captioned video.