The most joyous part of celebrating the eight nights of Hanukkah for me each year is reflecting on fond memories. I will forever and always cherish singing with the family and playing with the dreidel. I also cherish the many lessons that I learned from these observances.
The Prayers
My grandpa Harold Shapiro was a helpful mentor with wisdom and patience. I would sit next to him all the time while chanting the prayers, following him with the melody and words. He would put his right finger under the Hebrew section of every blessing even though there were English transliterations also on the page. That is how he challenged me to focus on the Hebrew characters. It later helped me when it came to learning the Torah portions for my Bar Mitzvah.
The Dreidel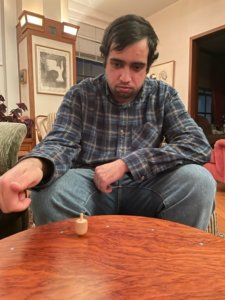 Flicking the dreidel carefully and diligently was a valuable asset towards enhancing my fine motor skills outside of occupational therapy. Around five years old, I would practice with the dreidel countless times. Eventually, it supported me in learning how to curve a bowling ball. In both scenarios, it was all about releasing the objects at the right time as they travel on the surface. It also played a role with my finger coordination. I learned how to move my fingers individually, which helped me play the piano.
I am a visual learner. With reading comprehension being one of my biggest weaknesses, putting images in my head was the way I could understand what was conveyed in the writing. Playing the dreidel game allowed me to enhance my visualization skills. I would create pictures and phrases in my mind to remember the pronunciation of the Hebrew letters and what they represent:
The top line of the Gimel looks like a hand taking everything. It reminds me of the phrase "gimme." When I land on the Gimel, all of the gelt from the circle belongs to me.
There is an opening on the left side of Hey, which looks like a half line to me. I can only take half of the gelt.
The vertical line on the right side of the Nun is like an electric fence. I am trapped and have nowhere to go. Nun sounds like none so I get no gelt.
I envision the three flourishes on top of the Shin as lights telling me to put one of my gelt in the pile. Like Shin, the word "share" starts with S & H.
Utilizing these tricks while playing dreidel with my mother gave me wonderful opportunities to enhance my memorization techniques. I eventually learned to apply those skills to remembering things such as US State capitals, sports teams names and their cities, and movie quotes. My knowledge of these interests proved to be a valuable way of connecting with peers and fostering friendships, particularly at Camp Havaya. Understanding my skills, my fellow campers would often ask me questions about our favorite subjects. Explaining how I processed the answers helped them to understand me better. Even though I didn't play dreidel with my peers, I gained valuable lessons that ultimately improved my ability to build camaraderie.
Also, these techniques were important as they supported me in my education. In addition, they boosted my confidence, and eventually I graduated from those memorization techniques, finding answers in complex texts without pictures. This gave me a strong belief in myself, and with conviction, I succeeded in high school and later in college. I was able to surpass my school administration's initial expectations, and was my high school's valedictorian. At Pace University, I graduated Magna Cum Laude.
Embracing these moments reminds me of the significance of spending time with loved ones and developing strategies that support my learning differences. I will always cherish how Hanukkah brought my family together as well as how the traditions enhanced my spirituality and reinforced practical skills that enabled me to find common ground with others, leading to lifelong friendships and furthering my learning skills.
---
David Sharif serves the world of neurodiversity as a job coach, community moderator, and author. Since the pandemic, he has spoken in audios and led roundtables on autism related topics. He wrote his first book "The Empowerment of My Condition," a book of poems reflecting his success as an autistic individual. An avid world traveler, David has been to forty countries in five of the seven continents in the world. David's passion is delivering speeches all over the world to transform people's perceptions about autism.