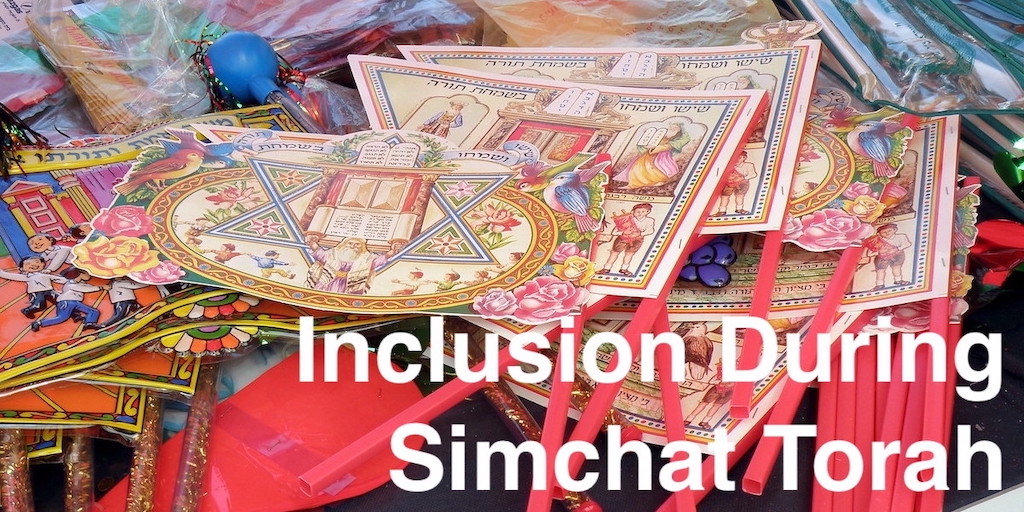 Simchat Torah (which translates to Rejoicing with the Torah in English) is a Jewish holiday which occurs at the end of Sukkot. Filled with music, dancing and beautiful imagery, it is a time of celebration that includes reading the end of Deuteronomy, the beginning of Genesis, and dancing in seven traditional Hakafot (circular dances) each with its own blessing and theme. On such a joyous holiday, no one should feel the pain of exclusion, and so we hope you will consider taking some of these steps to make sure that all can celebrate.
Like any noisy and joyous celebration, Simchat Torah can become extremely overwhelming for those who are Autistic or have auditory or sensory processing disorders. Having a designated quiet room for people to step into and decompress away from all the noise is an excellent option to incorporate. Try to make the room a part of the celebration, a cheerful place to be, without being too loud or visually busy.
As mentioned, this holiday combines dancing and singing, circles and blessings. Needless to say, not all folks are physically able to dance in a circle or stand for long periods of time. In this case, it is more inclusive to have chairs available to people during this celebration in case they need to sit or take break from the celebration. For those who are in wheelchairs, making sure that the celebration takes place on even ground and in a space that is wide enough to fit wheelchairs. Floors should be free of potential tripping hazards or barriers so individuals with visual disabilities or those using walkers or wheelchairs can move around and find a place to sit. Be sure to be especially conscious of personal space. Those who are blind and those with mobility-related disabilities often feel particularly at risk for mobbing or trampling. This makes it extra important to be cognizant when celebrating.
On the other hand, don't assume that a disability makes one unable to dance. Rather, you can go over to a person who is not dancing and ask if they are interested. If they say they are interested but they cannot, ask if there is anything that you could do to dance with them. There are endless creative options.
Lest we forget, reading Torah and text study can be a major part of any celebration. Rabbi Lauren Tuchman, a Blind female Rabbi, shared with RespectAbility that while it is probably too late for this year, you can obtain Braille chumashim (Torah books) from the Jewish Braille Institute. For any of your blind congregants comfortable using technology, you might want to let them know that if they have any portable braille display technology, the texts on Sefaria are fully accessible for that technology. As always, the most important thing is to ask a person what might work for them.
We cannot forget that the continuing COVID-19 pandemic has an impact on celebrating holidays in Synagogues or with others. As a result, some people may not be able to celebrate Simchat Torah in the way they've done in the past. Even though some in-person gatherings are continuing to happen, masks are still required indoors. Some people with disabilities might not be able to attend in-person events yet. In this case, if one does not have a Torah scroll to hold in their home, perhaps the synagogue could arrange for them to have at least a Chumash. If that's not possible, other holy books would suffice.
Thank you for thinking about ways to address potentially inaccessible Jewish holiday celebrations. It is critical that we continue to strengthen our community and ourselves by removing barriers for the participation of Jews with disabilities.
Moadim L'simcha!