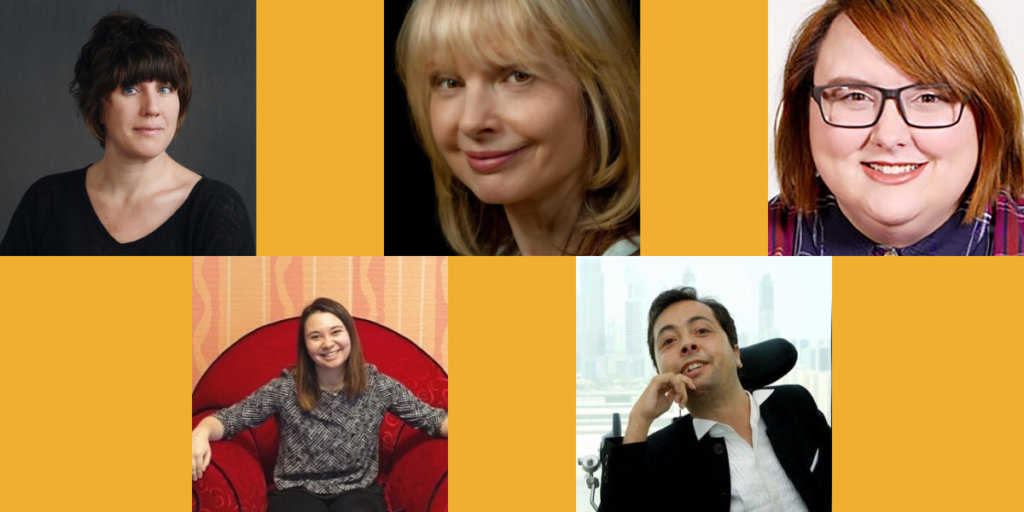 Los Angeles, Sept. 23 – Disability is deeply underrepresented in many industries including entertainment and media, where numbers dwindle far below the 20% participation that would truly reflect the world as it is. Regardless, TV and film have a power to incite social change, drawing in underrepresented creatives as they work to craft a better world. For many, this leaves them with two jobs – to excel at their art and to fight for access for themselves and their communities.
RespectAbility Summer Lab participants recently had the opportunity to speak to experts in the field with lifetimes of experience interfacing their art and advocacy: Leah Meyerhoff, a screenwriter, director, and Founder of Film Fatales; Marci Phillips, VP of Casting at ABC Entertainment; Megan Townsend, Director of Entertainment Research and Analysis at GLAAD; Noriko Louison, Senior Manager of Research and Curriculum at 9Story Media Group; and Victor Pineda, filmmaker and President of World Enabled, and one of RespectAbility's own Board Members.
"One of the challenges and opportunities for bringing a new perspective to filmmaking is that… we encounter life experiences that build a sense of resilience," Pineda began, capturing the conversational tone to follow, wrapped in complexity and contradiction. The speakers illuminated places of optimism while acknowledging the hardship of rejection, encouraged independent action while validating the powerful need for community and the support of organizations, and celebrated the strength of activism while embracing the need for rest within the fight.
"Never be the one who gets in your own way first," countered Phillips after describing barriers she placed in her own life. "Never underestimate the power of one person…if history teaches us anything, it's that sometimes a single voice can be the catalyst too."
Louison recommended finding someone you trust in your personal life to practice having those conversations about what you needAllies, whether in individuals, community or organizations, were an important part of the conversation.
"I think it's very easy to kind of feel like, 'oh, I have to do this on my own,' because that's how a lot of us who are marginalized have always had to get through it," Townsend said, "but there are more supporters out there than you can know if you just take the chance on trying to reach out to some of them." Disabled creatives are used to assessing risk, but opportunity often lies in taking those chances.
"It's that solution-oriented approach where you're calling people in rather than calling them out," Meyerhoff agreed as Louison noted, "Who could we reach if we imagine what's possible beyond the tropes we've seen time and time again?"
Changing tropes and advancing the visibility for the Disabled experience can only happen when Disabled creatives are able to represent themselves in spaces. "How you show up is an act of being creative… having the clarity of who you are and the value of what you contribute," Pineda concluded, adding that affirmative conversations like these play an undeniably important role in empowering creatives with disabilities. Despite the challenges and the setbacks, with supportive community and confident individuals, he's certain, "Anything is possible."
RespectAbility's third annual Lab for Entertainment Professionals with Disabilities brings authentic and diverse portrayals of people with disabilities to the screen by creating a pipeline of diverse professionals with disabilities behind the camera. Participants include people with physical, cognitive, sensory, mental health, and other disabilities ranging in age from people in their 20's through their 50's. Lab alumni from 2019 and 2020 currently work for a variety of studio partners including Nickelodeon, Paramount Pictures and The Walt Disney Company, as well as in writers' rooms for Netflix's Mech Cadet, CW's 4400, and Showtime's Dexter, among others. Others have had films featured at festivals such as SXSW and participated in additional career track programs including with Film Independent and Sundance Institute.