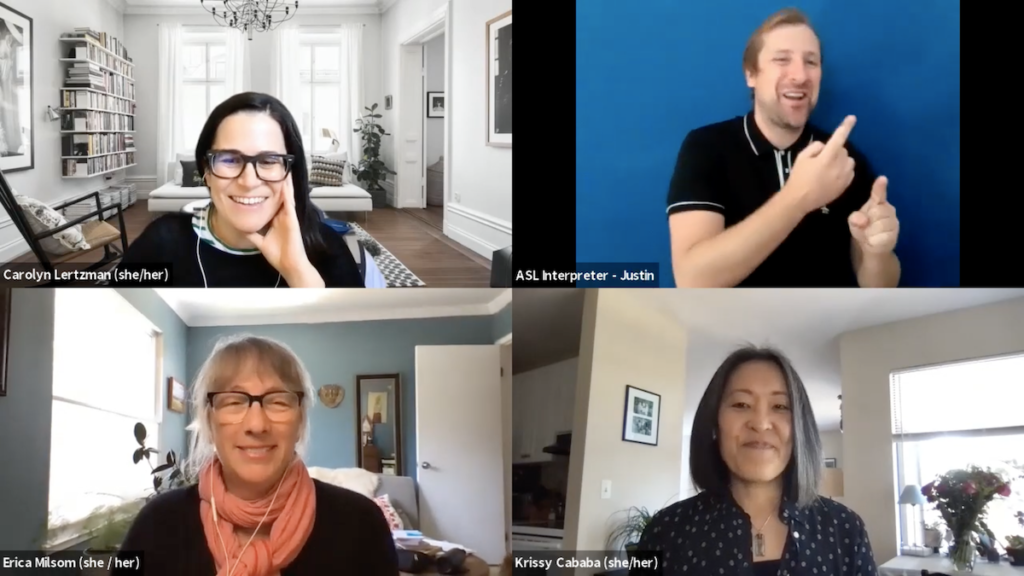 Los Angeles, Aug 4 – When Erica Milsom and Krissy Cababa worked together at Pixar to release the animated short film Loop, they knew they were embarking on new territory. A continuation of a SparkShorts project, where Pixar creators work with a limited schedule and budget to bring a short story to life, Loop is the story of Renee and Marcus who embark on a canoeing journey and must learn to communicate as Renee is autistic and non-verbal.
During a recent RespectAbility Lab session, Cababa and Milsom joined the group to talk about the success and struggles that came with the creation of Loop. "For me, one of the best things about Loop was the fact that we were working with this character Renee, an autistic character, and Pixar had never done that before," explained director Erica Milsom. "And all the thought that went into all aspects of the short to convey that in a realistic and truthful and honest and respectful way."
Very early in the process, Milsom decided that the character of Renee was not going to communicate with her mouth. Milsom and the crew teamed up with the Autistic Self Advocacy Network to find the best way to portray Renee. This is where voice actress Madison Bandy was cast to play the role of Renee, as she herself is Autistic and non-verbal. "The Autistic Self Advocacy Network not only helped us craft the story and helped make sure that it felt authentic and real and respectful, but they also helped with things like lighting," added Cababa. "When we're in Renee's point of view, the way it looks on screen is very different from Marcus' point of view, and they helped us craft that as well based on a lot of the information we learned from them."
Along with the choice of casting authentically, Milsom made the choice to steer away from assistive devices to add dimension to the story. "Even though I love the assistive devices, I wanted to give them a chance to experience that and say like 'Oh look that worked! They found their way!' That was learning and saying like I can learn an intimate language of somebody else." Connection is a part of the human experience regardless of the presence of a disability.
With the success of Loop, Milsom and Cababa proved in a short eleven minutes the power that a story can have when it casts characters with disabilities authentically.
RespectAbility's third annual Lab for Entertainment Professionals with Disabilities brings authentic and diverse portrayals of people with disabilities to the screen by creating a pipeline of diverse professionals with disabilities behind the camera. Participants include people with physical, cognitive, sensory, mental health, and other disabilities ranging in age from people in their 20's through their 50's. Lab alumni from 2019 and 2020 currently work for a variety of studio partners including Nickelodeon, Paramount Pictures, and The Walt Disney Company, as well as in writers' rooms for Netflix's Mech Cadet, CW's 4400, and Showtime's Dexter, among others. Others have had films featured at festivals such as SXSW and participated in additional career track programs including with Film Independent and Sundance Institute.