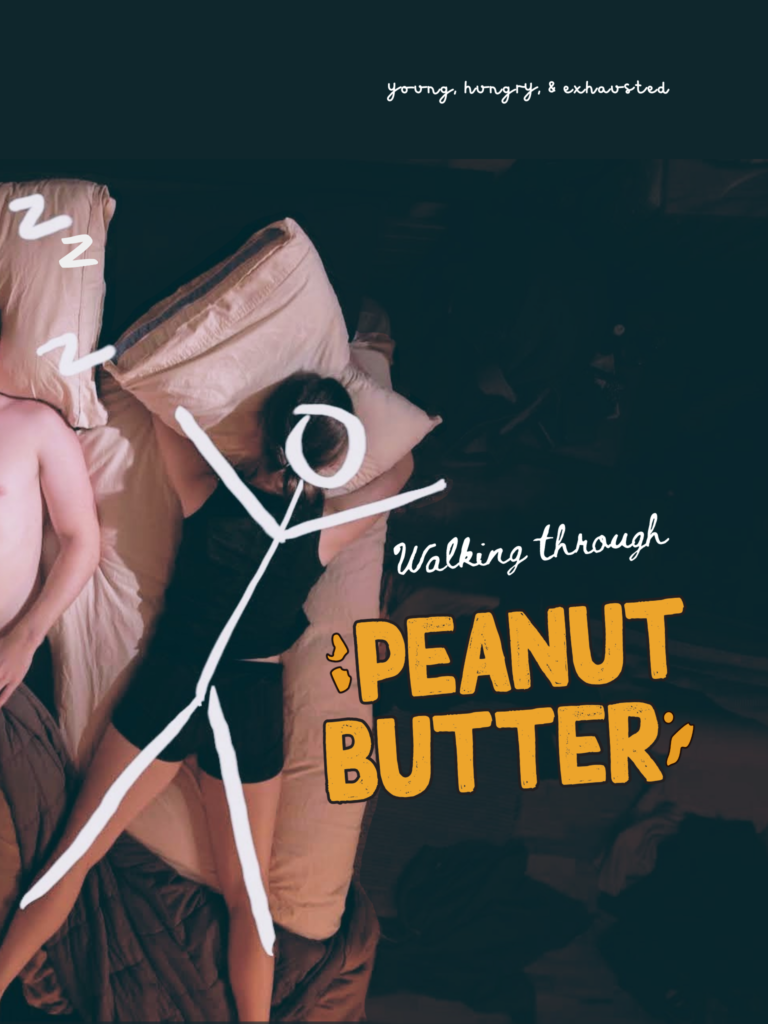 Los Angeles, August 4 – There's no denying that the intersection of comedy and disability is historically shrouded in stereotypes and misinformation; however, this is far from the case with writer and actor Anna Marr's latest short film, Walking Through Peanut Butter. With a run time of just under nine minutes, this comedic film inspired by Marr's own experiences of living with narcolepsy manages to make audiences laugh while simultaneously breaking down false stereotypes of narcolepsy and educating viewers on the overwhelmingly misunderstood neurological sleep disorder.
The film follows a stubborn, overachieving recent college grad named Jessie (played by Marr) as she dives headfirst into the NYC comedy world while still coming to terms with her own narcolepsy diagnosis. During a recent Q&A with Bentonville Film Festival, where Walking Through Peanut Butter will screen during the first week of August, Marr explained that the premise of the film is very similar to her own journey with narcolepsy.
Just like Jessie in the film, Marr was originally diagnosed with Type 2 narcolepsy, then eventually re-diagnosed with Type 1 after experiencing additional symptoms – most prominently the symptom of "cataplexy," which is the sudden loss of muscle tone, usually triggered by strong emotions like anger, stress, excitement, or – as in both Marr and Jessie's case – laughter.
"I'm very grateful that I found that to be very funny instead of very limiting, or awful," said Marr regarding the realization that her narcolepsy with Cataplexy was triggered by laughter; something that as a comedian, she is actively pursuing at any given moment.
In fact, Marr explained that she initially was inspired to create Walking Through Peanut Butter after feeling frustrated with the accessibility of the comedy world, where upcoming comedians are typically asked to perform only during very late-night hours. This is just one of the many hurdles of daily life that we get to see Jessie's character navigate throughout the film, in addition to relationships, doctor's appointments, and other moments of self-discovery, all set within the offbeat and colorful world of NYC's underground comedy community.
"I've just taken the route of processing all of this through humor, while also having the responsibility to the narcolepsy community to make sure that it is portrayed responsibly," Marr added.
Per Bentonville Film Festival programmers, eight percent of the films' directors identify as having a disability, as well as four percent of the writers and four percent of the leads. Written by and featuring Marr, Walking Through Peanut Butter will compete within the festival's Competition Shorts program. Earlier this summer Marr was accepted into the RespectAbility Entertainment Lab for entertainment professionals with disabilities. Within a cohort of 30 filmmakers, Marr is continuing to explore ways to tell disability-inclusive stories both in front of and behind the camera.
More information on tickets and passes to Bentonville Film Festival can be found online: https://bentonvillefilm.org/tickets-passes.