"The fundamental DNA among all those of good will remains the same: meaningful inclusion and true empowerment."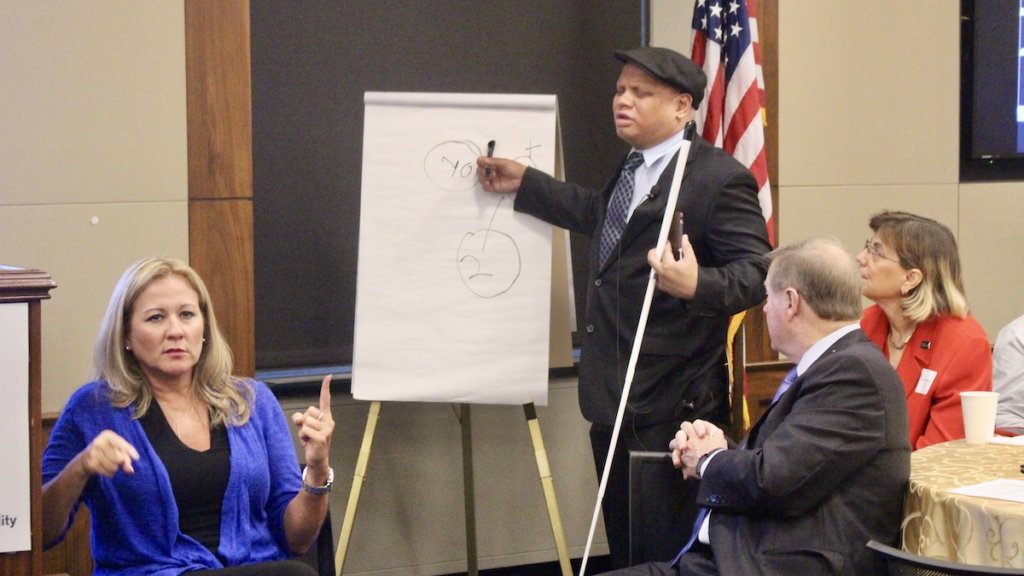 Los Angeles, May 2 – Having worked in inclusive public policy since the 1990s, Ollie Cantos is a firm believer in getting comfortable with being uncomfortable in order to create change in the world. Currently serving as Special Assistant in the Office of the Assistant Secretary at the U.S. Department of Education's Office for Civil Rights (OCR) as well as Vice Chair of RespectAbility's Board of Advisors, Cantos assures that the frank conversations birthed from uncomfortable questions have the very real and attainable potential to transform negative vehicles of law, policy, and practice into empowered ones. The courage toward honest discourse of convulsive topics has diversified America's governing power as years progress.
Now, particularly at a time of dangerously spiked AAPI hate crimes, Cantos and his colleagues in law and advocacy find themselves facing a series of important equity questions. All of these questions, Cantos believes, have ever-evolving answers, beginning with an echoing need for bipartisan political visibility and influence for marginalized and neglected communities. "As a society, yet again, we are at a critical crossroads." Cantos says. "By coming together to amplify our voices, in the spirit of the great Mahatma Gandhi, we each get to BE the change we want to see."
Though Cantos has worked at OCR for almost eight years, and in other national leadership positions for an additional 15 years (including in the Office of the Assistant Attorney General for Civil Rights at the U.S. Department of Justice, in AAPI and disability nonprofit organization activism and at the White House), he appreciates that "the fundamental DNA among all those of good will remains the same: Meaningful inclusion and true empowerment." As a crucial part of the OCR team and via other community endeavors, Cantos has strengthened DEI processes through designing accessible opportunities, calculating intersectional demographic yields, and leading professional and political outreach to diverse communities.
Case in point, when Cantos served as Staff Attorney and Director of Outreach and Education at the Disability Rights Legal Center, he helped organize a conference for AAPI community members with disabilities in California, and facilitated translation of disability rights resources in alliance with the Korean American Coalition. As General Counsel and Director of Programs at the American Association of People with Disabilities, he supported distribution of a cutting-edge survey of the National Center for Asian Americans and Pacific Islanders with Disabilities to capture broad-based perspectives from tens of thousands of individuals nationwide, and proactively advocated for closer collaboration between disability and AAPI organizations.
During his time working in government, Cantos promoted DEI-related initiatives advancing support for women, people of color, the LGBTQ+ community, and employees with disabilities among federal employees, and was honored with the Federal Asian Pacific American Council's Diversity and Inclusion Award, presented by the Assistant Attorney General for Civil Rights. Further, as a member of the Asian American Government Executives Network and of other AAPI and disability employee groups at the office, he strives to foster close intersectional working partnerships.
Meanwhile, Cantos also championed increased understanding and support for crime victims with disabilities. One of his writings on the subject was published and distributed by the National Center for Victims of Crime. In November 2020, he served on an expert panel along with other attorneys and a member of the judiciary as part of an event hosted by the National Asian American Bar Association. This panel marked the first time that coveted conference time was dedicated to special education issues.
"The commitment to advancing intersectionality is essential as we each seek to identify our own implicit bias and then to take conscious and organized steps to address them and then to help teach others," said Cantos. "This is what places us in the position of constant learning as we take concrete steps to act on those lessons to build new bridges of understanding and support."
Philosophically, this effective and multitasking leadership style is not just one of professional practice. Cantos is also a father to a family of resilient love, no matter what obstacles are ahead. He adopted Colombia-born triplets – Leo, Nick, and Steven – all of whom have become distinguished Eagle Scouts, survived COVID-19 together, and are blind as well. Cantos' family is what inspires him to live in celebration of diversity and empowerment in his career. With each year comes a new set of challenges and goals, and Cantos is confident that, "crises or not, [he] can bring equitable solutions at a large scale by magnifying those efforts as a fitting supplement to the good work that others do from within their own spheres of influence."
As Cantos was once the highest-ranking person with a disability in the federal government, he knows first-hand what can occur when consistently dedicating time each day to adding value in genuine and heartfelt service to others, and as a nod to the kind of collaborative future in which we all play a defining role to make the world a better place.
Within that mindset, Cantos authored "People with Disabilities at Work," a guide for disability inclusion and empowerment across spheres of influence from educational settings to workplace environments in the non-profit, private and governmental sectors. This comprehensive and information-packed book will help readers navigate a number of overlapping systems of support. Cantos says, "As stakeholders leverage this information through taking action, we will each play a vital part in ushering in a new age in which persons with all types of disabilities may be seen for their vital assets that, thus far, are still a major untapped resource."
Cantos also understands the compounded impacts of discrimination for people with intersectional identities. For example, the #StopAsianHate movement has brought to light a dramatic increase in hate crimes targeting Asian Americans. As of 2019, there were 18,297,153 Asian Americans living in the United States. Out of that number, there are 1,315,999 Asian Americans living with some form of disability.
In a national study released by the Center for the Study of Hate and Extremism, hate crimes in 2020 decreased overall by 7%, but those targeting Asian Americans rose by nearly 150%. These statistics are alarming, but unfortunately, they are only the tip of the iceberg. Cantos' time in service – both as part of nonprofit organizations and in various federal government roles – has taught him that many individuals who undergo discrimination and violence rarely report it due to distrust in the legal system.
As a Filipino-American in politics, making hate crime reports more accessible to communities of color is a top priority for Cantos moving forward. As seats of power and political influence are increasingly held by people from diverse backgrounds, trust can be built among marginalized communities across the country, resulting in greater levels of equality and safety for all.
Cantos believes that the best ways to Stop Asian Hate and create inclusive environments are to speak up and to speak out. Whether that is reporting micro-aggressions, advocating for awareness in workplaces, reaching out to elected officials, or checking in on AAPI peers, using our voice for good is a power every person has.
"The key is responsibly and consciously to flex that power with a mind toward optimizing positive impact in ways that are only possible through individual actions, collectively focused on a shared and brighter tomorrow."