Los Angeles, CA, April 14 – Shannon DeVido, a multi-hyphenated talent, is an actress, comedian and writer. Her body of work spans several mediums, but the connective tissue coalescing her diverse pursuits is her wicked, introspective sense of humor. Most recently, DeVido showcases her wide range of talents with a starring role in the new feature film, Best Summer Ever—a musical with a majority of talent with disabilities both in front of and behind the camera.
Hailing from Philadelphia, DeVido was born with spinal muscular atrophy. Disappointed by her prospects of becoming a famous athlete, DeVido found theatre at an early age, introducing her to the world of performance and entertainment.
"I fell in love with theater," commented DeVido. "It was a place where I could be a weirdo. A different kind of person, which I've always wanted to be."
From there DeVido continued her pursuit to become an actress, merging elements of singing and eventually comedy into her artistic arsenal. While her comedic timing is natural, DeVido did not initially pursue a career in comedy. After a series of unreturned call backs for auditions, she attended an improv theater, and it was there that she discovered that the comedy realm is where she wanted to be. With the camaraderie of a supportive community, DeVido honed her skills as both an actress and comedian during her time in improv.
Citing comedians with caustic wits like Lewis Black, John Oliver, and Kathleen Madigan as influences, DeVido's comedic observations stem from seeing the world in a sarcastic place and examining society's contradictions and hypocrisies. To her, comedy and jokes allow for tough subjects like disability to be approached in a welcoming yet critical manner. Her identity as both a woman and a person with a disability is a conduit to conversations about societal attitudes, and how the same societal attitudes she lampoons directly affect her being. Her sardonic humor, accompanied with her acting abilities, has landed her roles on Hulu's Difficult People, Comedy Central's The Nightly Show With Larry Wilmore and Law & Order: Special Victims Unit.
Along with television appearances, DeVido also releases original content on her official Instagram page, @shannondevido. One of her sketches "Disabled Woman in Hell" is a hilarious indictment of the double standards placed on people with disabilities. The premise of the sketch involves Satan confronting a woman in a wheelchair (DeVido) as he lists off all the terrible things she has done throughout her life. In doing so, the woman retorts with the excuse that she can get away with anything because she is in a wheelchair and has a disability. The sketch explores the unrealistic expectations placed on people with disabilities and perceptions of pity and innocence delegitimize the agency of individuals with disabilities.
Even though she has had success breaking into the industry, DeVido acknowledges the prejudices of Hollywood and casting, which is why she is a strong advocate for producing original work. She values creatives with disabilities, like herself, who establish their own opportunities and showcase their own talents when ignored or overlooked by the powers that be.
"I think you need to do a little bit of everything," said DeVido. "Especially when you have a disability, it helps to be multifaceted because not only do you understand the different perspectives of each medium, but you can also create your own work."
In the economic expansion prior to the COVID-19 pandemic, only 36.6 percent of working-age women with disabilities were employed in the U.S. compared to 73.8 percent of working-age women without disabilities. Thus, in 2019, only 3,727,186 working-age women with disabilities had jobs. DeVido's appearances on screen help reduce stigmas that prevent women with disabilities obtain employment.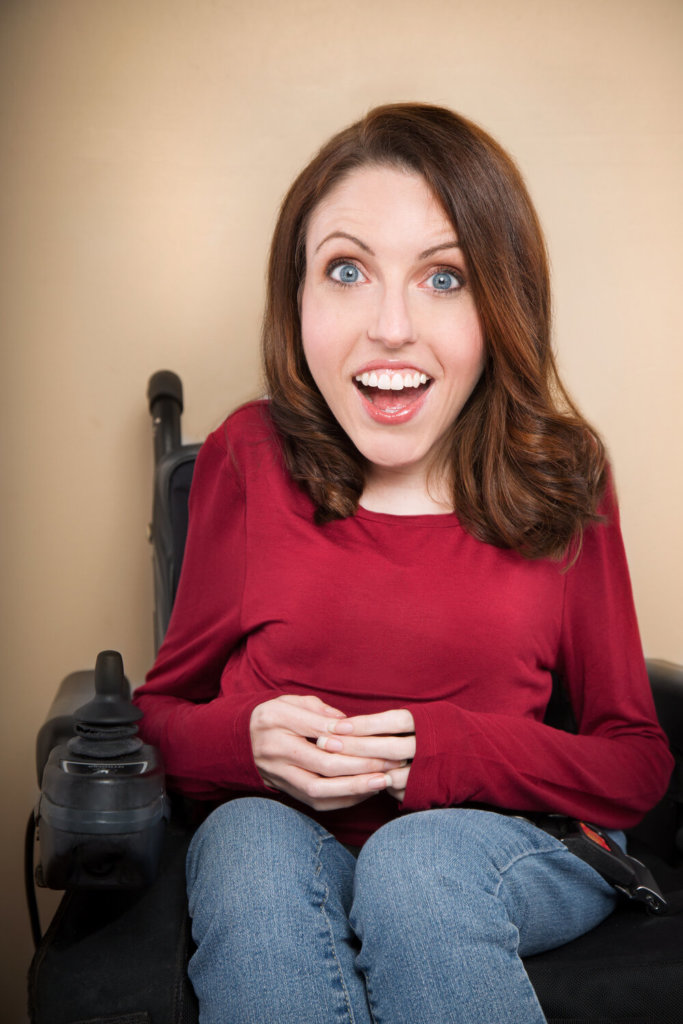 DeVido hopes to be a part of the more inclusive cultural landscape that is currently pervading mass media. While Hollywood still lags when it comes to ensuring marginalized voices are amplified, some independent projects are picking up the slack.
This is certainly evident in Best Summer Ever, where wholesome fun and authentic representation are ubiquitous. DeVido is the perfect leading lady with comedic timing and singing chops to anchor the entire project. During BSE's entire runtime, DeVido's interdisciplinary dexterity is on full display. Seeing DeVido excel at her craft serves as a reassuring reminder that the times are changing and performers like DeVido are leading the charge.
Even though her filmography is already robust, it is continuing to grow. Keep an eye out for DeVido because she will continue to star in projects and will eventually invade your television or phone screen.
If you're interested in reading more about Best Summer Ever and DeVido's performance, read RespectAbility's review of the film.
Be the first to watch Best Summer Ever during a one-of-a-kind movie premiere! Pre-order the film on iTunes or Fandango and then register for the free premiere on Friday, April 23.