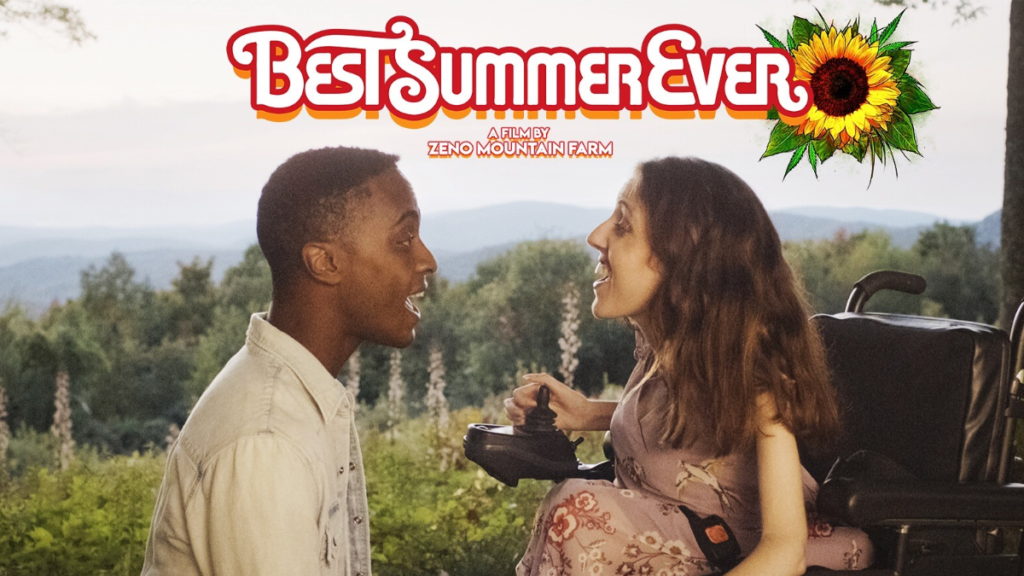 Los Angeles, CA, March 18 – Due to the COVID-19 pandemic, the 2020 SXSW Festival was canceled. However, this year many of the best films from 2020 are returning to SXSW. Best Summer Ever is one such film. This musical, filled with talented individuals with disabilities, is a must-see.
Best Summer Ever is a musical directed by Michael Parks Randa and Lauren Smitelli and co-written by Randa, Smitelli, Will Halby, Andrew Pilkington and Terra Mackintosh, produced by the nonprofit Zeno Mountain Farm. Given the production's deep connections to the disability community, it comes as no surprise that Best Summer Ever is one of the most disability-inclusive films I have ever seen.
The film centers around Tony (Rickey Alexander Wilson), a talented dancer who forms a romantic relationship with Sage (Shannon DeVido), who accents Tony's graceful pirouettes with the music she makes on her keyboard. It is an idyllic romance of two teenagers brought together by love, music and dance. But a romantic musical wouldn't be a romantic musical without a little drama. The two lovebirds come from completely different worlds.
Tony is a star football player at his high school and bears the burden of his school's infamous homecoming game losing streak. Tony's foot has been touched by Midas himself and Tony cannot miss a field goal from the 50-yard line. Everyone in his small town worships him like the proverbial golden calf. The immense amount of pressure on Tony from his family and the town as a whole to pursue a future in football lead him to lie and hide his true passion: dancing.
Sage, on the other hand, is the daughter of two rolling stones. Her mothers are nomadic cannabis growers who live a bohemian lifestyle and never settle in one place. Wanting some semblance of normalcy, Sage wants to attend the local high school and have the typical teenage experience.
Sage convinces her mothers to let her enroll and strikes up an immediate friendship with another student, Nancy (Emily Kranking). Sage's immediate popularity threatens the school's social order and established hierarchy, headed by cheerleading captain Beth (MuMu). Beth is set on taking Tony to the homecoming dance and will stop at nothing to make sure that happens.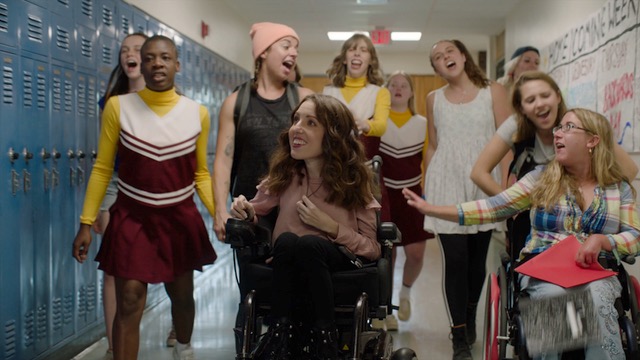 What unfolds next is a series of delightfully devilish teenage sabotage attempts. Although Beth is the big baddie of Best Summer Ever, her musical numbers are the most alluring, as they capture her cartoonishly evil charm. Akin to any good movie high school movie, you can't wait to see what the mean girl does next.
A film of this scope, involving so many individuals with disabilities, made sure that accessibility was of the utmost importance to ensure marginalized talent had proper accommodations.
"Anytime we had an accessibility challenge, we had to find solutions within our budget," explained Andrew Pilkington, a writer and producer for Best Summer Ever, in an interview with RespectAbility on the importance of creating an inclusive set. "We built a giant ramp to get around and adapted our wardrobe via adaptive clothing."
One of the most ground-breaking aspects of the film is that not only did it feature disabled actors, but Zeno Mountain Farm's entire behind-the-scenes development and production crew consisted of people with and without disabilities.
"From writing the script to recording the music, to our days on set and marketing meetings, this film was created entirely by people with and without disabilities working together," explained Leah Romond, one of the producers. "Best Summer Ever is a product of the collective effort, creativity, and talent of people with a variety of lived experiences. We process information, communicate, move, and just generally experience the world in ways that are unique. I can't think of a better recipe for a team embarking on a creative endeavor together."
Measures like these demonstrate the commitment to authentic representation seldom seen in larger Hollywood productions. In what has to be a cinematic record, every scene features disabled talent across multiple demographical lines. Seeing the diversity of the cast serves as a sharp reminder of Hollywood's history of gatekeeping and the work that independent filmmakers do to counter the exclusionary practices of major studios. More importantly, it's refreshing to see a film with a majority-disabled cast be upbeat and wholesome and not rely on "trauma porn" to entertain the public.
The production crew made sure that accessibility and inclusion extended not only behind-the-scenes and on set, but in the way that the actors portrayed their characters to match their own unique personalities.
"What is so unique about Best Summer Ever is that they literally wrote the role around me. So, I was practically being myself throughout the movie," said Kranking. "I just had to learn my choreography, some stunts, and my lines by reading the script during my free time."
Kranking's effervescence as Nancy shines through accompanying the talent who give non-stop upbeat deliveries of Best Summer Ever's contagious musical numbers.
While the movie is upbeat and wholesome, it also is deceptively subversive. As we peruse the annals of disability representation in cinema, it is nearly impossible to find a film with a disabled lead who is authentically cast and not subjected to 120 minutes of despair caused and exacerbated by their disability. I think it says a lot about me, as a disabled moviegoer and aspiring critic, that I felt on edge watching this film as I was expecting something terrible to happen to Sage because she uses a wheelchair. When that did not happen and her trials and tribulations were based on the personalities of others treating her as an outsider for being the "new girl," rather than "the new girl with a disability," I realized that countless films have conditioned me to expect the inherent devaluation of disabled people. This is not the case with Best Summer Ever.
This musical, filled with talented individuals with disabilities, is a must see. I guarantee, after one viewing, you'll be humming some of the numbers in the shower.
Best Summer Ever is screening as a part of the online edition of the 2021 SXSW Film Festival, which runs March 16-20.