How do we create inclusive Jewish classrooms? At Jewish Learning Venture, our Whole Community Inclusion initiative approaches inclusion holistically, engaging all stakeholders including the educators, the families, clergy and synagogue leaders and of course, the students themselves. We've implemented a number of successful programs to support inclusion, including:
Providing support for families: Families raising Jewish children with disabilities have many priorities focused on getting their child(ren) the educational, therapeutic and/or medical supports that they may need. We know that doing so can take an enormous amount of advocacy and sometimes expensive legal battles. Jewish education and engagement may be necessarily a lower priority on their list. Through Whole Community Inclusion, we take a proactive role in reaching out to families and letting them know that the Jewish community is a place of support.
Professional development for educators: Teachers in Jewish congregational schools come with a lot of heart, passion and dedication to passing on Jewish culture and traditions. But the reality is that many of them do not have a professional background in education, let alone special education. We can't expect teachers to know how to create differentiated instruction without giving them special education resources and tools.
Training teens for extra support: We know that some students may require extra assistance to be part of a classroom and sometimes that support can come from a teenager who can take a child on a sensory break, help to provide positive reinforcement or lead a child in 1:1 learning. For 19 years, we have trained teens in the Reta Emerson Fellowship/Teen Assistant program who then volunteer to make Jewish classrooms more inclusive.
And yet, more is needed…
Children are naturally curious and ask wonderful questions about things that are new to them. While our society is becoming more inclusive generally, we can not assume that young children have met people who use different forms of accommodations or communication. If a young child hasn't been taught that a service dog is different from a dog who is a pet, for example, we can't expect them to know how to interact with a service dog.
Our creative Whole Community Inclusion team has created a children's book In My Kehillah: a book about kids with different abilities to educate young children (ages 4-8) about the Jewish values of inclusion.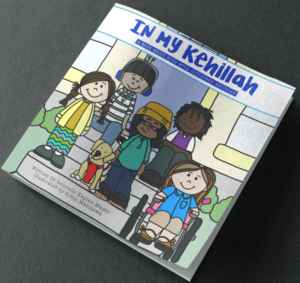 In My Kehillah is unique among books that address disability for children because it is grounded in Jewish values, including: Adam Yechidi Nivra (every person is a unique creation), Chessed (loving kindness), Kavod (respect), and Kehillah (community). The cute cast of relatable characters with different abilities shows the values in action and illustrate what it means to be an inclusive community.
This book is not only for educators but for all of us adults to share with the important children in our lives–Parents, Grandparents, Clergy, camp directors. In My Kehillah gives adults an easy, natural  way to introduce and talk about disability (our discussion guide will be available soon!).
Pre-sale orders are due TODAY, March 5th. Visit our website and do help us to spread the word about In My Kehillah by sharing this information with your friends and colleagues!
Community members are already singing In My Kehillah's praises. A mom of an adult child with disabilities wrote, "I would have been jubilant had I had such a book when [my son] was little. I'm so glad young ones and their parents have this tool now, and happy for other children to have a way to grow their hearts!"
All money raised through the sale of In My Kehillah will go toward Jewish Learning Venture and Whole Community Inclusion's ongoing work to create inclusive community for Jewish children with disabilities. JLV is accepting pre-orders through March 5th. Along with your order, there are a number of bonuses offered, including a free advance digital ebook with pre-orders of three or more books. Visit www.jewishlearningventure.org/inmykehillah to see sample pages and to pre-order.
---
Gabrielle Kaplan-Mayer is an experienced educator, author and speaker. At Jewish Learning Venture, she works as Co-Interim Executive Director and has led teh Whole Community Inclusion initiative for seven years. Her most recent book The Little Gate Crasher, was one of the national book selections for 2017 Jewish Disability Awareness & Inclusion Month and her ELI Talk is used widely to highlight the need for support for families raising children with disabilities in the Jewish community.