With Nasdaq considering new rules to promote diversity in corporate board rooms, advocacy organizations call for disability inclusion.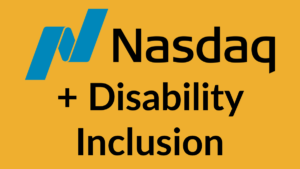 Washington, D.C., January 29 – In a week where the stock market was all over the headlines, a group of disability advocates responded to a solicitation from Nasdaq about proposed rule changes that would impact board room diversity. In their testimony about this proposal, the group, which included the National Organization on Disability, the National Disability Institute, ANCOR, Disability:IN DC Metro and RespectAbility, called for the proposed rule change to include recognition that the 1-in-5 people with disabilities want to have a better future themselves and to create a better future for others as well.
Back in December 2020, Nasdaq filed a proposed rule change at the Securities and Exchange Commission (SEC) intended to drive greater diversity and inclusion in Corporate America. The specific proposal would "require Nasdaq-listed companies…to have at least one director who self-identifies as a female… to have at least one director who self-identifies as Black or African American, Hispanic or Latinx, Asian, Native American or Alaska Native, Native Hawaiian or Pacific Islander, two or more races or ethnicities, or as LGBTQ+." If Nasdaq-listed companies did not comply, they would have to explain to the SEC why such self-identified diversity was lacking in the makeup of the current board members.
"In the proposed rule, Nasdaq itself talked about diversity in the board room as a good thing for corporations," said Jennifer Laszlo Mizrahi, President of RespectAbility. "Stakeholders with disabilities bring tremendous assets to any company. We want to see this new rule modified to include people with disabilities, which will benefit both Nasdaq itself and the one-in-five people in America who have a disability."
In their public testimony, the disability organizations highlighted the direct benefits to the bottom-line profitability of companies that recruit, hire, and promote workers with disabilities. They cited a 2018 study completed by Accenture which found that champions of the AAPD/Disability:IN Disability Equality Index perform above average financially when compared to other companies, scored 28 percent higher in revenue, doubled their net income, and had 30 percent higher economic profit margins over their competition.
"The bottom-line benefits of disability inclusion could not be clearer," Mizrahi added. "According to Nielsen Research, consumers with disabilities represent a $1 billion market segment themselves. When you include their families, friends and associates, that total expands to more than $1 trillion. Americans with disabilities represent the third-largest market behind Baby Boomers and the mature market."
Of the 22 million working-age (18-64) people with disabilities in our country, fully 70 percent of them are outside of the labor force. One in four adults in America have disabilities, including people with spinal cord injuries, low vision, or who are Deaf/Hard of Hearing, as well as those with learning disabilities, mental health conditions, autism, or other disabilities. The sheer number of people with disabilities makes them the nation's largest minority community.
Yet despite their tremendous buying power and the size of the disability community, people with disabilities remain an afterthought in many discussions of corporate diversity, equality and inclusion.
"Historically, society has tended to isolate individuals with disabilities, and stigmas about  disabilities continue to be a serious and pervasive problem," added Matan Koch, Director of RespectAbility California, who helped draft the collected comments. "Census data, national polls and other studies have documented that people with disabilities experience pervasive disadvantages in society, resulting in less success socially, vocationally, economically and educationally."
In the meantime, RespectAbility and other disability organizations are now turning their attention to another issue in the world of financial security, equal access and advancing opportunity. Until mid-February, the Federal Reserve Board is currently soliciting public feedback to guide future changes to the Community Reinvestment Act (CRA). Signed into law in 1977, CRA was created to encourage banks to meet the needs of all borrowers and work against the divisions created by discriminatory practices like redlining. However, CRA has yet to fully support the inclusion of people with disabilities as an eligible group.
RespectAbility's full comments to Nasdaq and the SEC can be reviewed online here.
If you would like to learn more about Nasdaq corporate diversity issue, please visit the Federal Register here.
If you would like to learn more about CRA, watch RespectAbility's webinar on the topic here.