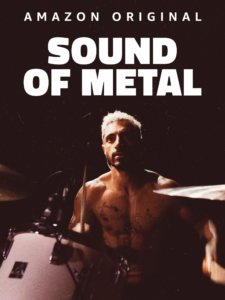 Los Angeles, CA, Nov. 10 – The Sound of Metal is a film that will hit home for anyone with a disability of any kind. The film is about a drummer named Ruben in a punk rock group who suddenly loses most of his hearing. Ruben, portrayed beautifully by Riz Ahmed (The Night Of, Venom), is forced to confront the loss of hearing head-on and struggles to deal with the fallout. He despairs at the involuntary cancellation of his group's music tour and desperately tries to find ways to get his hearing back. He soon begins to live in a Deaf community led by Joe, a Vietnam veteran who, like Ruben, experienced the sudden loss of his hearing as an adult. Joe is played by Paul Raci, a hearing actor who grew up with Deaf parents (sometimes affectionately referred to in the Deaf community as a "CODA," meaning a Child of Deaf Adults) and who remains active within the Deaf community both in his professional and personal life.
The community attempts to teach Ruben sign language and tells him they are trying to heal his mind, not his deafness. They try to get him to write down his emotions, sit still, and accept that there is nothing wrong with being deaf. At first, Ruben is outraged and frustrated. He tries to find ways to fix his deafness through surgery. Riz resists opening up to the Deaf community. He even resists learning sign language at first but eventually gives in and finds happiness through his engagement with others in the Deaf community. Without getting into too many other spoilers, Ruben must undergo many other emotional trials and tribulations before he is able to accept his deafness fully.
I was surprised at how much I identified with Ruben throughout the film. Although I am visually impaired, not deaf or hard-of-hearing, many of the emotions that Ruben experienced felt very familiar to me. I feel like my eyesight has gotten worse since high school and even college. I can't read books or much of anything like I used to without a magnifier. It feels like every day, there are at least one or two obstacles that I run into with my eyesight that I have to work around, whether it's picking something up off the ground or frustrations with website and technology accessibility. There are days when I feel incredibly frustrated, knowing I used to do some of these things easily. The denial that I sometimes struggle with felt very similar to what Ruben was going through in the film. Watching Ruben yell and smash stuff in frustration is understandable, given that the onset of his deafness happened so quickly. Although I am getting better at acceptance and being kind to myself, I still find myself feeling frustrated that I can't do certain things. In the film, Ruben struggles to look at his disability differently. Ruben wanted to find a way to "fix" his disability and go back to his "normal" life. Through his journey he learns to accept himself and realizes that there is nothing wrong with him. I am still struggling with this, although this movie helped put things more in perspective for me.
Sound of Metal is relatable on an emotional level, but it also helps broaden the understanding of deafness, which can take many different forms. Director Darius Marder has said that the film is about a hearing person entering the Deaf community.  Although the star Riz Ahmed is hearing, he did learn sign language and the drums for the role and is getting much deserved Oscar buzz. Ahmed devoted seven months learning ASL, and interacting and working with members of the Deaf community. He also wore implants in his ears during a shoot that emitted white noise so he couldn't even hear his voice.
"What is remarkable about this film is that the filmmakers were clearly cognizant that they were taking certain bold risks in the telling of this story," said Deaf film producer and RespectAbility Board Member Delbert Whetter. "Their ability to deftly navigate this with such a charming outcome can be directly attributable to their early decision to respectfully and fully engage the Deaf community, including the prodigious use of authentic Deaf consulting teams, throughout the development and production of this film."
The film portrays deafness in a groundbreaking way through its sound design, letting the audience experience Ruben's hearing . The film's sound work took 23 weeks. It consisted of much more than just silence, giving the audience a more nuanced sense of how deafness can affect one's hearing, which helps the audience better understand Ruben's frustration.
Whetter is hopeful that The Sound of Metal will encourage Hollywood to embrace more stories that incorporate Deaf culture, as well as other facets of disability culture, in partnership with members from those communities both in front of and behind the camera.
The Sound of Metal is streaming now on Amazon Prime video and is one of my favorite films of 2020. The buzz around this film will undoubtedly grow as awards season approaches.
---
Alex Howard is a Communications Fellow in RespectAbility's National Leadership Program for Winter 2020. This past year, Howard was diagnosed as one of only 17 people in the world with a rare mitochondrial disorder called MePAN. One of the most significant symptoms of MePan is limited vision. Howard is proactive in finding ways to use technology to overcome his disabilities and is a passionate advocate of audio description for all media, everywhere. Howard's ultimate goal is to help those with any kind of disability enjoy films and television so that, hopefully, more people will be able to connect and share a love for entertainment.