Los Angeles, CA, Dec. 10 – It's that time of the year again – the holiday season, and that means Christmas Movies. But there is one in particular that stands out from most.
Lifetime Networks' "Christmas Ever After" tells the story of romance novelist Izzi struggling to write her popular book series' newest installment. A Christmas vacation to her favorite bed and breakfast turns into a getaway to spark inspiration to clear her writer's block.
Tony award-winning actress Ali Stroker makes history again as the first woman in a wheelchair to play the female protagonist in this Christmas romance film. The best part of the movie is her disability. Her disability wasn't the film's focus or even mentioned; everything was accessible and seamless for the starlet. They even showed her driving a car with her chair in the passenger seat; as a fellow wheelchair user, that was so relatable. No one asked her if she needed help. Others never questioned her competence and ability to accomplish her goals. She was quite supportive and helpful to everyone around her as well.
What made it more enjoyable is that Stroker is a real wheelchair user. Characters with disabilities only make up 2.3% of media representation in films, even though we make up 25% of adults, and 95% of the time, it's portrayed by someone who doesn't have a disability. The way Stroker moved around her apartment, the hotel and outdoors, she glided in a way that only a real wheelchair user could do. It made for such an enjoyable, relatable experience. Now women with disabilities have something to watch to let them know it's possible to have a romantic partner, which is never depicted in film and TV. The rare chance you see it, is how non-disabled people think we should be treated – rarely the romantic interest. Most portrayals end up being  from the perspective of pity and portrayed by someone who doesn't have a disability, which, personally, ruins reality.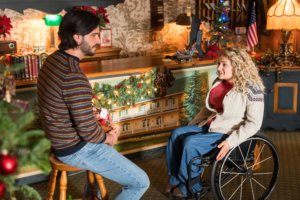 My favorite moments were the simple ones of Stroker with her love interest. When they were strolling through the wintery city, he would take a seat to be eye level to talk to her. My heart melted; this is the kind of notions some disabled women dream of, well, if you're a hopeless romantic like me. I would have liked to see more romantic gestures between the two, but I know they shot this during the pandemic and had to kiss through plexiglass. Safety First.
It was refreshing to see a simple love story told through a disabled woman's lens and her disability not being addressed but accommodated.
If you're looking for a great Christmas love story with a lead actress who happens to be a real wheelchair user, check out Christmas Ever After, which is an excellent example of disability representation and opens the possibilities for so much more.