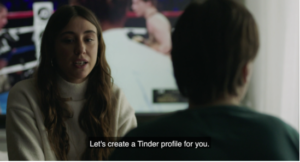 Los Angeles, CA, Dec. 9 – In recent years there has been a bevy of films exploring the idiosyncrasies of dating while disabled. Rarely do these films accurately capture the nuances involved with sex and disability. Alive, written and directed by Jimmy Olsson, is a refreshing short that captures essential yet unseen aspects of interabled relationships, both romantic and platonic.
Victoria, played by Eva Johansson (who herself does not have a traumatic brain injury or use a wheelchair), is a former boxer living with a brain injury, which has affected her mobility and speech. Victoria's caregiver Ida, played by Madeleine Martin, helps Victoria complete her daily routines. Ida quickly discovers that Victoria requires help with more than just quotidian errands; she needs an ally who can facilitate her desires for romantic fulfillment.
The film's inciting incident takes place in the park while Ida and Victoria casually go out for a stroll. Ida runs into her boyfriend Bjorn (played by Joel Odmann) and the two exchange kisses. Bjorn introduces himself to Victoria and Victoria is smitten by Bjorn's stereotypically Swedish handsomeness. In the next scene, Victoria comments that she would "love to borrow Bjorn" for a matter that needs little explanation. Ida reassures Victoria that one day someone will love Victoria the way Ida loves Bjorn and vice versa. Victoria is reduced to tears when she hears this, believing she will never be loved because of her disability— a stigma often voiced in movies featuring a protagonist with a disability, yet a prominent fear for some people with disabilities navigating an ableist world.
Ida's relationship with Victoria explores very real and tangible dynamics between paid caregivers and their clients. Ida's response to Victoria's desire to pursue romantic and sexual endeavors is supportive as most people are when abstractly approached with a similar situation. However, unlike most people, Ida doesn't just offer empty pleasantries to remind Victoria of her worth and beauty. Instead, Ida assists Victoria with setting up her Tinder profile and applies Victoria's make up for her profile picture.
Intimate scenes like these, which highlight interabled camaraderie, are seldom included in similar films. The behind-the-scenes coordinations exclusive to a person with a disability and their caregiver often are portrayed with a power imbalance. This is not the case in Alive. Seeing Ida help Victoria has a delicate air of equipoise, where the lines between caregiver and friend are blurred. Rather than portraying an attendant clumsily preparing her patient, Alivecontains a moment of refinement when Ida gingerly applies lipstick on Victoria, not unlike a painter scrupulously inserting their respective fidelity onto their canvas. The trust and rapport these two characters have with one another feels grounded in time as opposed to a haphazardly arranged assignment organized by a care agency.
Alive also manages to incorporate contrasts between representations of typical romcom couple passionately in the throes of love versus their chaste disabled counterparts within its brief yet economic runtime. One scene stands out: Utilizing a parallel montage, the camera follows both Ida and Victoria after Ida has clocked out for the day. Ida returns to her home and engages in fiery love-making with her boyfriend Bjorn while Victoria is carried to bed by her alternate caregiver. Olsson projects the differences between the preconceived understandings of bedrooms as they pertain to bodies, disabled or otherwise. "Going to bed" often serves as a double entendre for couples in movies, but that same phrase and its impish subtext is not extended to people with disabilities. This removal of agency reminds the viewer that sometimes a bedroom is only a bedroom if you are deemed unsightly and undesirable by toxic societal attitudes.
Continuing this trend of addressing ableist notions, Bjorn's character serves as a conduit for more misconceptions regarding disability. After their lovemaking, Ida tells Bjorn that Victoria asked to "borrow him." Bjorn responds with the question, "Does disabled sex turn you on?" Ida reprimands him and explains she is still looking to set Victoria up with someone who will love her. The scene ends with Bjorn reminding Ida not to let Victoria get her hopes up. In this brief exchange, the filmmakers are able to capture the prevailing attitudes towards disabled sex: it's either a fetish or it's nonexistent. It's a thoroughly engrossing scene demonstrating that sex and disability never be viewed as common, even though many people with disabilities lead healthy sex lives, sexuality as it pertains to disability will always be a spectacle for the ableist gaze.
SPOILER WARNING: MAJOR PLOT DETAILS AHEAD
Later in the film, Victoria does find a suitor interested in her. Hakan (played by writer and director of Jimmy Olsson) is a tattooed colossus who looks like he could play a mafioso goon in a Winding Refn film. In a moment of comedic irony, Ida refuses to let Victoria see Hakan because of his appearance. Victoria wants Ida out of the apartment during her date because she wants to be alone with Hakan. Ida is not on board with the idea, citing her responsibilities to care for and not endanger Victoria. Conflict ensues between the two, as Ida questions Victoria's independence. Although her comments stem from genuine worry, Ida realizes the error of her ways and eventually acquiesces to Victoria's demands, which sets up the film's final sequences.
Olsson employs a playfulness with film structure as the film's climax realizes Victoria's sexual encounter with Hakan. This entire portion is centered around Ida's concern for Victoria's safety rather than Victoria's date. Following her tense pacing back-and-forth, Ida returns to the apartment to find a safe and sweaty Victoria in bed, thus changing the meaning of Victoria's bedroom to one of sexual liberation rather than confinement. Ida inquires about Victoria's safety and experience. In what is the most illuminating scene, Victoria informs Ida that Hakan was "not good in bed" nor will she be seeing him again because he is not her type. Seeing a character with a disability realize their worth and not be forced to settle for the first partner that comes is invigorating. It is incredible how a rejection can be so reaffirming, as it is now Victoria's turn to claim a sense of agency.
While the filmmakers do a great job of examining the logistics of the preparations for an interabled date, it seems as though an opportunity to catechize the all-mysterious interworkings of adapted sex is missed. Following her date, Victoria offers to share details with Ida regarding her encounter. Ida politely refuses. Whether a brief tasteful scene or a mention by Victoria in her post-coital conversation with Ida, a glimpse into adapted and exploratory interabled sex could have done wonders to demystify the taboo surrounding its subject matter.
Overall, despite a missed opportunity to cast authentically, Alive is a wonderful short film that does more right than wrong when exploring the ins and outs of interabled relationships. Bolstered by strong dialogue and attention to detail, it is a Swedish gem worth checking out.
---
Roque Gregorio Renteria is a Communications Fellow in RespectAbility's National Leadership Program for Winter 2020-2021. At the age of 14, he had a spinal cord injury, which left him partially paralyzed, but on the bright side, he got a brand-new wheelchair. Seeing the world from a new perspective (his eyes are now at waist level) Renteria started to write jokes about his predicament. This led him to pursue a career in stand-up comedy.