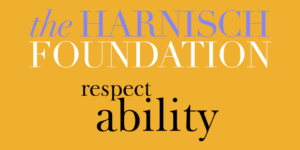 Los Angeles, December 10 – It's a match made in intersectional heaven as The Harnisch Foundation says "we do" support the disability advocacy nonprofit RespectAbility with a new grant.
Both organizations work to create equitable and accessible opportunities to advance equity and accessibility in Hollywood. RespectAbility fights stigmas and works to ensure that people with disabilities can participate in every aspect of community.
That includes authentic representation in media, especially in the movies and television shows that tell us what society looks like. So many cultural and physical barriers have limited the number of people with lived disability experience in positions of authority throughout the overall story-telling process.
The grant means RespectAbility can greatly expand its capacity to provide script consulting, disability training and general advisement to major studios, production companies, writers' rooms and other parties within the entertainment industry. This is the kind of big-picture work that leads to diverse and authentic representation of disabled people on screen, which eventually helps change hearts, minds, and systems. The goal is to move from invisibility and stereotypes to seeing, valuing, and including people with disabilities as the individuals they are.
"The Harnisch Foundation has a long history of supporting projects that increase representation of underrepresented populations, and we are so grateful they recognize the importance of supporting disability representation as well," said Jennifer Laszlo Mizrahi, president of RespectAbility. "Ruth Ann Harnisch has a great sense of what groups can be transformational on equity and inclusion, and she can and does help them break glass ceilings. The other projects she has supported – from the Sundance Institute to Chicken & Egg Pictures Diversity Fellows Initiative – have been world changers in their space, and we are excited to partner with her and her team to do the same on behalf of diverse people with disabilities."
In terms of representation, there is a lot of work to do. Currently, while 18.6 percent of people in the U.S. have a disability, just 3.1 percent of characters on TV and less than one percent in children's television are disabled.
"Including characters with disabilities does not happen by accident," said RespectAbility's Vice President, Communications, Lauren Appelbaum, who leads the organization's work in Hollywood. "What we see and hear on screen influences how we act in real life, which can have life and death consequences. People with disabilities lack adequate access to healthcare, education and employment opportunities. But changing the statistics is dependent on content creators choosing to include disabled individuals in diverse and authentic portrayals."
This means that RespectAbility is doing life-saving education in showing the entertainment industry what's at stake for disabled people, and most importantly, teaching them how to be more inclusive and accessible. Since releasing The Hollywood Disability Inclusion Toolkit in March 2018, RespectAbility continues to offer consultations on scripts; conduct trainings for writers, producers, marketing & PR teams, and others; and provide connections to experienced individuals with disabilities ready to work on a film or TV show. The Producers Guild's ProducedBy magazine recently ran a feature written by Appelbaum showing how to reach, connect with and support people with disabilities. RespectAbility's campaigns are designed to make filmmakers and writers so conscious of the unintentional exclusion that they will go out of their way to intentionally include people with disabilities in their work.
"With the market size of the extended disability community being 63%, opening the inclusion umbrella is not just the right thing to do," said Tatiana Lee, RespectAbility's Hollywood Inclusion Associate. "It also is economically smart, as the disability market is valued at more than $1 trillion, according to Nielsen."
The time is right for investing in RespectAbility's Hollywood Team: there was a 337% increase in the number of script consultations from 2019 to 2020 as the world in quarantine became more attuned to social justice movements and inclusion.
RespectAbility's consultations give creative executives, casting directors, showrunners, and writers the chance to meet with people who really live with the specific disabilities affecting the characters in their fictional projects. Some of The Harnisch Foundation grant will go to training the people with disabilities who will be training the Hollywood executives and writers. That means more people representing more disabilities can be part of this effort to ensure authentic portrayal, and be paid fairly for their time and knowledge.
This money also will enable RespectAbility to expand its direct trainings to major studios and production companies in the entertainment industry. The Hollywood Team already regularly conduct Disability 101 trainings, as well as specific trainings for casting/talent relations, marketing/media relations, creative executives, physical production, HR professionals and more.
The participants have included those from NBCUniversal, Netflix, Sony Pictures Entertainment and multiple divisions of The Walt Disney Company. Other studios are waiting for these trainings, and expanded RespectAbility staff capacity means a shorter wait for those direct trainings.
"These trainings, along with less formal follow-up discussions, are highly effective in motivating studios and writers to ensure better disability representation," said Appelbaum. "Our work with the studios has directly led to several job placements for individuals with disabilities and we are looking to scale those up."
More authentic disability stories will not be portrayed on screen until there are more people with disabilities hired in all roles behind the camera. For the past two years, RespectAbility has been running a Lab specifically for diverse entertainment professionals with disabilities working behind the camera, ensuring a pipeline of talent for these roles. Many of these Lab alumni will be part of this expanded team.
About The Harnisch Foundation
The Harnisch Foundation (HF) is a private foundation whose mission is to create a fair, equitable and inclusive world. Since 1998 the HF has supported the work of effective leaders and creative communities working to advance equality and inclusivity, with a focus on gender equity.