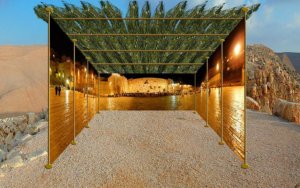 Though tonight begins Shmini Atzeret, this week RespectAbility joyously celebrated Sukkot with a gathering in our virtual sukkah. HUC student and Jewish advisory committee member Rachel Rothstein taught us about the holiday. She opened with upbeat Israeli music, reminding us that the rabbis called Sukkot "the time of our joy". After performing the ritual of the lulav (fun Sunday school fact: though we colloquially refer to the lulav and the aromatic etrog, the etrog is actually one of the four parts, or species, that make up the lulav). All five senses were virtually ignited!
Rachel then shared with us the rabbinic teaching that the four species of the lulav represented four different types of Jews, but just as the lulav was a union of those four species, so too is the Jewish people a union of all different types of Jews.
To me, this feels like a powerful metaphor for the community that we are trying to build here at RespectAbility. At this event alone, we had people from California, Florida, New York, North Carolina, and Maryland. We had observant Jews and secular Jews, people with physical disabilities, learning disabilities, mental health disabilities and allies. No matter how you slice it, we were many diverse species or elements, but only together did we truly become a community.
Yes, we are based in Los Angeles. The strong core – the palm that makes up the backbone of our Jewish community – is there. Yet the fullness of our community comes when we bring together Jews of every identity, every geography, and every stream, led by people with disabilities and enriched by our allies. It is more than just coming together. It is about being a part of the whole.
Our vision is community-led and directed by Jews with disabilities (already the case, given that myself and my team are people with disabilities), and one where Jews with disabilities add their talent and enthusiasm to every aspect. We welcome allies, yet part of this community is showing that Jews with disabilities can "get things done." We need your ideas, your energy, and your passion. There is no formal joining and nothing to pay. We simply await your moment to communicate to us, "Heneni" – I am ready – and ask to be added to our list.
Gleaned from Rachel, we were reminded that from the strong and sturdy palm to the sweet and fragrant etrog, the lulav is created by the powerful fusion of many attributes: a holy thing of beauty that represents the Jewish people. As we draw this holiday to a close and prepare to rejoice in the ever-continuing cycle of our people on Simchat Torah, I invite you to add to, and become a part of, our beautiful community. Only then will it be whole. We can't wait to meet you and hear what you have to communicate.
Heneni – let us turn "I am ready" into Henenu – "WE are ready!"
Moadim L'simcha v'Shabbat Shalom
Matan Koch
Director of RespectAbility California and Jewish Leadership