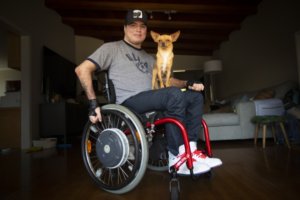 Washington, D.C., October 9 – A grant from the Craig H. Neilsen Foundation supporting RespectAbility's virtual National Leadership Fellowship will provide four exceptionally talented adults with spinal cord injuries (SCI) with intensive training to foster advance opportunities for the SCI community in public policy, civic engagement and the film and television industry.
Even before the pandemic, only 27 percent of people with spinal cord injuries were employed 10 years after injury. With more than 358,000 people living with spinal cord injuries in the United States, RespectAbility works to create opportunities so people with spinal cord injury can succeed in their chosen career.
This project was awarded through the Neilsen Foundation's Creating Opportunity & Independence (CO&I) portfolio's one-year Community Support Grants. This portfolio supports organizations that provide programs and services that enhance the quality of life for individuals with SCI.
RespectAbility, a nonpartisan nonprofit that fights stigmas and advances opportunities so people with disabilities can fully participate in all aspects of community, will administer this initiative as a part of its proven National Leadership Program. These four Apprentices will take part in an advanced training program that will provide the skills necessary for careers advancing diversity, equity and inclusion initiatives. They also will be involved in several projects in the entertainment industry to reduce stigmas and long-standing barriers that prevent people with disabilities from obtaining employment.
"This program will give opportunities to so many deserving young adults with SCI," said Ben Spangenberg, RespectAbility's national leadership program director. "Thanks to the Neilsen Foundation, our organization will pay individuals who otherwise would not be able to accept an unpaid internship."
Last year RespectAbility released a major report that showed that most nonprofit organizations do not include many people with disabilities on their staff or lay leadership. The study also showed that they are not responsive enough to the accessibility and program needs of the 1-in-4 adults in America who live with some form of physical, sensory, cognitive, mental health or other disability.
"Thanks to the Neilsen Foundation, talented leaders with disabilities will be able to have a seat at decision making tables where they will be able to advance opportunities for people with and without disabilities alike," said Jennifer Laszlo Mizrahi, president of RespectAbility.
"Thirty years after the establishment of the Americans with Disabilities Act, employment continues to be among the greatest barriers for people with SCI," said Jane Otto, a CO&I Program Officer. "Meaningful work and gainful employment are vital to one's quality of life; the Neilsen Foundation is proud to partner with RespectAbility as a means to foster leadership in the SCI community at large."
Programs such as RespectAbility's Fellowship are an important piece to solving America's disability employment problem. Today, only 20.6 percent of working-age people with disabilities are in the workforce and just seven percent of people born with a disability graduate from college. Comparatively, 67 percent of people without disabilities are currently in the workforce. RespectAbility's Fellowship offers much needed job readiness skills to people with disabilities, so they can compete in our tough job market.
To find out more and apply, go to www.RespectAbility.org/SCIApprenticeship. If you have any questions, contact Ben Spangenberg at [email protected] or (202) 517-6272.
About the Craig H. Neilsen Foundation
The Craig H. Neilsen Foundation is the largest private funder of spinal cord injury research, rehabilitation, clinical training, and programmatic support in the United States and Canada. The Foundation partners with scientific, charitable and educational organizations conducting spinal cord injury research, training in spinal cord medicine, and supports grassroots organizations providing services to assist individuals affected by spinal cord injury. Drawing ongoing inspiration from its founder, the Foundation is dedicated to a future where individuals with spinal cord injuries live full and productive lives as active participants in their communities.