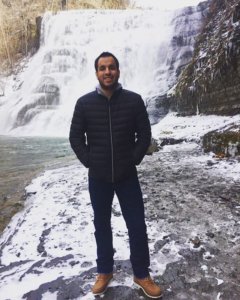 Rockville, Maryland, Oct. 9 – Franklin Anderson is quiet and unassuming. Yet, when it comes to advancing equity, access and inclusion, he's a lion. As RespectAbility's Manager of Development and Inclusive Philanthropy, he is on the front lines of fighting stigmas and advancing opportunities so people with disabilities can fully participate in all aspects of community.
Anderson is a passionate professional who fights for equal rights and opportunities for all marginalized communities. His passion in the disability space is ensuring the disability community has access to education, economic opportunity and fair representation in society broadly. "No effort to benefit a community is complete until it is accessible for all members of that community," Anderson said.
He is also an exceptional mentor for RespectAbility's National Leadership Fellowship, where he mentors those who want to go into nonprofit management. He teaches best practices, connects them to key leaders and coaches them as they progress.
"Franklin's passion for being a good role model and helping Fellows in his department become the next generation of nonprofit leaders is evident," Jennifer Mizrahi, President of RespectAbility, said.
At RespectAbility, Anderson's work is focused on foundation and donor relations, as well as leading the inclusive philanthropy program. Anderson helps enable major foundations, philanthropists and corporations ensure their philanthropic dollars go the furthest – by enabling investments in organizations and programs to be inclusive of people with disabilities. Hispanic himself, he also is involved in the work of RespectAbility to serve the Latino disability community and connecting the Latino community as a whole to inclusive philanthropy.
Prior to joining RespectAbility, Anderson earned his Master's of Public Affairs in Nonprofit Management and Policy Analysis from Indiana University Bloomington. During his time in Indiana, he worked with a local environmental organization providing volunteer management and administrative support. He also held academic positions at Indiana University, worked as a grant writer at a local nonprofit and held a position in the career development office. Anderson also served as an advisor to new nonprofits to help develop their fundraising efforts.
He earned his Bachelor's in Political Science from Eastern Michigan University, concentrating in public policy and political theory. He lives with his fiancée, enjoys hiking and is a big sports fan – especially his alma mater and the Detroit professional teams.