With 25 years of experience at The Coca-Cola Company, Vincenzo Piscopo knows the importance of shaping workplace inclusion through philanthropic involvement. As the Community and Stakeholder Relations Director for Coca-Cola, Piscopo manages company relationships with disability, veteran and Hispanic organizations and advocates for these communities internally.
Born and raised in Venezuela, he received a bachelor's degree in Economics, an MBA from Carnegie Mellon University and a master's in Creativity from Buffalo State University. In his tenure at The Coca-Cola Company, he has served in several different areas of the organization: Finance, IT, Marketing and Innovation.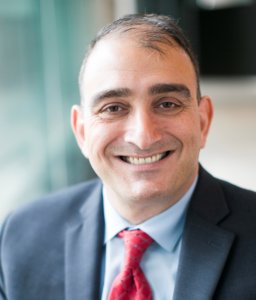 Piscopo, now a wheelchair-user, became paralyzed from a popped herniated disk in 2010, and has said that he quickly fell in love with being part of the disability community.
In addition to his primary job role, he is also the founder of the This-Ability Business Resource Group (BRG) for The Coca-Cola Company and the president and founder of the "Wheels of Happiness Foundation," where he uses his expertise to help people with motor disabilities in disadvantaged areas of the world. Piscopo also serves on the RespectAbility Board of Directors where he chairs its strategic planning committee. He is an expert-speaker on philanthropy, workplace inclusion and the future of work.
While serving on the panel "The Private Sector and the Future of Work for People with Disabilities" for RespectAbility's ADA30 Summit in July 2020, Piscopo spoke about disability employment, especially during the time of COVID-19, sharing that one benefit has been the equalization brought about by work-from-home: "We're not worried about accommodations for people with disabilities, we are worried about accommodations, period." He added that this has led to organizations recognizing the relevance and value of accommodations and hopes that this understanding will make this process easier in the future, as well as increase disability employment.
"People with disabilities really don't need your charity: people with disabilities need opportunities, and once you give them opportunities, they can add value to you, to society, to organizations and all that," he stated. "Having people with disabilities in the workforce is not just a nice thing to do, but actually a very smart thing to do."
Along with his focus on people with disabilities in the workplace, Piscopo also advocates for Hispanic and Latinx individuals within The Coca-Cola Company. Discussing being at and working at the intersection of these two identities, he said, "[with] the evolution of corporate responsibility and social justice and all of that, all those groups working together can actually create synergies that make them as a group more powerful."
Just 39.4 Percent of Working-Age Hispanic and Latinx People with Disabilities Are Employed
As the country observes National Hispanic Heritage Month, which began September 15, 2020 and ends October 15, 2020, it is important to note that there are 5.2 million Hispanic and Latinx people with disabilities living in the U.S.
The Disability Statistics Compendium, released by Institute on Disability at the University of New Hampshire, shows that in the economic expansion prior to the COVID-19 pandemic, just 39.4 percent of working-age Latinx people with disabilities had jobs, compared to 76 percent of Latinx people without disabilities. In total, out of 2,915,754 working-age Latinx people with disabilities, only 1,149,092 had jobs pre-pandemic.
Piscopo is actively working to change these statistics.
"I will take every opportunity to teach the world that we deserve this world as much as everybody else," he said during RespectAbility's 2019 disability summit on Capitol Hill. "That's my pledge. And my second pledge is that I will peel the label off people to see what is really inside and act based on that, not about the label."