Los Angeles, California, Sept. 18 – A new episode of Disney Channel's Emmy Award-nominated series Big City Greens is breaking barriers when it comes to ensuring authentic deaf representation. In the "Quiet Please" episode, the Green family visits the city library hoping to find a book that will spark Cricket's interest in reading, but they quickly run afoul of a strict, eerie librarian. Determined to keep the library a quiet place, she threatens to throw them out if they make any sound. Cricket's sister Tilly notices two deaf library patrons communicating via ASL, giving her the idea that her family can communicate in the same way. While Tilly is the only family member to know ASL, they use that as inspiration to communicate through charades-like hand gestures.
In order to ensure authentic portrayal, Big City Greens creators and executive producers Chris and Shane Houghton brought in a trio of Deaf-led ASL consultants including Delbert Whetter, a Deaf film producer and consultant; Jevon Whetter, a Deaf actor, filmmaker and ASL dialogue coach; and Justin Maurer, an ASL interpreter who is a "CODA" (a child of deaf adults). The trio not only provided guidance but also met with the creative team in-person, recording the dialogue in ASL for the animators to use as reference. As such, the team could "problem solve solutions together."
"They allowed us to film them reciting the lines in ASL from different angles so our board artists were able to translate their gestures into animation," said Shane Houghton. "They performed the lines at full speed and half speed, so we could catch all the small movements that make a particular sign work."
"We wanted to make sure the drawings of our characters using ASL were as accurate as possible," he continued. "If the placement of a hand or finger is slightly off, the meaning of what they're trying to say could become VERY different. For example, we learned that the difference between the sign for 'shark' and the sign for… well a word that we wouldn't use on a kids' show, is very slight and if drawn incorrectly, we could be saying something completely unintentional! Not only could it be potentially offensive or confusing, but it would just make for bad storytelling."
The consulting team rendered assistance throughout the entire  production process, and included work during development prior to production as well as publicity and promotion afterwards, because, as Delbert Whetter, a board member for RespectAbility, a nonprofit organization that regularly works with major studios and production companies to ensure both authentic portrayals on screen and better hiring practices behind the camera, said, "that is when small missteps can sometimes turn into big ones!"
The process involved team members fluent in ASL performing the dialogue, while the third individual, also fluent in ASL, watched them "with a fine eye for what the artists will require in order to perform the animation."
"One of the great things about working with the Big City Greens team was how open they were to incorporating our suggestions and ideas very early on in the creative process," added Whetter. "They laid out the entire outline of the story on storyboards around the room and walked us through the episode, soliciting our suggestions along the way. They then made changes to the story to take advantage of creative opportunities that arose during our collaboration."
"Our team possesses a variety of skill sets that enabled us to become a well-rounded team with great chemistry," added Jevon Whetter. "Working in animation, it is also important to have a good sense of humor and demonstrate the ability to be 'playful' with the character's choices (and signing) so it'll appeal to children. We also made sure to give the production team several different approaches so the show's creators could choose which approach that they felt suited the show the best. After our 'live' session with the production team, we then had the opportunity to review rough sketches of the show and provided feedback to ensure authenticity."
A CODA (a child of a deaf adult) and an ASL Interpreter, Justin Maurer wears a slightly different hat than the Whetter brothers. He stressed the importance of a hearing ASL consultant only working in concert with Deaf consultants.
"Not only do Deaf people have native fluency in ASL, they will always think of a nuance related to a deaf character, dialogue, or deaf culture that a hearing person just wouldn't think of," he said. "What makes our team so special is that Del has a wealth of animation experience, Jevon a wealth of acting, directing, and teaching experience, and in my back pocket I have my experiences of growing up with a Deaf mom and my years working as a freelance ASL Interpreter. That's what makes us a dream team, it's a trifecta."
Like many animated characters, the Green family is illustrated with just four fingers on each hand. Many ASL signs use more than four fingers, so the teams worked together to find signs that, per Shane Houghton, "retained the intention that we were looking for … that made sense for cartoon hands!"
"We were aware of the use of four fingers by the characters and it wasn't a problem for us," said Jevon Whetter. "We made sure that we used more 'unmarked' ASL handshapes that are more easily rendered in 2-D, instead of relying on 'marked ASL handshapes,' which tend to be more challenging for animation. We came up with several creative approaches to lines of dialogue using ASL and used the approach that worked best given the scene's staging and the characters' positioning. I have over 28+ years of experience translating English to ASL for theatre and film as an actor and drama teacher, so I was fully prepared for unique challenges like this."
He has worked on several children storytelling video projects as an educator and also paid attention to the importance of using "signs that are 'user-friendly' and age-appropriate for young viewers, both Deaf and hearing, so they can follow the ASL used in the show and perhaps even learn some signs."
Delbert Whetter's more than two decades of experience working on animated feature films, from the business affairs side of the animation industry to executive producer, gave him the "familiarity with the animation production workflow, and how animators work, which was very useful in helping to ensure that the ASL dialogue performed in this show is optimized for both dramatic impact and production efficiency."
By having this consulting team work directly with the creative team, there were other opportunities for collaboration. For example, there is a moment in the episode that involves a hearing aid. The consulting team showed the Big City Greens team what the feedback from a hearing aid actually sounds like when it is removed, which the team promptly recorded on site.
"The sound you hear in the episode came from an actual hearing aid that was recorded during our collaboration," he said. "This just goes to prove that incorporating authentic voices in creative processes offers so many benefits, some of them unexpected, such as having a hearing aid available at your fingertips to audiorecord!"
Paying Homage to A Quiet Place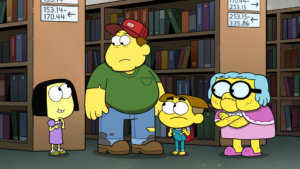 The "Quiet Please" episode plays homage to the film A Quiet Place, which Delbert Whetter calls "a great example of Deaf and ASL representation done right."
"What I loved about that movie is that they used a Deaf actress in the film and the ASL used in the film was well-executed and felt authentic," added Jevon Whetter. "When we went in to do the episode, we didn't realize that the episode was a homage to The Quiet Place until the production team shared the premise of the story with us, so it was a really pleasant surprise for us. A pet peeve of mine are films with deaf characters played by hearing characters that botch the performances or render a stereotypical portrayal. The Deaf Community has so many wonderful stories to offer and ASL is such a beautiful, visual language that deserves to be presented in a good light on screen."
The idea for this episode came from story editor Kenny Byerly, who wanted to do an episode with minimal dialogue. When the team realized the episode had a similar premised to A Quiet Place, they "took a few cues from that to make this episode an homage to that movie," per Shane Houghton.
The Future of Disability-Inclusive Children's Programming
Shane Houghton has a message for other producers, writers and directors about creating stories with characters with disabilities: "They always say 'write what you know.' But there is something valuable to pushing outside your comfort zone and learning and expanding 'what you know.' In TV, often times things move fast, deadlines are tight, and there isn't much time for growing and learning. Luckily, we were able to make this happen with the help of Disney TV Animation and all the supportive executives there. It wasn't easy to do, but that doesn't mean it isn't worth doing."
By having the ASL consultants on board, however, the production ran smoothly.
Delbert Whetter explained they had "a system of review throughout each phase of the animation production process [which] allowed mistakes or oversights to be corrected early with minimal disruption to the workflow."
"I have worked on a number of Disney projects and initiatives over the years, and the caliber and quality of their team members that I interact with, without fail, impresses me beyond words," he continued. "I attribute a large part of that to the passion that they put into their commitment to learning and growing together as an organization."
This buy-in at the studio level helps ensure that showrunners have this opportunity expand their storytelling opportunities, as well as audiences, tapping into the $1 trillion market size of the disability community.
As a result, Shane Houghton hopes to work with more disability consultants in the future to "learn and understand more about different disabilities and see them shown in programming of all kinds, not just for kids."
The "Quiet Please" episode premieres on Saturday, September 19 at 8:00 p.m. ET/PT on Disney Channel. Ahead of this premiere, the team is having a special event with a showing of the episode and a Q&A with the Oregon School for the Deaf, where both Jevon and Delbert Whetter attended.
To learn more about how this episode came to be, join RespectAbility for a live virtual event with Chris and Shane Houghton, Delbert and Jevon Whetter and Justin Maurer. This event is free to attend and there will be live captions and an ASL interpreter.
Date: Wednesday, September 30
Time: 4:00 p.m. ET / 3:00 p.m. CT / 2:00 p.m. MT / 1:00 p.m. PT