Michelle Friedman, vice chair of the board of Keshet and on Keshet's board of governance and development committees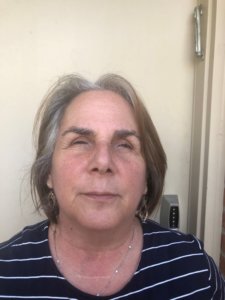 As a woman who grew up in a strongly identified observant family, attended Jewish day school and camp, and had a bubby who devoted herself to Jewish organizations, the obligation of tikkun olam, chesed and serving the community were engrained since childhood. So, when I left my career to be a stay-at-home mother in the mid 80's, I sought an opportunity to serve. I became involved in my synagogue and children's school, and eventually a friend invited me to serve on the board of Shalva, which provides service to Jewish victims of domestic violence in the Chicago area. (Not to be confused with Shalva, the Israel Association for the Care and Inclusion of Persons with Disabilities.)
This began my 32-year career as a professional volunteer, which I am proud to say has included service on nine nonprofit boards, eight of which are in the Chicago Jewish community. I am even prouder that every one of those organizations sought my leadership and saw my capability, even after I became blind 28 years ago.
They did not focus on my blindness, but focused on my value as a board member, and reaped the benefits. I have served as fundraising chair on six boards, and as Board President of three – soon to be four.  
This means that I have attended countless meetings, conferences and seminars, and I always seem to be the only person at the table with a disclosed disability. As I have become more knowledgeable about board governance best practices, and as our boards have become more professional, strategic, and intentional, I noticed that the conversation about board diversity has never included the disabled community.
Boards always recognize that skill is the most important consideration, which has been my primary motivator in my own board service. Yet when we did discuss fair representation on Jewish boards, we spoke about men versus women and representation from varied neighborhoods, synagogues, or religious groups: never was disability a part of the conversation.
As a member of ADA 25 Advancing Leadership, I spent some time before COVID-19 meeting with the leadership of several large Chicago Jewish organizations. I asked them if they have or ever have had a person who identified as disabled on their boards. They had not – past or presently.
We then discussed the value of intentionally cultivating and recruiting for disabled representation. Some of the concerns I heard were:
Can a person with a disability afford the monetary expectation?

Does a person with a disability come onto a board with an agenda?
While some can meet the monetary expectation, there are boards that do not have this expectation. I always encourage the importance of appreciating the skills, connections, or other added value the person brings to the table. From advisory boards to specific exemptions, there is always a way around the finance question.
My agenda (yes, I have one) is to always forward the agency's mission and vision. I serve because I believe in the work of an organization, and I am willing to be an ambassador and fundraiser for it. I do bring my unique disability perspective, but I submit that an inclusive, diverse, and robust board should be comprised of people with different perspectives.
I am pleased to report that one such meeting led to a discussion between an organization and ADA 25 Advancing Leadership, and was followed by a successful match with a disabled board member!
We know organizations perform best when internal diversity reflects the diversity of the environment, and that this also symbolizes organizational values. Even if an organization doesn't specifically offer services for disabled people, since 20% of people have a disability, many people who are served will, statistically, have a disability. Further, your board diversity should reflect the inclusive values of your organization to signal integrity to your donors.
We know that creating a diverse board is a best practice and adds value. Diversity:
brings multiple perspectives to the table;

opens doors to community stakeholders and serves as an intermediary; between the community and the organization;

models inclusion to the agency's staff;

encourages collaboration and partnerships;

increases organizations' "fundability."
We must acknowledge that disabled individuals are stakeholders in every aspect of Jewish communal life and that our representation enhances boards. Then we should cultivate qualified leaders with disabilities who will add value to the board, not check a box. I am proud of my service, but I hope that in the future, as organizations seek to add diversity to their boards, they will reflect true diversity by intentionally cultivating and recruiting disabled leaders.
---
Michelle Friedman currently serves as the vice chair of the board of Keshet and on Keshet's board of governance and development committees; and is the development chair of the Institute for Therapy Through the Arts. Friedman is a member of ADA 25 Advancing Leadership.
In our Jewish Disability Perspectives newsletter, RespectAbility welcomes a wide spectrum of voices. The views expressed in each Jewish Disability Perspectives contribution are those of the guest contributor.