There are more than 22 million working-age people with disabilities in America, and today fewer than 1 in 3 has a job. Learn from top experts who are enabling employers to thrive by bringing in the talents of people with disabilities.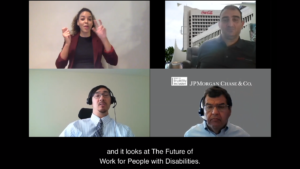 Washington, D.C. Sept. 6 – This Labor Day, it is important to look beyond the headlines and the current economic crisis, and see where there is hope for the future. Yes, people with disabilities have been disproportionately impacted by the COVID-19 pandemic. However, across the country, there are professionals in the public, private, and nonprofit sectors dedicated to finding solutions and making the future of work better for the 22 million working-age Americans living with a disability.
Some of those leaders spoke earlier this summer during RespectAbility's ADA30 virtual summit. On Thursday, July 30, leaders from across the economic and political spectrum gathered to discuss strategies, emerging practices and advancing inclusion for workers with disabilities.
This Labor Day, the RespectAbility invites you to learn from this insightful commentary and conversation brought forward by those leaders. The conversation that RespectAbility hosted that day reflects critical lessons that employers, large or small, as well as people with disabilities need to learn. With the annual celebration of Labor Day, now is a good chance for decision-makers to reflect on what advancing opportunities for people with disabilities really means. 
Speaking during the first panel of the session – Public Policies to Support the Future of Work – Craig Leen, Director of the Office of Federal Contract Compliance Programs (OFCCP) at the U.S. Department of Labor, spoke with great passion about how "some of the biggest companies in the United States and some of the biggest companies in the world" are advancing inclusion in practical ways by hiring more people with disabilities. OFCCP works with federal contractors to satisfy the disability employment goals of Section 503 of the Rehabilitation Act of 1973. Section 503 established a utilization goal for companies doing business with the federal government to have up to seven percent of their workforce be staffed by qualified workers with disabilities.
According to Leen, "federal contractors [are] taking the lead in adopting inclusive employment practices" to benefit from the incredible knowledge and skills offered by people with disabilities. OFCCP is actively documenting how policies such as "centralized accommodations systems," building "disability inclusion programs," implementing "autism at work programs," and engaging "with vocational rehabilitation agencies" are making a difference.
Closing the gap in labor force participation between people with and without disabilities needs, according to Leen, "to be comprehensively addressed and it is really advantageous to the American economy."
One way that those needs currently are being met is through the nation's vocational rehabilitation system, which recently celebrated its 100th anniversary. Mark Schultz, who is both the Commissioner of the Rehabilitation Services Administration (RSA) and Acting Assistant Secretary of Education for the Office of Special Education and Rehabilitative Services (OSERS), talked about how the Rehabilitation Act was "one of the first civil rights laws addressing the protections for individuals with disabilities from discrimination." Schultz also said discussed how vocational rehabilitation counselors work to find the "best matches for individuals based on their skills and abilities" and how companies are changing hiring practices in order to better embrace "individuals with disabilities, particularly neurodiversity" in the workplace.
Yet, changing hiring practices needs careful consideration, warned Shane Kanady, Vice President, Workforce Development at SourceAmerica. "Modern hiring practices, inherently, are discriminatory in nature," said Kanady, "because everyone is trying to screen in the ideal candidate that they have in their minds and immediately trying to screen out anything that is different from that." Further, implicit bias across different demographic categories and types of disability impact hiring. As Kanady noted, there are "so many different ways that people experience barriers to the labor force, barriers to education, barriers to access, to benefits and justice" that employers need to take an "intersectional" approach to understanding those barriers.
Intersectionality was a critical topic discussed during this panel as well as throughout RespectAbility's entire ADA30 Summit. All three panelists were united in their calls for employers to better understand how "intersectional identities around age, disability type, economic situation, education level, gender, geography, and race…are impacting human beings…and improve the policymaking process."
A Focus on the Community Reinvestment Act

Beyond employment practices, the day's conversations also touched on the critically important topic of financial security, literacy and access in the context of the Community Reinvestment Act (CRA). In a keynote address, California Congressman Brad Sherman talked about how the CRA impacts low- and moderate-income communities and what the CRA means for people with disabilities in marginalized communities. Signed into law in 1977, CRA was created to encourage banks to meet the needs of all borrowers and work against the divisions created by discriminatory practices like redlining. The law has existed for 43 years to help neighborhoods through retail banking and community development.
However, Rep. Sherman noted that CRA does not yet do enough to "recognize the financial needs of people with disabilities and the businesses that serve them." Even recognizing the gaps in current services, Sherman was still deeply optimistic about better investment in the disability community and in other marginalized groups. "Just imagine the possibilities," Sherman said, "if banks and businesses better meet the needs of people with disabilities. I believe we have made important progress toward this goal."
Sherman also was joined, via video, by Mark Feinour, head of Bank of America (BoA)'s Support Services Team. Feinour spoke both about BoA's commitment to serving customers with disabilities and their work as a leading employer of people with disabilities. His team is just one way that his financial services company providing employees with disabilities "the opportunity to succeed and achieve their goals and is a demonstration of our broader commitment to strong environmental, social and governance practice."
The Private Sector and the Future of Work for People with Disabilities
The theme of commitment also was brought forward by the speakers in the private sector panel who shared their insights, experience, and excitement about the possibilities of the future. Vincenzo Piscopo, the Community and Stakeholder Relations Director for The Coca-Cola Company, spoke about the "triple effect" of fighting stigmas via increased media representation of people with disabilities. "The first effect," he said, "is that it's empowering the people with disabilities because they see themselves in camera. Second, it actually creates a brilliant cycle…because the more that we have people with disabilities on TV, the more that organizations feel…the pressure to actually have representation in advertising." Lastly, Piscopo said "it becomes important for us as organizations to hire people with disabilities, so that we can be well represented."
Jim Sinocchi, Head of Disability Inclusion at JP Morgan Chase, echoed Piscopo's sentiment and talked about the tectonic changes happening in the workplace because of COVID-19. Chase has found remote work to be "very productive." A recently released Gallup Panel study showed that 57 percent of U.S. workers had been given "flex time or remote work options" by their employers. Further, 59 percent of U.S. workers would prefer to "work remotely as much as possible," even as COVID-19 restrictions are lifted.
Even before COVID-19, Sinocchi observed that "enlightened managers at the firm quickly found out that people with disabilities can work from home quite well" and that technology is the "great equalizer for people with disabilities." That change has has good impact for the culture of JP Morgan Chase. In his four years as the Head of Disability Inclusion, Sinocchi has hired hundreds of workers with disabilities, led an "accommodations team that has delivered over 20,000 accommodations" and trained "14,000 managers…to build this inclusive culture."
Throughout the ADA30 summit, RespectAbility's staff and guest speakers reiterated a message of hope and optimism about the future. Even with all this going in 2020, there are still those who are working to make the nation and the world for millions of people with disabilities.
This Labor Day, RespectAbility hopes you will take the time to watch both of the panels from July 30, as well as the other compilations from this summer's #ADA30 Summit 2020. All five days' sessions can be view in their entirety on RespectAbility's website at https://www.respectability.org/ada30. Each page includes both an embedded video link and downloadable transcripts.
In the past, to celebrate Labor Day, RespectAbility has collected multiple profiles of successful companies that recruit and hire workers with disabilities. Published under the #RespectTheAbility campaign, these profiles offer powerful illustrations of what can be done to fight stigmas and advance opportunities for people with disabilities. You can find those pieces online at: https://www.respectability.org/category/respecttheability.