People with Disabilities in Georgia Now Can Avoid COVID-19 by Getting Groceries Delivered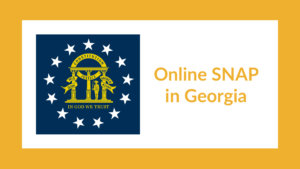 Atlanta, Georgia, June 9 – As the summer begins and the COVID-19 pandemic continues, the disability nonprofit RespectAbility congratulates the leaders of Georgia for enabling people with disabilities who rely on SNAP to avoid the high risk of shopping for food in person.
Recently, the U.S. Department of Agriculture (USDA) announced that beneficiaries in Georgia and 12 other states now could use their Supplemental Nutrition Assistance Program (SNAP) benefits to order groceries online. This is a significant expansion of a pilot program that, before COVID-19, only covered six states. This means that, according to the USDA, 90 percent of SNAP participants now have the option to safely order groceries through Amazon or Walmart.
"This is potentially lifesaving news for the approximately 441,000 Georgians with disabilities who depend on food stamps to put food on the table," said Jennifer Laszlo Mizrahi, President and CEO of RespectAbility. "We are grateful that Gov. Brian Kemp and the state of Georgia are committed to supporting the disability community."
This is a major victory in terms of food security for vulnerable populations who face significantly higher risks of exposure to the coronavirus. However, significant challenges remain in place that impact people who need help putting food on the table.
"While the online pilot is great, it still does nothing to cover the high cost of delivery fees and unfortunately, it would take an act of Congress to get SNAP to cover delivery costs," added RespectAbility's Policy Director Philip Kahn-Pauli. "However, there is an opportunity for leaders in local government and philanthropy to cover delivery costs during this pandemic."
For example, in Los Angeles, local organizations and agencies have partnered to offer a program called the Critical Delivery Service (CDS). By calling 888-863-7411, senior citizens, dependent adults and people with disabilities can receive up to four food deliveries per month if they are trapped inside due to the pandemic.
Likewise, while the SNAP online purchasing pilot is a major step forward, in most states, people can only order groceries through Amazon or Walmart, which do not deliver in all jurisdictions. Mizrahi called on state leaders to "take action to add more diverse retail partners so people can be reached everywhere."
"Many people with disabilities who use SNAP are especially at risk during this pandemic because of underlying conditions," Mizrahi added. "They need to be able to eat without risking exposure to the virus. We are thrilled that Georgia is among the states who have acted on this issue."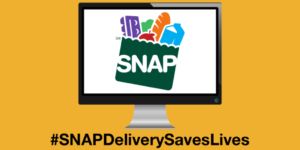 Over the course of this pandemic, RespectAbility has been at the forefront of national advocacy efforts and media engagement. Working with our partners, the organization has been tracking states as they apply for waivers to join the SNAP Online Purchasing Pilot: https://www.respectability.org/snap-delivery-saves-lives.
For more information about the USDA SNAP Online Purchasing Pilot, please visit their website: https://www.fns.usda.gov/snap/online-purchasing-pilot.