People with Disabilities in Illinois Now Can Avoid COVID-19 by Getting Groceries Delivered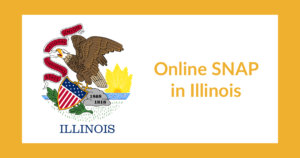 Springfield, Illinois, June 10 – As the summer begins and the COVID-19 pandemic continues, the disability nonprofit RespectAbility congratulates the leaders of Illinois for enabling people with disabilities who rely on SNAP to avoid the high risk of shopping for food in person.
Last week, the U.S. Department of Agriculture (USDA) announced that beneficiaries in Illinois and 12 other states now could use their Supplemental Nutrition Assistance Program (SNAP) benefits to order groceries online. This is a significant expansion of a pilot program that, before COVID-19, only covered six states. This means that, according to the USDA, 90 percent of SNAP participants now have the option to safely order groceries through Amazon or Walmart.
"This is potentially lifesaving news for the approximately 518,000 people from Illinois with disabilities who depend on food stamps to put food on the table," said Jennifer Laszlo Mizrahi, President and CEO of RespectAbility. "We are grateful that Gov. J.B. Pritzker and the state of Illinois are committed to supporting the disability community." [continue reading…]