As COVID-19 continues to claim the lives of multitudes around the globe, we have responded with serious introspection and copious goodwill, transforming into the very best versions of ourselves – more grateful, helpful, compassionate and empathetic than ever before.  Surprisingly, we have also effectively proven that we possess the skills, resources and creativity to remove all communal roadblocks for individuals with disabilities and that a truly inclusive society is entirely within our reach.
One of the most obvious examples is the ease with which our world went virtual.  In a matter of days, everything from board meetings to birthday parties were being attended via video conference, as people of all ages began engaging online, and we quickly learned that virtual participation was considerably more effective than we once thought.
After being forced to work from home for close to two months, with largely excellent results, employers and team leaders in many industries will have to reconsider their stances on hiring individuals with mobility issues, those who were previously overlooked simply because they would have to collaborate with their colleagues from afar.  And now that we've all seen how simple it is to include everyone in our special events, making accommodations for individuals with disabilities, starting with a great live stream, should be at the very top of our event planning to-do lists.
Another prime example is the unprecedented mobilization of resources to aid the infected, protect the immunocompromised, and empower those on the front lines.  When the medical and care professionals battling COVID-19 began reporting a critical shortage of personal protective equipment (PPE), individuals with no previous connections to the fields of medicine or manufacturing responded by pooling their resources to find the PPE in warehouses around the globe and redirecting them to hospitals, clinics and nursing homes.  Indeed, when there's a will, there's a way.
By providing some much needed perspective, this crisis has opened our hearts to the urgency of communal involvement and our eyes to how easily we can be inclusive and make a real difference in the lives of others.  As we move forward, it's crucial that we retain this outlook and put our resources and connections to use for the promotion of inclusion.  After witnessing the Coronavirus spread like wildfire, the reach and impact of disability has never been clearer, and it should be understood that inclusion represents the very best future for all of us.
Finally, the pervasive attitude of gratitude, insatiable desire to assist others and genuine longing for community that underscores our time in mandatory quarantine speaks volumes about our ability to embrace an inclusive society.
Our craving for connection was well documented, thanks to our camera phones. Yet to my mind, the videos that best capture the spirit of the day are those made by Jamie Kiffel-Alcheh, a children's book author from Los Angeles.  Jamie heard that ALEH (www.ALEH.org), Israel's network of care for individuals with severe complex disabilities, was in complete lockdown to shield the residents – the most vulnerable members of Israeli society – from COVID-19. She immediately created a video series in which she and her husband, Danny, read her children's books in Hebrew and English for the ALEH residents to enjoy.  Weeks later, these videos – a gift from complete strangers-turned-friends – are still fan favorites at all four ALEH centers.
Never before has humankind been so distant from each other yet felt so close.  This is the feeling that we must carry with us always.  This is the mindset upon which an inclusive society can be built.
As quarantine restrictions are loosened and we slowly return to our new normal, we must hold fast to the experiences that have allowed us to care so deeply, give so freely, and see the world through empathetic eyes.  We can never forget how it felt to prioritize personal development and actualize our good intentions.  We can never forget how it felt to live simply and express genuine gratitude.  And, most importantly, we can never forget how it felt to be isolated and excluded. Only when we are guided by these feelings can we create a world that is truly open to all.
---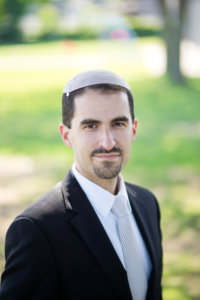 Elie Klein is the Director of Development (USA & Canada) for ALEH, Israel's network of care for individuals with severe complex disabilities and an international advocate for disability inclusion, equity and access.
In our Jewish Disability Perspectives newsletter, RespectAbility welcomes a wide spectrum of voices. The views expressed in each Jewish Disability Perspectives contribution are those of the guest contributor.